Off Day Thoughts: The Blue Jays aren't going to fire their manager for a second year in a row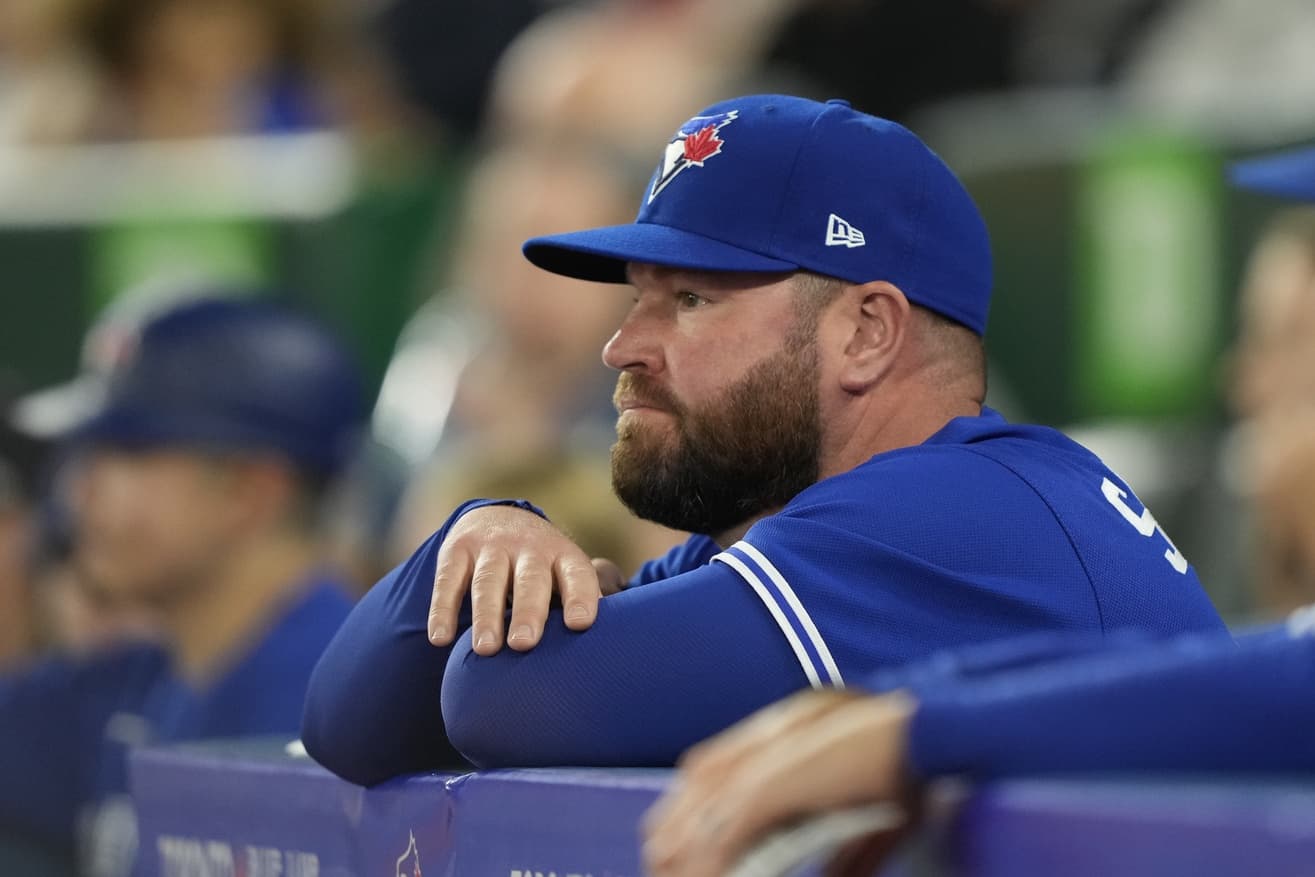 Photo credit:© John E. Sokolowski-USA TODAY Sports
Among all the hot takes that have arisen during the underperforming first half of the 2023 season for the Blue Jays, the yearning for John Schneider to be gone is one that I didn't expect to see. Alas, Toronto is 41-35, struggling to score runs consistently, seemingly hanging on in the AL Wild Card race by a thread or two, and there's discourse for needing a new voice.
Blaming the coach is not unheard of, and I totally understand why some people want to do that for the 2023 Blue Jays. The team is not living up to expectations, and some of the finger-pointing has validity. But does it actually make sense?
The sources of the Schneider hate
One of the easiest things to do in sports is to be a critic. The LeBron James haters will love bringing up his 4-6 NBA Finals record. Mark Sanchez had some historical playoff wins with the New York Jets, but some only remember him for the butt fumble.
In this case, Schneider has had his shortcomings. Fans were agitated during his mound visit debacle on May 20th that forced Alek Manoah to exit the game, one of his better starts of the season at that. Tim Mayza being brought in to face Carlos Santana in last year's Wild Card series was a decision that was slandered all offseason. Pinch-hitting Ernie Clement for Daulton Varsho or some of the bullpen moves have even left some flummoxed.
One of the bigger outstanding issues is that this squad was advertised as one that was going to do all of the little things the right way. A video from his locker room speech during spring training was shared on social media with Schneider emphasizing taking the "next step" and "going from talented and able to hit the ball out of the ballpark to a bunch of motherf*****s that are going to beat you every night." That type of talk makes some folks run through a brick wall, and Schneider made sure to highlight specifics.
Grinding out at-bats, going deep into games, cutoffs and relays were what he mentioned, with hopes of jogging out ground balls and trying to hit the 5-run home run being ways of the past.
Well, there have been instances this season where failure to do those "little things" have reared its ugly head. We can't expect 162 games of perfection, but those instances were a huge contributor to the 2-9 record against AL East foes in May.
Players do the playing, and those types of plays won't cut it in a division like the AL East. In some ways, that stuff will fall on the manager.
The counters to the Schneider hate
The ease of being the critic also exudes the unwillingness to mention the accomplishments. Schneider inherited a Blue Jays team a year ago that was on the cusp of .500 baseball with similar expectations that this team owns. He went 46-28 to end the season and the team clinched its first home playoff game since 2016 by finishing in the top Wild Card spot in the American League.
While there have been some head-scratchers that I alluded to, he has also pushed the right buttons in some games. Facing a left-handed reliever on Tuesday night in Miami, he subbed in righties Santiago Espinal and Clement for two lefty bats in the 8th inning. They went double-RBI single to give Toronto a 1-0 lead, and the Blue Jays broke a losing slump. June 7th against the Astros, Schneider pulled Chris Bassitt from the game after eight spectacular innings. Bassitt could've pitched the ninth, but Yordan Alvarez was due up, and his career numbers were really good against Bassitt. Schneider did what was best for the team and gave the ball to Jordan Romano. While Bassitt would've liked to go the distance, he understood the decision, and the Blue Jays held on for the win.
Some players have been public about the respect they have for Schneider. Kevin Gausman – the pitcher pulled for Mayza in the Wild Card game – tweeted out his support in having Schneider back as manager. In fact, he's watched many of these guys grow throughout their minor league years. He was Vladimir Guerrero Jr.'s pitcher in the 2019 Home Run Derby. He's been with them through the ups and the downs, and perhaps this recent stretch of play is just another down.
One of my personal favourite traits of Schneider is his never-ending support he has for his players. Some fans were critical of Charlie Montoyo and how he rarely put his foot down to umpires and other teams. With Schneider, he's right up there with Pete Walker jawing at whoever has to hear it.
The Blue Jays aren't the only team that isn't living up to expectations this season. Without diving too much into team details, the Phillies, Mariners, Padres, and Mets are all out of the playoffs if they started today. This season has been and will be different; the AL Central's winner could have a sub-.500 record, the Reds are in a position to win the NL Central, and whoa, the Dodgers and Astros are looking like they won't win their respective divisions! If neither of them wins the AL or NL West, it'd be the first time since 2012 that at least one of those two teams failed to win their division.
Schneider is also working his way around players not performing to their potential. While a small step back from last year's season could've been expected, no one predicted Alek Manoah would have to be sent to the Florida Complex League. The Jays are 4-11 in games that he started in or the bullpen day in his spot in the rotation. Vladimir Guerrero Jr. has been in a slump for several weeks now, Daulton Varsho started slow but is picking things up of late, and bottom-of-the-order bats have been more inconsistent than the team would like.
All that to say, while the Jays have their flaws, being within a game of a playoff spot in mid-June is better than several others can flaunt. And with a favourable schedule coming up, Toronto can position itself nicely going into the All-Star break.
The overarching point
John Schneider was inked to a three-year deal as manager of the Blue Jays before the season started. Management clearly believed in him and his abilities to improve upon the 92 wins they had last year. Just because the team hasn't reached their potential yet does not insinuate that the first-year manager needs to go. Now, could there be changes within the support staff? Maybe, but I'd guess that would happen after the season.
Nonetheless, playing musical chairs with who takes the managerial seat and getting rid of Schneider would be a massive red flag, especially when there is a multi-year contractual and financial tag on this guy. Ross Atkins and Mark Shapiro assembled this group of players and coaches, and asking Rogers to eat the salary on his contract right now would suggest there are more problems than just the team's record. Just because Don Mattingly is sitting right there doesn't mean he has to be promoted as soon as possible.
Thinking that John Schneider isn't the man for this job is OK, but it would be ludicrous to think the Blue Jays would show him the door right now.
---