Potential landing spots for Danny Jansen, Alejandro Kirk, Gabriel Moreno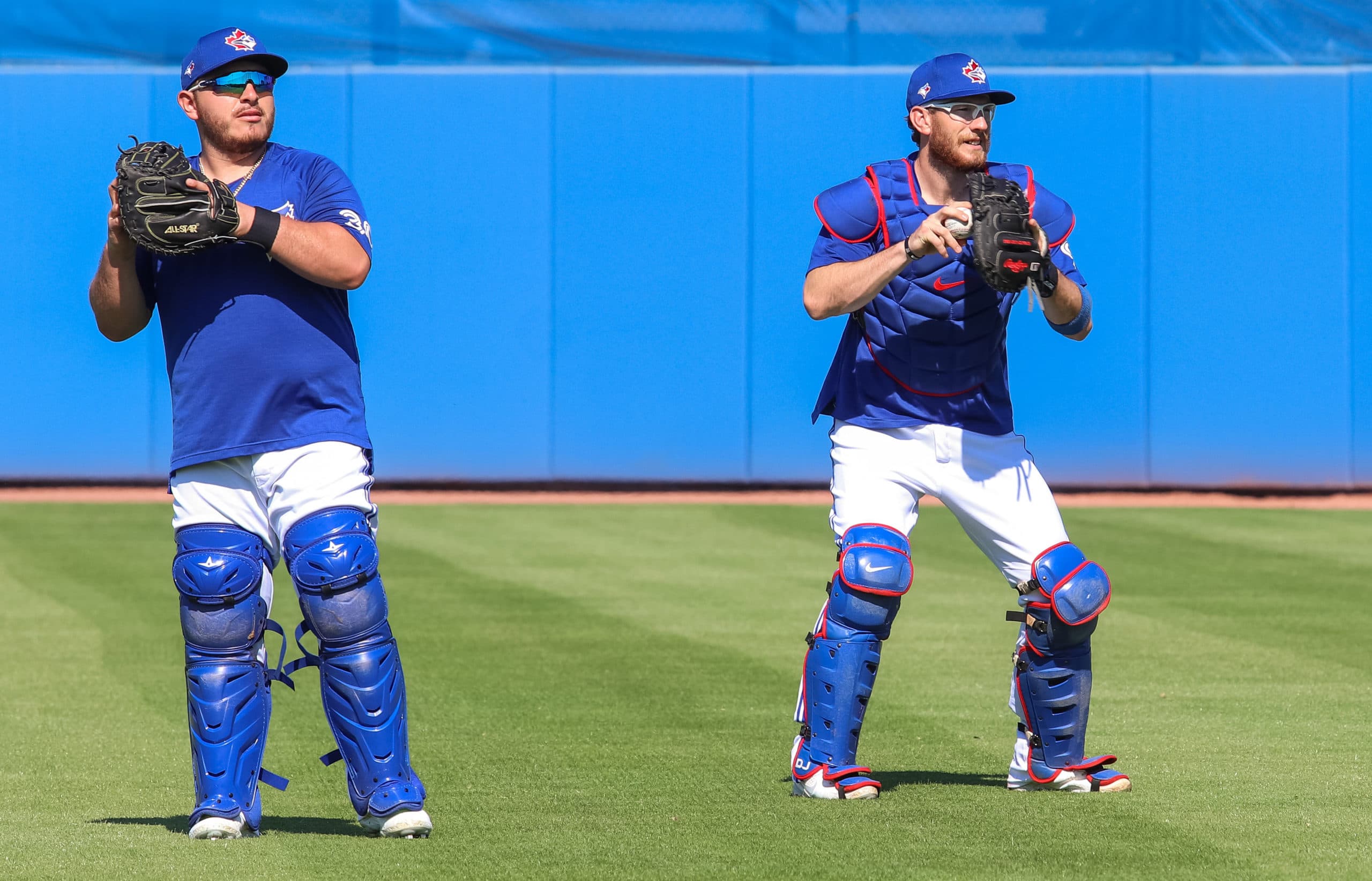 Photo credit:Toronto Blue Jays/Handout Photo via USA TODAY Sports
Many baseball fans have wondered when it'll be the right time for the Toronto Blue Jays to subtract from their first-class catching depth, and by all accounts, that moment could occur this off-season.
Amid a looming payroll crunch involving an expensive class of arbitration-eligible players, the front office won't be able to spend as freely in free agency as they've done over the past few years. That should intensify the organization's desire to explore the trade market, which could lead to utilizing one of its most valuable trade chips.
The Blue Jays have already
received trade calls on their catchers – and relievers –
according to general manager Ross Atkins, who spoke to reporters in Las Vegas at the annual GM Meetings on Tuesday. And while Atkins doesn't have to trade Danny Jansen, Alejandro Kirk or Gabriel Moreno, multiple industry experts believe Toronto will trade at least one of those players this winter.
Of course, there is a scenario where all three catchers open next season with the Blue Jays – no matter how unlikely that outcome seems. For now, however, let's assume that reality doesn't come to pass with someone from that trio traded this off-season.
Which teams might feature the most interest? Could each catcher fit better with different organizations? And what type of return could they fetch?
These are likely the questions Atkins and his staff are facing as they strategize their off-season game plan. But if management does decide to address other roster needs by dealing from its catching depth, there shouldn't be a shortage of interested suitors across the majors, and here are some of them.
Cleveland Guardians 
Current 40-Man Catchers: Luke Maile, Bo Naylor, Bryan Lavastida
Preferred Blue Jays Catcher(s): Kirk, Moreno
Potential Trade Chips: SP Cal Quantrill, SP Zach Plesac, SP Aaron Civale, RP James Karinchak
Following an improbable 2022 season, where most experts likely had them missing the playoffs rather than winning the AL Central Division, the Guardians enter this off-season in a very intriguing position. They could stand pat and run it back with basically the same group in 2023 or better position themselves for the long haul.
Offensively, José Ramírez leads the way as the search continues for his first career MVP trophy. But he is also surrounded by contact-oriented hitters like Andrés Giménez, Amed Rosario, Steven Kwan and Oscar Gonzalez. Then there's Josh Naylor, who posted a career-best .453 slugging percentage this past season.
Adding Kirk or Moreno to the mix would further strengthen Cleveland's lineup while providing them with a catcher of the future to mesh nicely with Josh's brother, Bo.
Detroit Tigers
Current 40-Man Catchers: Eric Haase, Michael Papierski, Jake Rogers (60-day IL)
Preferred Blue Jays Catcher(s): Kirk
Potential Trade Chips: SP Tarik Skubal, RP Gregory Soto, RP Joe Jiménez
A.J. Hinch's second season in Detroit was a major disappointment as his club underperformed, placing fourth in the AL Central at 66-96. The Tigers won 11 fewer games than they did in 2021, leaving many to wonder how the franchise will move forward this off-season.
After featuring one of the worst offences in baseball – if not the worst – it'll be crucial to add more support around the team's core position players, including Spencer Torkelson, Jeimer Candelario, Javier Báez and Riley Greene. And with a lack of quality catching depth, the front office could address that need by subtracting a few impact arms for an emerging – and controllable – star like Kirk.
Miami Marlins 
Current 40-Man Catchers: Jacob Stallings, Nick Fortes, Payton Henry
Preferred Blue Jays Catcher(s): Kirk, Moreno
Potential Trade Chips: SP Pablo López, SP Trevor Rogers, SP/RP Elieser Hernandez
It seems like the Marlins have been endlessly searching for more offence over the last three or four years now, and while pursuing one of the Blue Jays' outfielders could make more sense, they may also be interested in one of their young backstops, too.
There was plenty of trade speculation involving these two franchises last off-season, although Miami's acquisition of Stallings from the Pittsburgh Pirates dismissed those rumours. The 32-year-old is only under team control through 2024 and is coming off a miserable performance where he posted career worsts in wRC+ (71) and fWAR (-0.6).
With tons of pitching depth at their disposal, the Marlins are expected to utilize some of those chips for an impact hitter or two, which could make them a perfect match for Kirk or Moreno.
St. Louis Cardinals 
Current 40-Man Catchers: Andrew Knizner, Iván Herrera
Preferred Blue Jays Catcher(s): Kirk
Potential Trade Chips: OF Lars Nootbaar, OF Tyler O'Neil, SP Jordan Montgomery, RP Giovanny Gallegos
Replacing Yadier Molina, a future Hall-of-Fame catcher, won't be easy for the Cardinals, though there are multiple ways they could attempt to fill that void over the winter.
One of them will likely involve pursuing free agent Willson Contreras, who should garner plenty of interest across the majors. But if that route proves unsuccessful, the trade market could serve as their best alternative, with Kirk potentially sitting atop their target list. The 24-year-old is more than capable of handling the team's veteran pitching staff and would also provide tons of offensive upside.
The Blue Jays, meanwhile, would be ideal matches for outfielders like Nootbaar or O'Neil – a native of Burnaby, B.C. – and could also be suitors for a couple of Cardinals pitchers. Any potential trade, however, probably can't occur until Contreras' future is determined.
Milwaukee Brewers 
Current 40-Man Catchers: Victor Caratini, Mario Feliciano, Alex Jackson (60-day IL)
Preferred Blue Jays Catcher(s): Jansen, Kirk
Potential Trade Chips: SP Brandon Woodruff, SP Eric Lauer,
After missing the playoffs this past season, the Brewers are determined to make the necessary moves to return as post-season contenders in 2023, which will involve improving the position player group. To what degree is unclear, though the catcher position should probably be among their top priorities.
In 2022, Milwaukee primarily featured two defensive catchers, Omar Narváez and Victor Caratini, with neither providing quality offensive production. Since Narváez is a free agent, the front office will undoubtedly be looking to acquire a more well-rounded backstop this off-season, matching the description of both Jansen and Kirk. And if any of the club's impact starting pitchers are available – Corbin Burnes likely won't be – it'd make plenty of sense for both sides to work out a deal.
Chicago Cubs
Current 40-Man Catchers: Miguel Amaya, Yan Gomes, P.J. Higgins
Preferred Blue Jays Catcher(s): Moreno
Potential Trade Chips: OF Ian Happ, SP/RP Keegan Thompson, RP Mark Leiter Jr.
With Contreras set to depart in free agency, the Cubs will soon feature a gaping hole at catcher, one that won't be easily filled. There's optimism that Amaya can fill that void in the future, but injuries have likely delayed that possibility until 2024.
In the meantime, Chicago could benefit from adding to its big-league catching depth, which remains extremely thin. If management acquired Moreno, though, the franchise wouldn't have to worry about its situation behind the plate as it'd consist of two talented young backstops long-term.
Pittsburgh Pirates 
Current 40-Man Catchers: Zack Collins, Jason Delay, Tyler Heineman, Ali Sánchez
Preferred Blue Jays Catcher(s): Moreno, Kirk
Potential Trade Chips: OF Bryan Reynolds, RP David Bednar, SP JT Brubaker
The rebuilding Pirates are still far off from becoming competitive again, though they could potentially add to their evolving core of position players by striking a trade with the Blue Jays this winter. There is prior history between these two front offices as Pirates GM Ben Cherington formerly worked as vice president of baseball operations for the Blue Jays from 2016-19.
So Cherington is well aware of Toronto's talented pool of catchers, especially Moreno and Kirk. Pittsburgh selected young phenom Henry Davis first overall in the 2021 draft, which could limit the team's interest in paying top dollar via trade for another backstop. You can never have enough quality catchers, though.
There would be plenty of interest from the Blue Jays if Reynolds or Bednar became available, although Pittsburgh has previously been hesitant to trade either player.
San Francisco Giants 
Current 40-Man Catchers: Joey Bart, Ford Proctor, Austin Wynns
Preferred Blue Jays Catcher(s): Jansen, Moreno
Potential Trade Chips: SP Alex Cobb, RP Tyler Rogers, OF Mike Yastrzemski
Buster Posey's retirement hit the Giants much harder than expected this past season, placing uncertainty around the club's catcher position this off-season. Bart was supposed to take the reins in 2022 but struggled mightily offensively, hitting .215/.296/.364 with a 90 wRC+ over 97 games. So what's next for San Francisco?
The front office is hopeful that Bart can bounce back during his age-26 season in 2023, though he may benefit from playing alongside an established offensive catcher like Jansen. Together, that duo could form a strong relationship, helping the former second-overall selection realize his full potential.
Arizona Diamondbacks 
Current 40-Man Catchers: Carson Kelly, Jose Herrera
Preferred Blue Jays Catcher(s): Kirk, Moreno
Potential Trade Chips: SP Merrill Kelly, RP Joe Mantiply, RP Kyle Nelson, UTL Josh Rojas
Despite finishing 74-88, good for fourth in the NL West, the Diamondbacks are trending in a positive direction and could be toward the tail end of their rebuild. They feature a promising group of big-league players headlined by Ketel Marte and Zac Gallen, one of the brightest farm systems in baseball, and have money to spend this winter.
One of the only aspects missing is a reliable everyday catcher, although that's where the Blue Jays could be of service. Kirk or Moreno would dramatically improve the Diamondbacks' depth behind the plate, making either one the starting backstop long-term. Acquiring one or the other wouldn't come cheap, of course, but Arizona does possess a handful of intriguing arms.
Colorado Rockies 
Current 40-Man Catchers: Elias Díaz, Dom Nuñez, Brian Serven
Preferred Blue Jays Catcher(s): Kirk, Moreno, Jansen
Potential Trade Chips: SP Germán Márquez, SP Kyle Freeland, RP Tyler Kinley
Predicting the Rockies' future can be like guessing which way the wind will blow – it constantly changes. Will the front office make a giant splash this off-season? Maybe, who knows? If they're interested in beefing up their catching depth, the Blue Jays are likely to have interest in a few of their starters and relievers.
---