Pre-2022 Blue Jays Top Prospect Countdown – No 1: Gabriel Moreno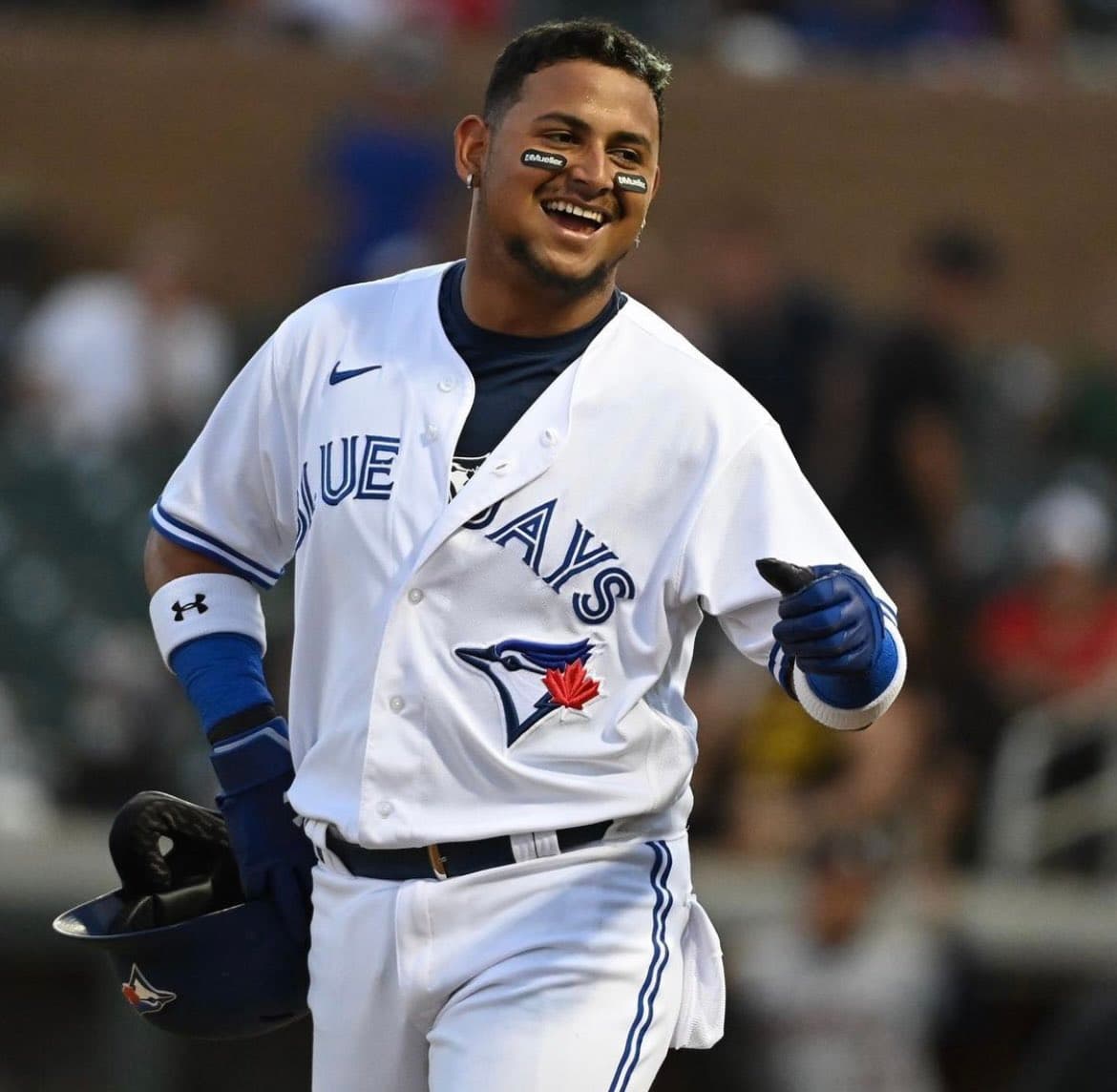 Photo credit:Blue Jays PR
The best prospect in the Jays system was always a given, it's Gabriel Moreno.
The 22-year-old catcher is the second best catching prospect according to most sites and in 2021, Moreno blossomed. However, let's take a look at his background.
Background:
His story begins with Vlad Jr. The Alex Anthopoulos run Blue Jays went over the International Free Agency bonus pool, meaning that the most they could sign an international free agent was limited to $300,000. Despite this, they signed the Blue Jays third best prospect, Otto Lopez to a signing bonus of $60,000, Alejandro Kirk for only $7,500 and Gabriel Moreno for $25,000.
The fact that they were able to find two catchers who'll be MLB regulars is quite incredible, but Moreno wasn't always a catcher. Prior to moving to the most important role, Moreno was a shortstop., which you can still see hints of while he plays catcher.
Moreno started his professional career in 2017 playing in the Dominican Summer League (DOSL). He registered 135 plate appearances and slashed .248/.274/.570 with no homers. The catcher was also a contact hitter, only walking 4.4% of the time while striking out 3.7%.
In 2018, he started with the State-side rookie league team, and put up great numbers in his 101 plate appearances. The then 18-year-old slashed .413/.455/1.108 with his first two professional homers. This prompted a call up to their Bluefield team, where he slashed .279/.303/.762 in 66 plate appearances, hitting two more homers.
The young catcher broke out in 2019, slashing .280/.337/.823 with 12 homers in 341 plate appearances with the Lansing Lugnuts in Class A. Interestingly, his BB% rose to 6.5%, the highest in his career, while his K% dropped to 11.1%, a sharp decline from his 19.7% mark with the Bluefield team. This was the year that Moreno fixed his swing, which you can see by his 2019 and beyond.
Like with all minor leaguers in the 2020 season, he missed his age 20 professional season. However, he was apparently a standout at the Blue Jays alternate training site, as was fellow 2016 IFA signing, Alejandro Kirk.
Gabriel Moreno's 2021:
Moreno truly broke out both with the glove and the bat in 2021.
Moreno's bat:
Sadly, Moreno only had 145 plate appearances in Double A in 2021. However, he absolutely tore up the league. He slashed .373/.441/1.092 with eight homers, an incredible amount for 145 plate appearances. He also became a lot more patient at the plate, walking 9.7% of the time while only striking out 15.2% of the time.
Usually I look at a player's line drive percentage or the direction of his batted balls, but neither of those percentages jump out to me. His line drive percentage (the batted ball with the highest batting average) was only 13.7%, which is rather low. He went the opposite way 30.8% of the time. Prior to 2021, his lowest LD% was 15.5% in 2017, which rose to 23.8% and 19.9% the next two seasons.
To add to his batted ball percentages, Moreno's fly ball percentage sat at 38.2%, with 20.5% of those going for a homerun. While that can be seen as unsustainable, it's important to remember that Moreno's swing is great
and
he's added extra muscle, which has helped his ability to get the ball over the fence.
Moreno also has great bat speed which has led to higher exit velocities in 2021 (up to 108 mph in 2021). Paired with his high contact and his new found patience at the plate and power, he has quickly become one of the best Blue Jays hitters.
Moreno's glove:
Recently I've been using Baseball Prospectus' defensive metrics for catchers. However, it doesn't apply to the minor leagues, meaning I must use simple defensive metrics. It's claimed by Fangraphs that Moreno is the most athletic catcher to come along since J.T Realmuto, who is a pretty spectacular defender in his own right.
Moreno plus arm was able to throw out 14 of 32 runners, good enough for a caught stealing percentage of 43.75%. He also didn't allow a passed ball in Double A, but that is a pretty subjective stat to begin with. Moreno also didn't commit an error in his 27 games played.
The Jays also tapped into his potential versatility, as he played a game at third base.
Unfortunately, he was hit by a pitch in late June and needed surgery on his thumb, meaning he didn't play until mid September.
Moreno's Fall League and Winter League:
While he had a short stint at Triple A, the Blue Jays decided to send Moreno to the Arizona Fall League. In 100 plate appearances, he slashed .329/.410/.904 with a homer, showing that his time at New Hampshire wasn't just a flash in the pan. Furthermore, he had an equal amount of walks (13) to strikeouts (13). Moreno also spent some time at third base.
Moreno also had 73 plate appearances with Lara in the Venezuelan Winter League. He slashed .270/.397/.758 with a homer. Again, Moreno equaled his walks (11) to strikeouts (11). While his slash line decreased by quite a lot, it's important to remember that Moreno was -7.1 years younger than the average catcher in that league. The fact that the then 21-year-old posted a .397 on base percentage is pretty good if you ask me.
What the scouts say:
According to Fangraphs, his .500 career slugging is likely unsustainable. In fact, Fangraphs also mentions that once you take a look at his batted ball data, it's presumed that his numbers from 145 plate appearances in Double A are quite inflated. They also mention that it's likely that Moreno finds himself on a few all-star teams. 
MLB Pipeline says that the 22-year-old has a great pop time and a plus arm which you can see with his 43.75% caught stealing. This is helped by a pop time (how fast a catcher can get on his feet) of 1.95 seconds, which is above average. His block and receiving also improved (remember he was a shortstop) in 2021.
Baseball America notes that his "quickness, bat speed, hitting actions, and excellent contact skills" are elite. Mentioned earlier in the article, he improved his swing in 2019, which led to him breaking out, especially with more power (in 2021). Below is a table of each prospect site's grades.
| | | | |
| --- | --- | --- | --- |
| Tool | MLB Pipeline | Baseball America | Fangraphs PV (FV) |
| Hit | 60 | 70 | 55 (60) |