Pre-2022 Blue Jays Top Prospects Countdown – No. 20: Zach Logue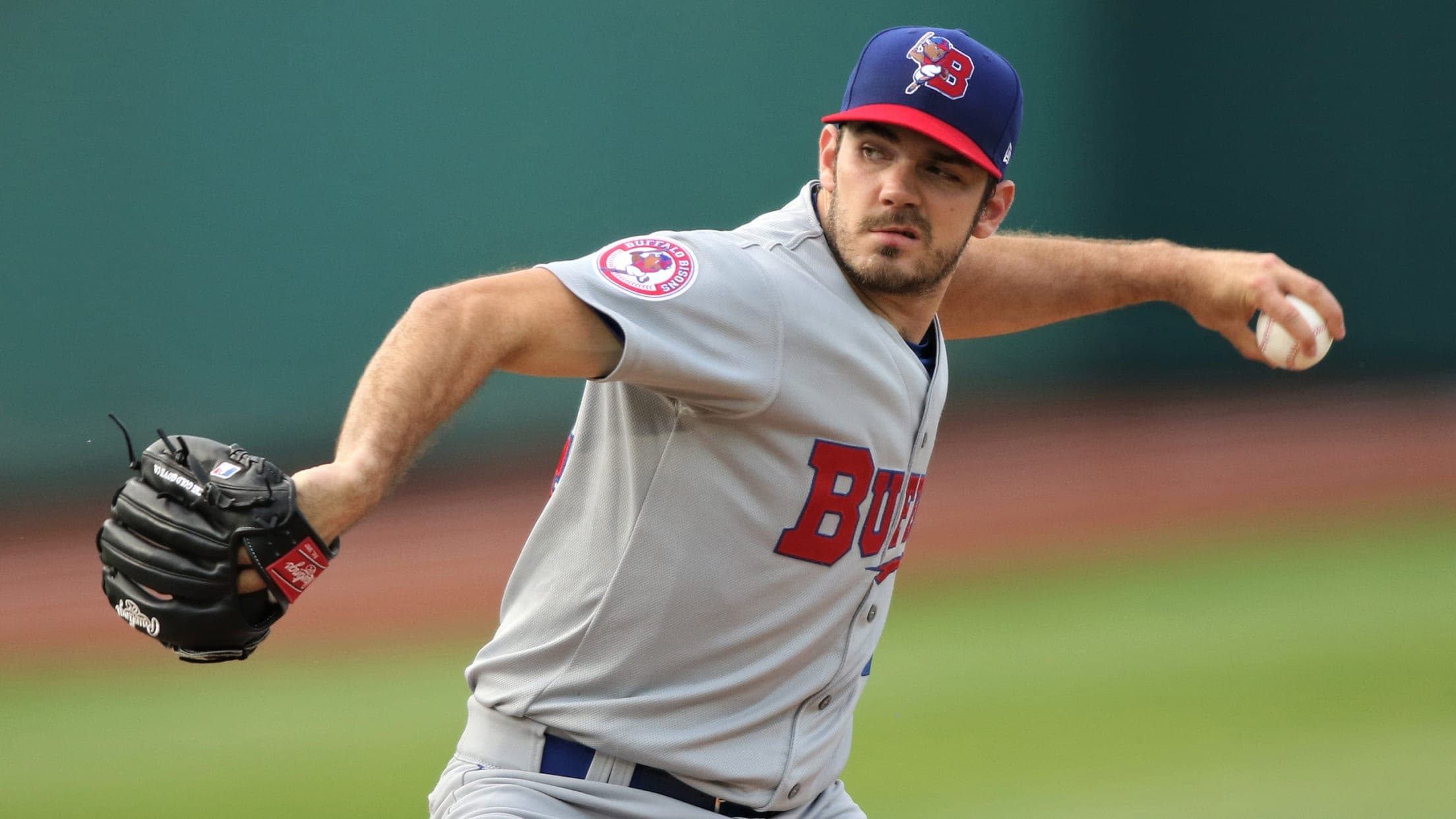 Before we jump into the Jays 20th best prospect, Zach Logue, I want to give a few reasons why I rank prospects the way that I do. Obviously age, potential and what they bring to the table are all key factors in the ratings, but there are two more reasons when I evaluate prospects.
A common trend you may have already picked up on in the past two articles is that minor league numbers mean a lot to me when evaluating prospects. Take Kloffenstein for example, the young pitcher who has the second highest ceiling for a Jays pitching prospect. However, poor results in 2021 impacted his prospect rating. I don't doubt he'll bounce back, but now he'll need to prove it.
Another criteria that people may not factor in is how close the player is to being big-league ready. A player in Triple A may get a higher ranking even if their ceiling is not as high as the player in Low A. Why? 
Well, due to the fact that the Triple A player could be ready in a year or two you have an idea the type of player he is. If he's good enough to be on a list, there's a good chance he could play for a Major League team. Contrast that to the Low A player and while their ceiling may be greater, they still have to develop it to that level which takes multiple years. A lot can happen in that time frame as well.
The background:
"After an apprenticeship in Kentucky's bullpen, Logue became a reliable starter as a junior, posting a 7-5, 4.84 year, showing the ability to generate strikeouts with his slider, but also showing a propensity to give up hard contact when he caught too much of the plate. Scouts see him moving back to the bullpen as a pro, a role they saw him excel in last summer in the Cape Cod League. Logue's 87-90 mph fastball and fringe-average slider both might play up more in short stints as a matchup lefty."
Baseball America's 2017 scouting report. Remember this quote.
Zach Logue is a 25-year-old left handed pitcher who pitched three seasons for the Kentucky Wildcats. Logue was drafted in the 9th round in the 2017 MLB draft by the Toronto Blue Jays. While the lefty isn't a flamethrower by any means, Logue has always been known for one reason during his time with the Jays.
His control.
The highest BB/9 Logue registered in any minor league level with over 25 IP is 2.85 in 2019. In fact, those 101 innings in Double A was his worst season to date. He coupled his highest BB/9 to date with his second highest ERA (4.10) and his worst FIP (4.61) in the minors to date.
Furthermore, Zach was never known as a strikeout pitcher, as his highest K/9 up until 2021 was in his rookie season playing in Short A ball, where he posted a 9.82 K/9. In 2018 and 2019, Logue's K/9 dropped to 7.5 and 7.2 respectively.
What about his stuff:
Per MLB Pipeline, the Blue Jays put Logue on a velocity program, which has increased his fastball from 90 miles per hour to 92-93 miles per hour. Furthermore, his slider has turned into more of a mid-80s cutter, while his change up sits in the low 80s.
Below is a table that shows what both MLB Pipeline and Fangraphs think of his stuff. It's important to note that MLB Pipeline considers the slider the same as the cutter.
| | | |
| --- | --- | --- |
| Pitch Type | MLB Pipeline | Fangraphs |
| Fastball | 40 | 40 |
| Slider | 55 | 45 |
| Cutter | 55 | 50 |
| Changeup | 50 | 60 |
| Control/Command | 50 | 60 |
The most interesting difference to me is the changeup difference. It's noted in his MLB Pipeline profile that the Blue Jays believe Logue's changeup could be above average in the future. Furthermore, MLB Pipeline also notes that due to the lack of a true plus pitch, his ceiling is lower than it could have been.
With a very select amount of prospects, there comes a time when they exceed all expectations and prove scouts wrong. Once they start improving, they can't stop. I think Logue is one of these prospects.
Earlier in the article, I quoted Baseball America's scouting report on him in 2017. While it's still possible he makes a move to the bullpen in some capacity, it certainly will not be as a matchup lefty. Not only has his fastball ticked up to 92-93 miles per hour, but he has developed a cutter/slider mix which has helped take his development to the next level. This isn't forgetting his changeup which some scouts see as above average.
2021 in New Hampshire:
Coming into the 2021 season, Logue was more of a project than a prospect. However, when we look at his 2021 statistics, I can tell you we were all fools.
He started the season in Double A where he posted a 4.54 ERA in 35.2 innings pitched. This may sound terrible for a 25-year-old in Double A, but we must dig deeper. Prior to 2021, his highest K/9 in a level with more than 25 IP was 9.82. Zach absolutely blew that away as he posted a 12.87 K/9 during his time in Double A. Couple that with a 1.77 BB/9 and you have a deadly pitcher. So where does the high ERA come from? 
I've mentioned this stat before in my articles, but Home Run to Flyball Ratio is a stat that measures how many fly balls go for a home run. Logue had an astronomical 17.6%, meaning he was allowing 1.51 HR/9. This was by far the highest percentage he had given up at any level. Thankfully, the stat xFIP gives us his FIP if this were to be normalized. In Double A, he had an xFIP of 2.83. In fact, his FIP, which is a better version of ERA, sat at a respectable 3.52.
A brief interlude to see some odds stats, in his last Double A game, Zach allowed 6 ER in 4 IP including three home runs, which drastically inflated his numbers. Removing those 4 IP, we can see his ERA drops to 3.41 in 31.2 innings pitched. Another extreme came the game before, when he walked four batters, which accounted for more than half of his seven walks in Double A. To tie it all together, he allowed one less home run than walks in his 35.2 innings pitched in New Hampshire.
2021 in Buffalo:
Despite being absolutely blown up in his last game as a Fisher Cat, he was promoted to Triple A for his next start, which was a great decision for the organization. While some numbers decreased in the difficulty jump, his overall numbers improved quite a lot.
In 89.1 innings pitched, Zach posted a 3.32 ERA and a FIP of 3.56. While his K/9 decreased to a 9.37 and his BB/9 increased to 2.01, it's important to remember he was facing tougher competition. Furthermore, these were the best numbers he posted in a larger sample size as his 9.82 K/9 in 2017 came in only 25.2 innings pitched.
Where will Zach Logue be in 2022:
That begs the question, where does Zach fit in come the start of the 2022 season. Well, on November 19th, the Jays added him, Bowden Francis and two more Top 20 prospects to the 40-man roster. While this was to avoid exposing them to the Rule 5 draft, it also shows what trust the Jays have in the players.
It's not out of the realm of possibilities to potentially see Logue get the MLB callup depending on the bullpen or fifth starter situation. If he has another season of improvement, it's possible we see Logue as the Jays backend starter in 2023.
As always, give me a follow on Twitter @Brennan_L_D. Which prospect do you think will be the next on my list? Put your guesses in the comments!