Pre-Series Notes: Marcus Stroman returns, Zimmer claimed back from the Phillies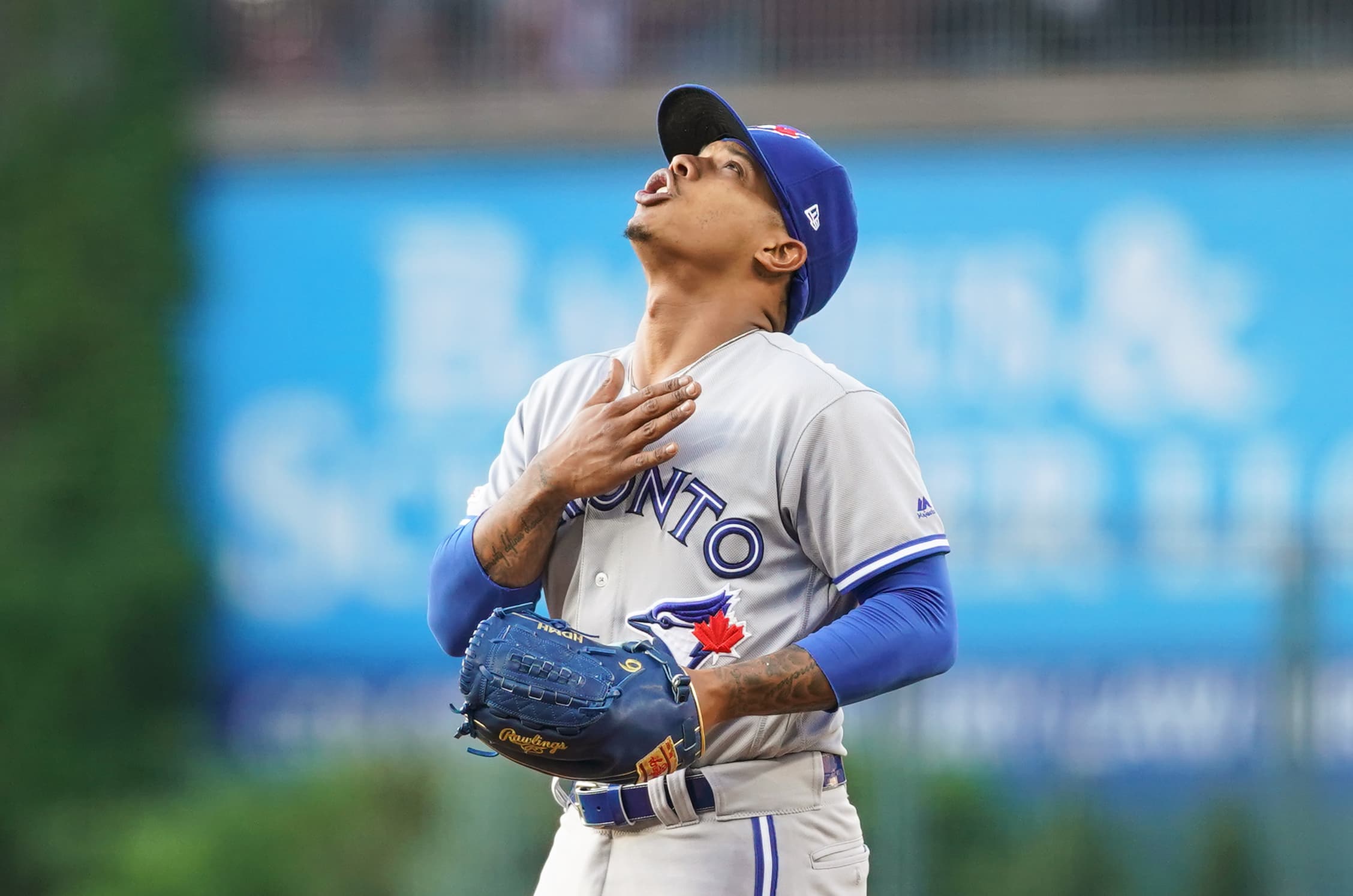 Photo credit:Troy Babbitt / USA Today Sports
The Blue Jays enter this series against the Cubs ice cold after being outscored by the Los Angeles Angels 22-3 in a three-game sweep. They have fallen to the third wild card spot with a record of 68-58. Now only 1.5 games up on the Baltimore Orioles they must take advantage of these weaker opponents to ensure they qualify for the post season.
The Chicago Cubs come to Toronto as losers in three of their last four and an overall record of 55-73.
Things Worth Mentioning…
Bradley Zimmer has returned.
Just 11 days after being claimed by the Phillies, the Blue Jays have claimed him back. Although his time in Philadelphia was short lived, he was much better with the bat there than he was with the Jays. In 16 at bats as a Philly he had four hits. In 76 at bats as a Jay he has eight hits.
It has been nearly eight years since the Cubs visited Toronto.
Let's hope the return of the Cubs can spark this Jays lineup who failed to show up over the weekend. Last time they were in town the Jays swept them in a three game series by outscoring them 28-3.
Marcus Stroman still has love for all the fans and the entire country of Canada.
Tuesday will be his first visit to Toronto as an opponent.
The head-to-head…
Jose Berrios vs. Javier Assad
Over the last two starts we have seen the good Jose Berrios. The question is how long will that last? In his last two, he has thrown 12.2 innings with and ERA of 2.21. This is well below his season average of 5.28.
It has been close to a 50/50 split on whether Berrios pitches well or pitches terribly this season. In 25 games he is tied with Kevin Gausman for second on the team with 13 quality starts. Even with over half of his outings being quality, he has already set a career high in home runs allowed (27) and is on pace to allow the most earned runs of his career as well.
An international signing by the Cubs back in 2016 Assad finally made his MLB debut on August 23rd. In a four inning start he allowed eight base runners but not give up a run. The 25-year-old rookie has split time between double and triple-A this season.
In 108.1 minor league innings in 2022 he has an ERA of 2.99 and a strikeout rate of 9.2 per nine innings.
Kevin Gausman vs. Marcus Stroman
For much of this season Gausman has been the most reliable pitcher in the Jays rotation. In August he has mimicked Berrios' season. In his two worst starts this month (including his most recent) he has an ERA of 8.80. In his other three, he has thrown a combined 21 shutout innings.
Despite the two poor starts recently he still leads the team in FIP (2.01) and WAR (5.1) according to FanGraphs. Expect Gausman to get back on track Tuesday night.
Just over three years since being traded to the New York Mets Marcus Stroman will make his first appearance at Roger's Center in an away uniform. One of most electric players in recent Jays history Stroman should receive a warm welcome from the home fans.
This season hasn't been his best. His 4.10 ERA is fifth out of six Cubs' pitchers with ten or more starts. He is also coming off one of his weakest starts of the year. He gave up a season high 11 hits in an 8-3 loss to the St. Louis Cardinals on August 25th.
Mitch White vs. TBD
White has now started four games for the Jays since being acquired from the Los Angeles Dodgers at the trade deadline. These starts have been a mixed bag. On Friday versus the LA Angels he threw his worst game of the season. Over five innings he allowed seven runs on eight hits and three walks. In the two starts previous he only allowed a combined two runs.
Almost nothing went right for the Jays on Friday night and it's not fair to blame the loss on White but it's clear he wasn't at his best. Hopefully this game will be just a bump in the road and not a sign of what's to come.
The Angels starter on Wednesday is yet to be announced.
---