Pre-Series Notes: The shorthanded Rays roll into Toronto for a five-game set with the Blue Jays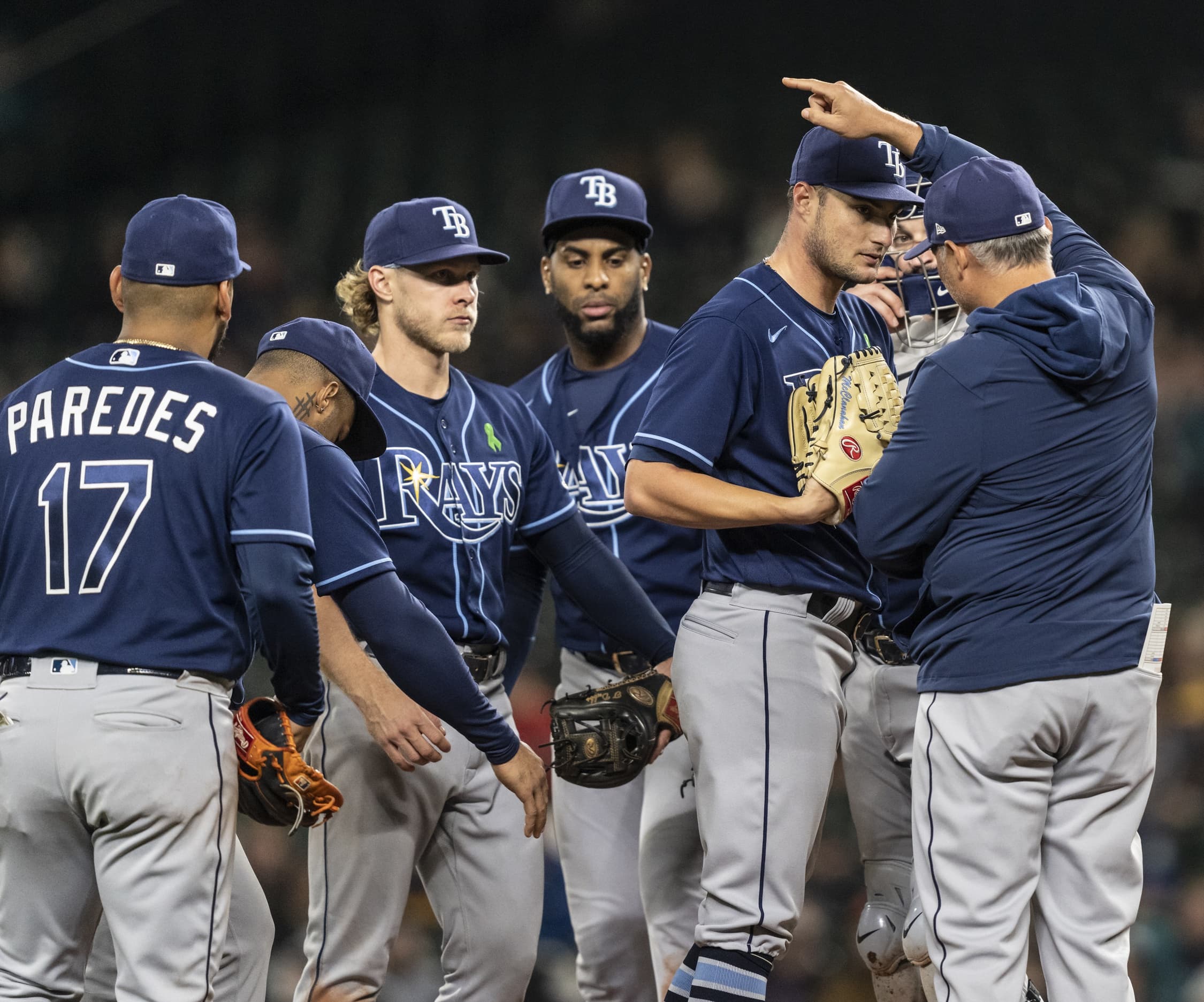 Photo credit:© Stephen Brashear-USA TODAY Sports
As a result of the lockout pushing the start of the season back and Major League Baseball not wanting to go deeper into October and November, teams will be playing some scheduled double-headers in order to squeeze all 162 games into the calendar.
For the Blue Jays, this results in two different five-game series with the Tampa Bay Rays. This one will feature a double-header on Saturday and then there'll be another five-game set in mid-September with a double-header also on Saturday. Thankfully, both of these are being played in Toronto, as it would be unethical to make somebody play five games in four days at The Trop.
Anyways, the Rays roll into town hobbling through injuries, as catcher Mike Zunino, infielder Brandon Lowe, and centre fielder Kevin Kiermaier are on the 10-day Injured List while pitchers Tyler Glasnow, Pete Paribanks, Drew Rasmussen, J.P. Feyereisen, Nick Anderson, Andrew Kitteridge, and JT Chargois are all on the shelf.
The Rays will also be leaving a pair of arms, Brooks Raley and Ryan Thompson, in Tampa because they aren't vaccinated…
Raley is a big loss to Tampa's bullpen, as he has a 2.22 ERA over 24 1/3 innings, while not having Thompson isn't quite as much of a problem, as he has a 5.33 ERA through 25 1/3 innings. We don't know yet who they'll be calling up from Triple-A in their place, but, knowing the Rays, it'll be someone who throws 104 miles-per-hour.
Tampa having such strong organizational depth, especially on the pitching side of things, generally makes them one of the best teams in baseball at navigating injuries. That hasn't been the case recently though, as the Rays are limping through a stretch in which they've won just six of their last 17 games.
The pitching has managed quite well despite the injuries, but Tampa's bats have been cold. The offence, which scored the second-most runs in baseball last season, currently ranks below league average with 4.03 runs per game. At the centre of the struggles offensively is Wander Franco, who's slashing just .262/.294/.408 through 204 plate appearances.
The Rays are currently 40-34, a game-and-a-half back of the Blue Jays in the standings.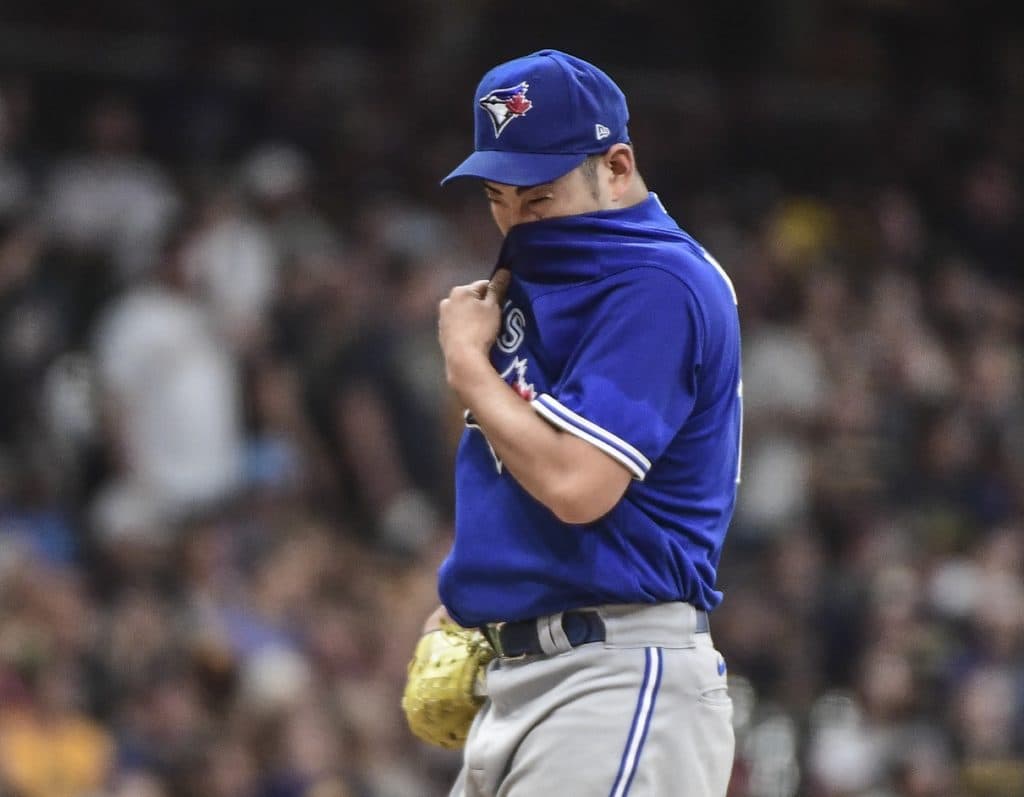 Jun 25, 2022; Milwaukee, Wisconsin, USA; Toronto Blue Jays pitcher Yusei Kikuchi (16) reacts between batters in the second inning during game against the Milwaukee Brewers at American Family Field. Mandatory Credit: Benny Sieu-USA TODAY Sports
The head-to-head…
Yusei Kikuchi vs. Matt Wisler
If there was ever a time for Yusei Kikuchi to break out of his terrible stretch and put up a strong start, it would be now. The last thing the Blue Jays need is for Kikuchi to lay an egg and only go two innings to kick off a series in which they play the Rays five times in four days. Kikuchi is 2-0 in two starts all-time against the Rays with a 1.38 ERA. Let's hope that trend continues.
Tampa will kick things off with Matt Wisler, so it'll be a bullpen day for them. Wisler has a 2.83 ERA through 35 innings and hasn't gone more than two innings in an outing this season. He pitched two clean innings against the Blue Jays in the previous series between the two teams back in May.
Jose Berrios vs. Corey Kluber
Friday's game is really the one in which the Blue Jays badly need their starter to go deep, as Saturday is the doubler-header. Jose Berrios has struggled in back-to-back outings after stringing together three consecutive excellent starts. It's impossible to predict what we're going to get from him right now but Berrios held the Rays to one run over seven innings in his most recent start against them last September.
Going for the Rays will be Corey Kluber, who has a 3.45 ERA through 14 starts for the Rays this season, slightly better than the 3.83 ERA he had in 16 outings with the Yankees last year. Kluber didn't face the Blue Jays in May but saw them four times last season. His longest start of those four outings was four-and-two-thirds innings.
Ross Stripling vs. Shane McClanahan
Max Castillo vs. ???
We're into To Be Announced now so I'll make my best guesses on who the Blue Jays and Rays will be sending out.
One of the starters for Saturday's double-header will be Ross Stripling and the other figures to be Max Castillo, who looked quite good last weekend when he came in and tossed four scoreless innings in relief of Kikuchi. Given Castillo didn't pitch at all in the Boston series, it's safe to assume he'll be the starter here.
The two spots in Tampa's rotation after Kluber are Shane McClanahan and Shane Baz. McClanahan will be on normal rest so he'll surely start one of these games but Baz last pitched on Tuesday and they likely won't start him on short rest. McClanahan has a 1.77 ERA and is a good bet to go deep in the first game so the Rays could realistically schedule a bullpen game in the second leg of the double-header.
Kevin Gausman vs. Shane Baz
It'll be Kevin Gausman going for the Blue Jays following a dominant start against Boston on Monday. Since his tough outing against the Orioles, Gausman has allowed just two earned runs over 13 innings in his last two starts while striking out 17. He allowed three in seven innings against the Rays back in May.
Sunday's start will likely go to Baz, who has a 3.38 ERA through four starts this season after missing April and May with an elbow injury. Baz made his big league debut against the Blue Jays last September and allowed two earned runs over five innings while striking out five.
---