Prospect Profile: Kevin Miranda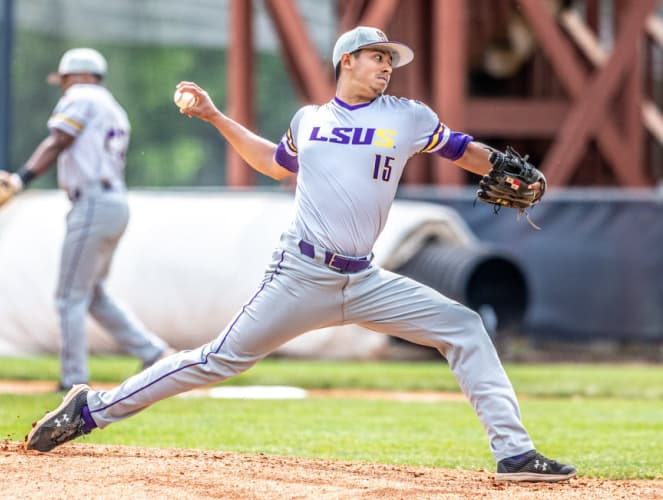 Photo credit:edriverconference
Here's my routine after waking up.
I open my laptop and visit three sites: Twitter, Blue Jays Aggregator, and Blue Jays transactions.
I wasn't expecting any minor league transactions on Thursday morning. You should've seen my confusion when I noticed that the Jays assigned a right-handed pitcher named Kevin Miranda to the Florida Complex League Blue Jays.
I noticed that the 24-year-old is from Panama, but his age isn't your typical International Free Agent signing. He was also signed on August 4th, so this led to even more confusion.
After some more digging, I found this Tweet from his university.
Interestingly, current Vancouver Canadians manager Brent Lavallee was the manager of Lousiana State University in Shreveport (LSUS). Not relevant, but interesting nonetheless. Let's look at Miranda's stats in the 2021-22 season!
Miranda's stats:
Born in Panama, the 24-year-old spent three seasons at LSUS, which plays in the National Association of Intercollegiate Athletics (NAIA), similar to the NCAA. To say that Miranda posted fantastic stats in the 2021-22 season is a little bit of an understatement.
Per his school's page, Miranda struck out 156 facing just 341 batters. That's an absurd K% of 45.7%, which is even more impressive when you factor in that he did this as a starter.
Sometimes with a high K%, you may get a high BB%, but Miranda was the complete opposite. He only walked 13 batters in the 2021-22 season, for an incredibly low 3.8 BB%. For the season, he had a 2.44 ERA.
As for his colligate career, he had a 3.82 ERA in 193.1 innings. He still had a pretty high 32.4 K%, while his BB% was a fantastic 4.8%. The 24-year-old started 37 of the 48 games that he appeared in with LSUS, meaning that the Jays may see him as a starter.
Let's look at
why
the Jays signed him.
Miranda's stuff:
Miranda has a four-pitch mix, a four-seam and two-seam fastball (which sits 90-93 mph), a slider, and a changeup, the latter being his best pitch. Let's talk about that changeup.
When he has the feel for it, it's a plus plus pitch, like potentially one of the best in the Blue Jays organization. It has a ton of late break, "does something new every time", and Miranda can generate some fade to right-handed batters. Does that remind you of a certain pitcher currently in Mexico?
Someone who had worked with him in the past had this to say:
"

[Miranda's] velocity jumped tremendously in his time [with LSUS]. Projectable, with a body still in the works. Has a plus changeup which he can use on both sides of the plate. Slider developed a lot, and it's a big focus for him moving forward."
Miranda's future:
The most pressing question is what level will he start at in the Jays organization? As a 24-year-old, I think he'll have a pretty quick ascent up the ranks until his level matches his age. It wouldn't surprise me if he will have a Ryan Boyer-esque ascent (start in Low A, finish in Double A).
The other question is does he stick as a starter, or is he moved to the bullpen? I think this could go either way. He currently has a four-pitch mix, which is more of a starter's mix. However, I could also see how they could have an interest in him pitching out of the bullpen, as he's a swing and miss artist.  
My best guess is that he potentially fills in as a bulk reliever. He'll still get a bunch of innings, but he could also adjust to the bullpen. I could be wrong here, of course.
It's clear to see what the Jays like about Miranda. His changeup is at the very least, a 65-grade change. With more room for development, he could see a velocity tick (especially if he moves to the pen.) The changeup could already be one of the best in the organization, and the development of his two-seamer and slider is a positive sign as well.
As always, you can follow me on Twitter and Instagram @Brennan_L_D. I can't believe I missed him signing with the Jays, but I'm pretty excited to watch him in 2023!
---