Revisiting how the Blue Jays turned Drew Hutchison into Teoscar Hernandez
Photo credit:Getty Images
Teoscar Hernandez is a starter in this year's All-Star game.
While I believe Cedric Mullins should have gotten the nod above him, I also believe that Teoscar Hernandez is a very good player. How did we get our all-star right fielder? Well for that, we will have to go all the way back to what I believe is the greatest Toronto Blue Jays trade tree in history…
Drew Hutchison…
First, we'll need a back story about the former Jays pitcher named Hutch. Foolish Baseball recently produced a great video on why the pitcher record is so useless. In this video, he used Hutchison as an example. Why? Well because even though Drew has been a subpar pitcher in the MLB (5.10 ERA), he has a lot more wins than losses (32-23).
This includes one of the wildest splits I have ever seen. In 2015, Hutchison started in 13 away games, had an ERA of 9.83 and finished with a record of 2-3. However, at home, he was what you would call an ace. In 15 home starts, he had a 2.91 ERA with a record of 11-2! Is this important to the trade tree? No, I just find this utterly bonkers.
He only played in nine games with nearly a 5.00 ERA before being traded to the Pirates.
The Trade…
On August 1st, 2016 the Toronto Blue Jays traded Drew Hutchison for Franciso Liriano, a prospect named Reese McGuire and another prospect named Harold Ramirez. Throughout this section of the article, I will be referring to a conversation I had with Greg Rosenthal, a Pirates correspondent for Prospects1500. Now let's go by these players one by one and talk about why the Jays absolutely robbed the Pirates blind.
Francisco Liriano…
The Pirates made this move to save 18 million according to Rosenthal.  After pitching fantastically the three seasons prior, Liriano was struggling with a 5.46 ERA. This hurts the Pirates as a small market team because Liriano had signed a 3 year, 39 million dollar contract prior to the 2015 season.
When he arrived in Toronto, Liriano pitched lights out for the Blue Jays finishing the season with a 2.92 ERA with an okay FIP of 3.98. He, along with the rest of the Jays pitching staff quite frankly dragged the team to the ALCS, with Liriano playing a key role as the guy who got the win in the wild-card game over Baltimore.
Reese McGuire…
I've recently written extensively about McGuire and how I value him on this team. Coming into 2016, both he and Ramirez were considered top 10 prospects in the average Pirates' system. They both faltered losing value, however, Reese is a good defensive catcher and that was his calling card according to Pipeline.
Is he as good a hitter as his 2021 season suggests? No. We can tell this through minor league hitting as well as the fact he is a lucky hitter according to his .375 BABIP (Batting average on balls hit in play) as he usually hits weak contact. What McGuire gives you, however, is above average defence and the ability to be plugged in against right-handed pitchers.
Harold Ramirez…
While he never played a game for the Toronto Blue Jays, the fact that they were able to get Ramirez + for Drew Hutchison is incredible. While the Jays were very interested in re-signing Ramirez as he had solid minor league numbers, he left for the Miami organization as he saw more of an opportunity with their lack of outfield depth. He hit great (.355/.408/.999) in Miami's triple-A team before getting the call-up.
As a 24-year-old, he made his debut for the Marlins in 2019 and in 446 plate appearances, he hit .276/.312/.728. He had an OPS+ of 92 and a wRC+ of 93. A little bit bloew average, but keep in mind he was a rookie.
In 2020 he only played three games due to injury and was later DFA'ed on February 17, 2021. The Marlins decided to best replicate their team president's defensive ability and decided to bobble an easy ground ball that would have helped the team. Sorry, Jeter.
The equally inept Cleveland Baseball team (for different reasons), claimed him off of waivers because why wouldn't you?
This season Ramirez is hitting .282/.327/.802 for and OPS+ of 113 as well as a wRC+ of 114. With a low K% (11.9), Ramirez has become an everyday outfielder for the organization. 
While he is subpar defensively, especially in centerfield, the trade that moved Drew Hutchison for Liriano, McGuire and Ramirez will go down as the second-best move the Shapiro and Atkins front office has made.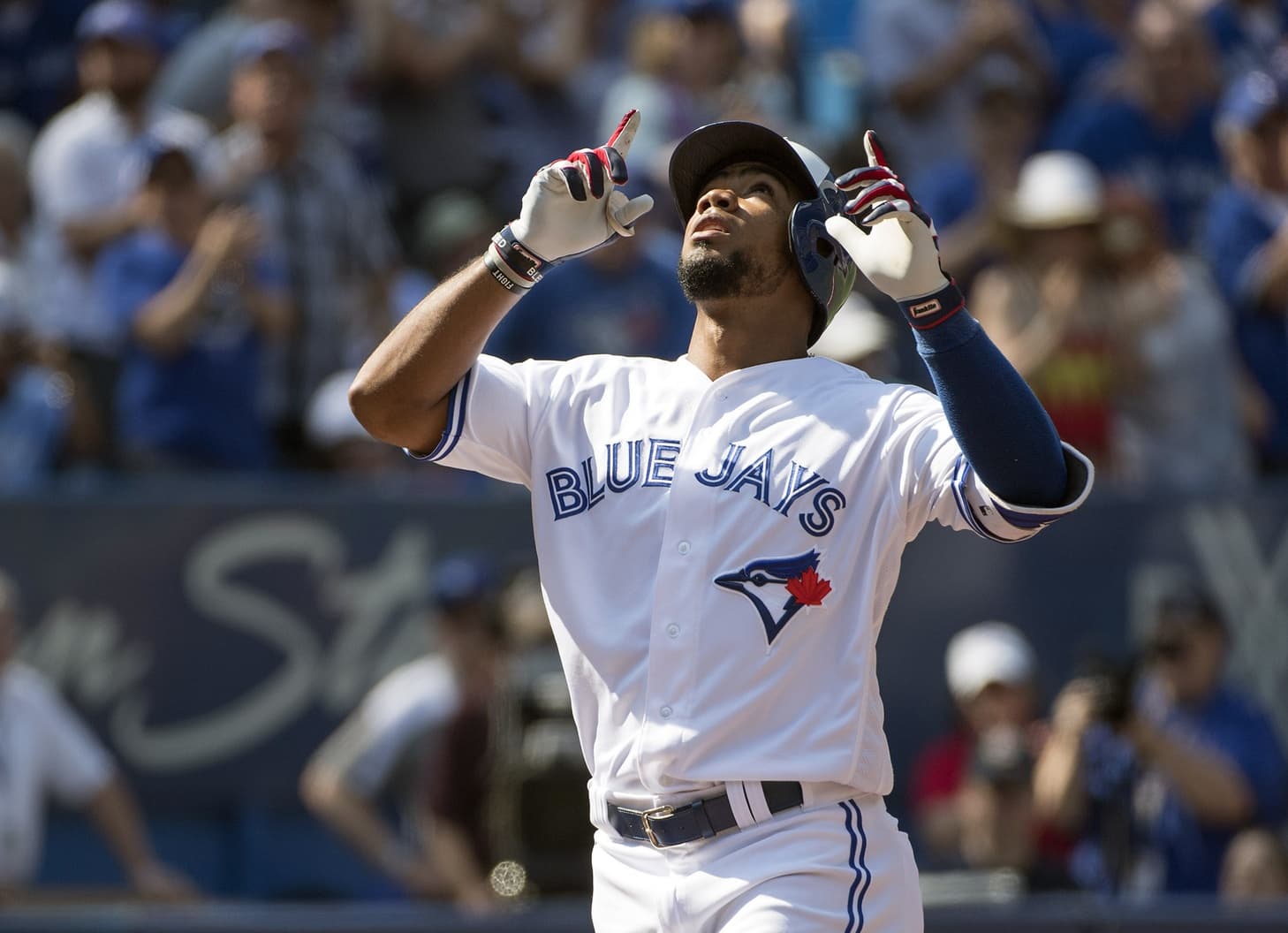 Getting Teoscar Hernandez…
Remember Liriano? Of course you do, you're intelligent, unlike me.
Liriano absolutely struggled in the 2017 season, posting a 5.88 earned run average as well as a 4.73 FIP. This is bad. If you were to say in 2016, the healthy pitching dragged this team to the playoffs, you'd be right. If you were to also say that the vice versa happened the next season, you'd also be right.
On July 31st, 2017, the Jays traded the struggling Liriano to the eventual World Series Champions, Houston Astros* for Nori Aoki and a prospect named Teoscar Hernandez. At the time, I believed that they wanted Nori Aoki to contend for a wild-card position. On that day, they were seven games back and needed an extra outfielder. To me, someone who was not well versed with prospects at the time, Teoscar Hernandez was an afterthought.
According to Prospects1500, Teoscar was the 9th rated prospect coming into the 2017 season. He struggled defensively and had a high K%. Could he have been something? Possibly, but I want the Jays to make the playoffs!
Let's jump ahead half a month. It's August 17th, 2017. The Jays have just beaten the Rays 5-3 to improve their record to 59-62. Despite all of the injuries to the pitching staff, they sit 3 games back of a congested wildcard race. They have a month and a half to leapfrog 7 teams.
They head to the South Side of Chicago for a weekend set against the Cubs. While two of the three games were close, the Jays got swept and finished the rest of August 3-10, effectively killing any chance of a third straight playoff berth. That Cubs series happened to be a blessing in disguise, however.
On September 1st, the roster expanded and Teoscar Hernandez is one of the players to get called up. In 26 games in September, he had 95 plate appearances and finished with a slash line of .261/.305/.908. He had eight home runs in this time. If he was an afterthought for me when the trade happened, I awoke to his potential that September.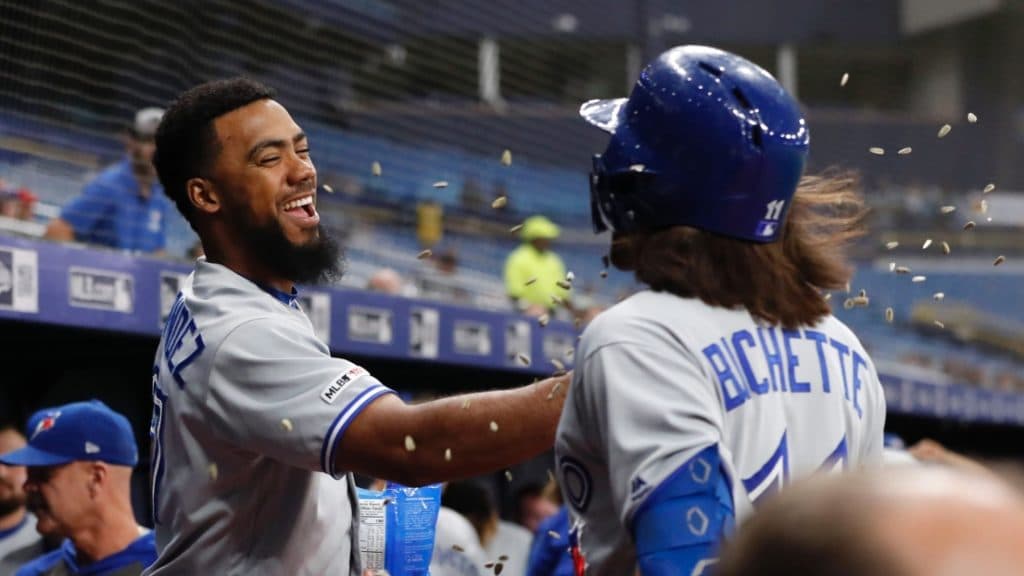 Teoscar Hernandez now…
I could write an entire article on Teoscar Hernandez and why I believe he can turn into a sort of Jeff Kent if Vlad starts getting intentionally walked. In fact, I have referenced this in a past article. 
We all know the story, he struggled in some capacity in 2018 and 2019, so much so he was sent to the minors multiple times. During the COVID season, he became a brand new hitter. While he struck out a ton still, he finished with a slash line of .289/.340/.919. He had a high BABIP, but he was in the 69th percentile (nice) of hardhit%. Furthermore, his average exit velocity was in the 98th percentile! If you hit the ball softly and have a high BABIP, you are lucky. If you have a high BABIP and hit it as fast as a bullet, you are a great hitter.
In 2021, his all-star season, he owns a slash line of .302/.344/.835. While his BABIP is even higher, he's still hitting the ball so hard that it doesn't matter. What's more is that he has dropped his K% to 25.5%, one of the lowest in his career. His stats haven't been as good as the previous season, but he is a fantastic player.
He's made the improvements to be a slugger while managing to hit for a good average, even if it's inflated by a high BABIP.
Lastly, I would like to talk about his improvement on defence using DRS. In his first full season for the Jays, his DRS was an awful -12. He followed that with a DRS of -7 in 2019. However, as his bat improved, so did his defence. Last season he had a DRS of -2 and this season his DRS is -1. In right field his DRS is an average of 0, meaning that in the position he usually plays, he is serviceable.
So, in conclusion, the Blue Jays managed to turn Drew Hutchison, a struggling pitcher into a very useful Liriano who helped them win a wild-card game, a legit big-league catcher in Reese McGuire, and Teoscar Hernandez, an All-Star outfielder.
That's really, really good. The best trade tree in Blue Jays history in terms of using a couple of deals to swing a whole bunch of nothing into a whole bunch of something, if you ask me. 
Big shoutout to Greg Rosenthal, the Pirates correspondent for Prospects1500. You can follow him at @BucFish67 and @Prospects1500.
As always, you can argue with me @Brennan_L_D on Twitter. Many people argued about my take on this trade tree being better than getting Donaldson and it stemmed into the longest article yet.