Ricky Tiedemann reportedly among the Blue Jays prospects who will be playing in the Arizona Fall League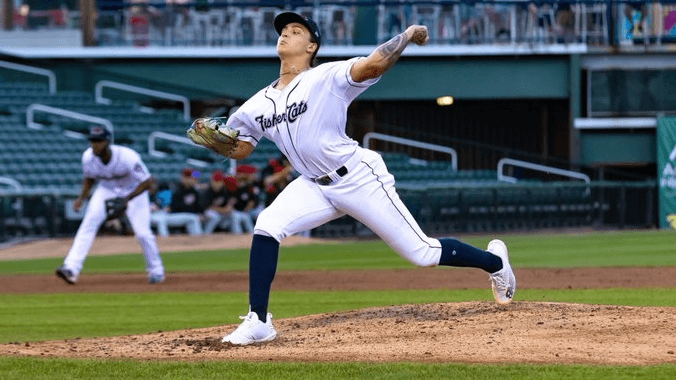 Photo credit:Fisher Cats PR
We're nearing the end of the minor league season, which means the Arizona Fall League is about to kick off.
On Saturday evening, TSN's Scott Mitchell reported that the Blue Jays will likely be sending the Blue Jays top prospect, Ricky Tiedemann, to the Arizona Fall League, along with Canada's own Dasan Brown.
Starting with Tiedemann, the 21-year-old lefty had a 5.06 ERA and a 2.11 FIP in 32 innings pitched in 2023 with the Double-A New Hampshire Fisher Cats. While the ERA was rather high, he only gave up one home run and also had a crazy 39.7 K%. However, his BB% of 13.7% was on the high side.
Last season with the Dunedin Blue Jays and the Vancouver Canadians, Dasan Brown slashed .283/.383/.420 with six homers (actually nine) in 360 plate appearances. However, the 2023 season has been a struggle for the 21-year-old Oakville native, as he slashed .218/.309/.315 with seven homers in 463 plate appearances in High-A. Still, he's one of the most intriguing high school drafted players in the Blue Jays organization.
Mitchell also speculated on some other names that could be heading to Arizona in the near future. In terms of pitchers, he suggested C.J. Van Eyk (31.1 innings pitched in 2023) and Trent Palmer (7.2 innings pitched in 2023) as potential candidates. Both are coming off Tommy John surgery.
Moreover, Dahian Santos was also suggested, as the 20-year-old right-handed pitcher hasn't pitched since July 1st. Conor Larkin and Fitz Stadler were also suggested as arms who could get more reps playing in the fall.
In terms of bats (which they can only send three), Mitchell has heard that it could be Damiano Palmegiani, Will Robertson, Josh Kasevich, or Cade Doughty who head to Arizona.
That's a pretty exciting group to watch!
---
As always, you can follow me on Twitter, Instagram, and Threads @Brennan_L_D.
---