Ross Atkins talks about Julian Merryweather, the closer situation, improved defence, and more!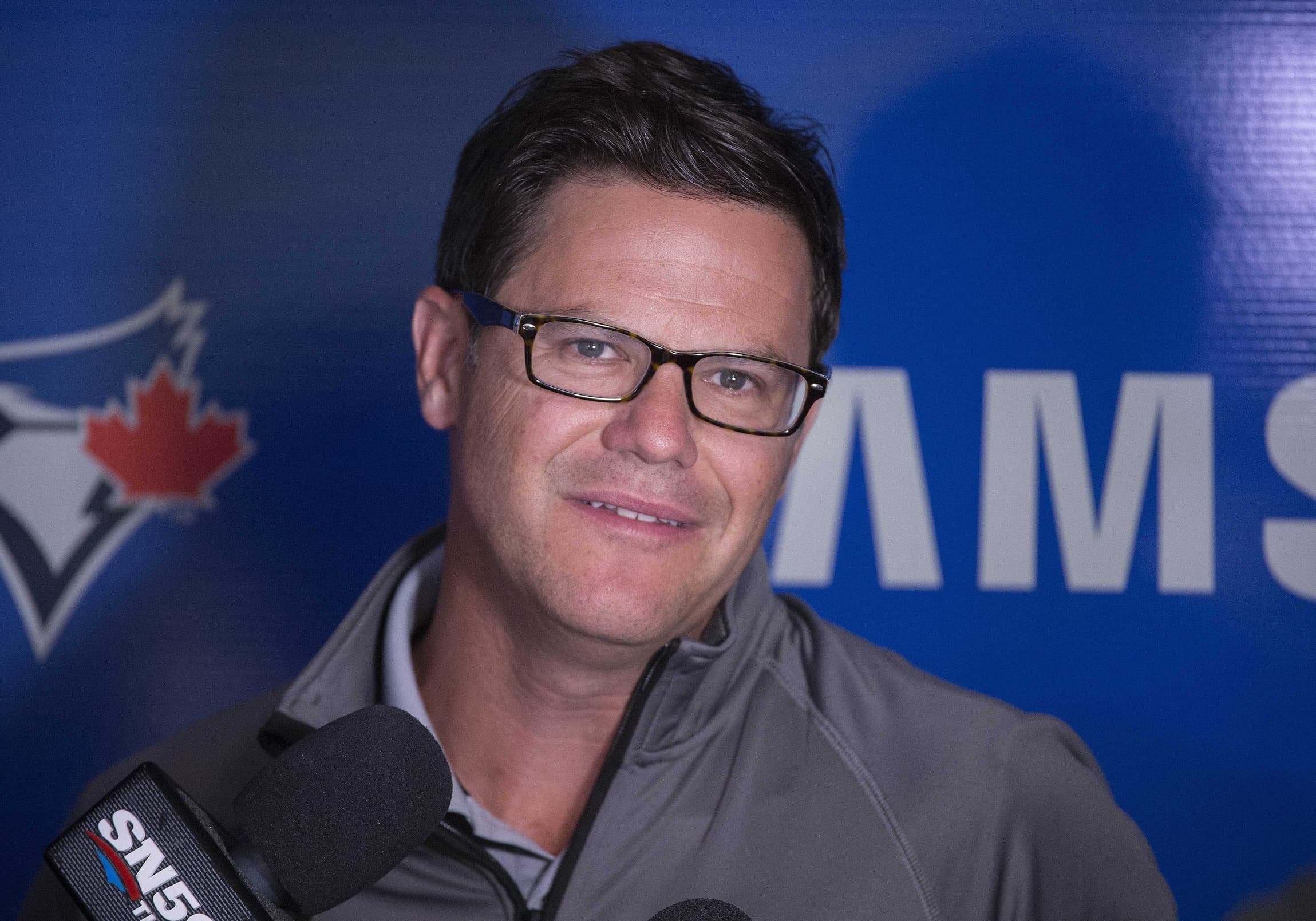 Photo credit:Nick Turchiaro-USA Today Sports
On team defence…
Atkins very quickly went out of his way to praise the defensive effort that we saw on Thursday afternoon, noting that just about everybody on the field had what he described as an 'above average defensive play.'
The energy in both dugouts, the intensity of it, it was a lot of fun. I was extremely happy for the players, for the coaches, for the Toronto Blue Jays fans, to have a very entertaining game out of the gates. And a lot of positive things happened. I think six of our eight defenders had well above average defensive plays — that was probably the highlight for me, watching each of those plays. Cavan had several exceptional plays. Really encouraging on the defensive front.
This is a big change of scenery from what we've seen from this group in the past. The 2018 and 2019 Blue Jays obviously weren't competitive for a multitude of reasons as they were rebuilding but even the 2020 team booted the ball around quite a bit and made life more difficult on themselves because of it.
When you look up and down the Blue Jays roster, you generally see players who are more known for what they do at the plate than for what they do in the field. It's only been one game, of course, and zeroing in hard and making good plays defensively over the course of a 162-game marathon is a whole other animal, but things like Cavan Biggio's game-saving throw home and Vlad's scoops at first are certainly an encouraging sign.
Atkins mentioned how this is the result of how hard players worked during spring training…
If you saw, and we have the benefit of being under the hood in spring training and seeing, what they're doing on a daily basis to prepare for those types of plays. Cavan Biggio, and Marcus [Semien], and Bo [Bichette] were out there every single day, very early in the morning, to work. All of those plays that you saw executed were worked on. Every angle, every different read they could think about. They were having fun with it, it was a very disciplined approach, which gives you a lot of confidence that it's going to be sustainable. And that's huge for us.
The Blue Jays,
per FanGraphs
, ranked 22nd in baseball in terms of defensive WAR last year and were 29th in terms of defensive runs saved. Among the players who had
50 plate appearances
, only Danny Jansen, Bo Bichette, Travis Shaw, Santiago Espinal, and Joe Panik were in the green defensively.
Adding Marcus Semien, a shortstop who's now playing second, along with the eventual add of an above-average centre fielder in George Springer, is obviously a big step in the right direction for the Blue Jays, but seeing internal progression on the defensive side of the ball from Vlad, Bo, and Biggio is huge.
On Julian Merryweather and closing games…
There was quite a bit to like on Thursday but the star of the day was probably Julian Merryweather, the 29-year-old rookie who came out in the 10th inning and picked up his first save of his big-league career in sparkling fashion, striking out Aaron Hicks, Giancarlo Stanton, and Gleyber Torres on 11 pitches.
Two-and-a-half years ago, we all scoffed when
Atkins said
that the Player To Be Named Later coming back from Cleveland in exchange for Josh Donaldson, a former MVP winner, was "a near-term prospect who could impact our team in a significant way." We hoped for Bradley Zimmer or Shame Bieber and were disappointed when it turned out to be the relatively unknown, oft-injured Merryweather.
Oh, how times have changed.
We wouldn't have gotten [Merryweather] if he didn't have health issues. Where Josh [Donaldson] was at the point in his career, it wasn't like JD was coming off of MVP performance sustained. He obviously was, and still is, a very good player, but the reason we had access to Julian was because he'd had Tommy John surgery. Now we're seeing he is healthy, he is effective, and if we can help keep him healthy he's obviously a weapon. That was a near immaculate inning, and overpowering, and about as high leverage as you can get, too.
The key here is obviously health. When the Jays got Merryweather in August of 2018, he hadn't pitched since posting a 5.32 ERA in Double- and Triple-A in 2017. He then went on to pitch only six innings in 2019, his first season in Toronto's system. Then, in 2020, he burst onto the scene with an impressive debut, tossing 13 innings with 10.4 strikeouts per nine.
I know many would like to see Merryweather stretch out and be a starter, given his stuff is good enough to be a top-end rotation arm, but I have a hard time seeing it at this stage. I would rather have Merryweather healthy in a limited innings role in the bullpen than risk him getting injured trying to start. Based on what Atkins is saying, it seems that's the plan…
In a perfect world I think every executive would like to have eight regular starting position players, five regular starting pitchers that are going to be out there every turns, and then a closer that you can count on every day and year in and year out. And we're working towards that, and we'll continue to work towards that.

But I the interim I think having the open-minded approach that Charlie [Montoyo] and Pete [Walker] have, and then the open-minded approach that David Phelps, and Jordan Romano, and Ryan Borucki, and Rafael Dolis, and Julian Merryweather have about being at the back of a bullpen, that gives us different ways to put guys in positions to match up. Whether it's the split of Dolis, or the power of Romano, Merryweather, the different weapons of a David Phelps, and who they're facing will allow us to put those guy in positions to be successful on a regular basis. I'm not sure if that answers your question specifically, but we're excited about the options that we do have, and yesterday was a good start towards deploying that with Charlie and Pete.
With Kirby Yates out for the year, the Blue Jays closer situation is in question. But, as Atkins says, there are multiple high-quality arms in the team's bullpen who are capable of pitching in key situations late in games. We're likely going to see Montoyo roll with some sort of hot-hand thing, handing the ball in the ninth inning to whoever happens to be the one pitching well at that time.
And, as the quote says, Merryweather is one of those names, so I think we can assume that, like with Ryan Borucki, another arm with starter upside who has lost a lot of time due to injury, his long-term projection is in the 'pen.
On George Springer's health…
It was unfortunate that Thursday's season-opener in New York didn't feature George Springer, the team's marquee off-season addition. Springer, as we know, is dealing with an oblique issue, and the team ultimately opted to take things slow with him, even though it meant not having their new star in the mix right off the hop.
Atkins said that Springer felt he was ready to go, but understood the team's choice to play things safe…
It was an interesting process for him, because it's a relatively new relationship, right? We're building trust with one another and wanted to make sure that he was a big part of that decision. His desire to be there Opening Day, against Gerrit Cole, against the Yankees, with that new group, could not have been higher. And his pain tolerance, and his toughness, is very high. His strength is very high. So he felt capable, and I think in the end understood what it could mean if that set him back, even if it was just a minor setback and he had to play for a month or two with aggravation, or tightness or stiffness. I think he got to the point where he recognized that it just wasn't worth it. So, it did in the end did not feel, obviously it was our call, and us taking us out of his hands, but he absolutely understood it.
It'll be interesting to see what the Blue Jays do when Springer is back. He'll likely see some amount of time as the designated hitter but he'll mostly be in centre field, which could bump Randal Grichuk, who went 2-for-4 with the go-ahead RBI in the 10th inning, to the bench.
What's the optimal lineup for this team? Does it involve Grichuk in right and Teoscar Hernandez as the DH? Does it involve Vlad at third so that Rowdy Tellez can still be in the lineup, playing first? Where does Biggio fit if that's the case. It'll be quite an interesting crunch when this group is fully healthy.
On coming home…
And, finally, Atkins had a quote that all of us can relate to…
I can't wait for that day, for us to be in Toronto, and for it to be electric in that stadium. Our players haven't experienced it. Teoscar to some extent, but most of them haven't experienced it when that stadium is packed, just how energetic it is, and I can't wait for that day.
The team's young core of Bo, Vlad, and Biggio hasn't played in meaningful games in Toronto yet, as Atkins mentioned, while Hyun Jin Ryu, Springer, and Semien have only visited Rogers Centre as members of the opposing team. Let's hope that things get good enough here in late summer that these guys can play meaningful baseball in Toronto in front of fans. That would be great.