Santiago Espinal's unexpected breakout in 2021 has him on the radar for more playing time in the future
Photo credit:Kevin Sousa-USA TODAY Sports
After making his major league debut in 2020, the Toronto Blue Jays likely weren't expecting much from infielder Santiago Espinal heading into this past season, however, the 26-year-old has quickly emerged into a reliable piece for this organization as the 2021-22 off-season nears.
Looking back on his breakout performance from the 2021 season, there's no question Espinal's campaign didn't begin on an encouraging note as he was positioned behind veteran Joe Panik on the team's depth chart when Opening Day rolled around. As a result, the young infielder's playing time was limited out of the gate, preventing him from making much of an impact.
Whereas for Panik, the 30-year-old opened the regular season as Toronto's primary backup infielder, and with Cavan Biggio underperforming along with battling through a neck injury, the 2014 World Series champion occupied a regular role on the diamond early on.
But at this stage of his career, the former San Francisco Giant couldn't provide much upside, particularly from an offensive standpoint, resulting in some very troubling metrics through the first month of the season – even for his suboptimal hitting standards.
Proving to be largely ineffective at the plate over his first 42 plate appearances, Panik posted just three extra-base hits, three RBIs, a .073 ISO, a .273 wOBA, a 67 wRC+ score and a measly slashing line of .268/.286/.341 during that span.
Making matters worse for himself, the 6'1″ infielder also failed to make a positive impact with his defence, causing him to register a -3 OAA rating at third base in April. Digging deeper into his woes, the left-hander also proved to be a significant liability regarding the club's run prevention, as he was directly responsible for allowing a pair of runs.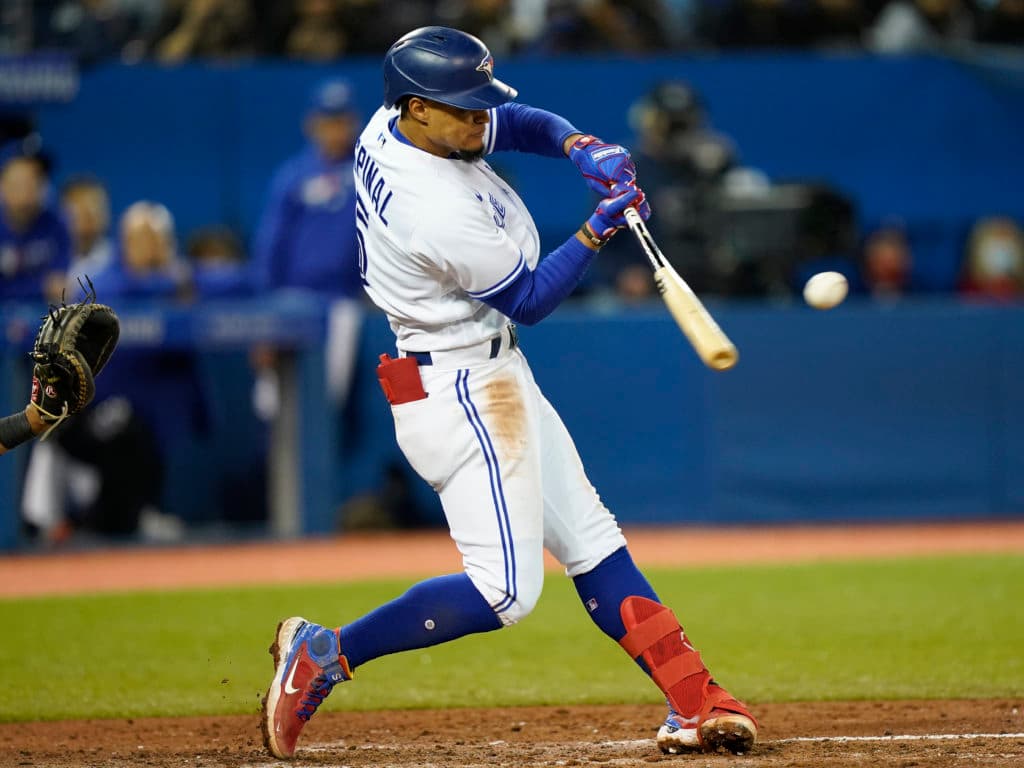 Credit: John E. Sokolowski-USA TODAY Sports
Thanks to this poor offensive and defensive showing, Panik's struggles opened the door for Espinal to assume a much larger role, an opportunity that he certainly didn't squander. Though it was in small bursts, the former Boston Red Sox's farmhand was able to outperform his counterpart and quietly started commanding the larger share of playing time between the two.
At first, featuring a competition for the primary backup infielder job became a great problem to have for the Blue Jays – one that most organizations would've loved to possess. Once it was evidently clear Panik didn't have a role on the roster anymore, the front office had no other choice but to trade him.
Ironically, this ended up serving as one of the best decisions management would make all season, as it addressed multiple areas of concern with just one transaction.
Completing a trade with the Miami Marlins on Jun. 29, Toronto agreed to send the 2015 National League All-Star along with prospect Andrew McInvale, who finished the 2021 season at double-A Pensacola, in exchange for reliever Adam Cimber, outfielder Corey Dickerson and cash – yes, general manager Ross Atkins and his staff executed some highway robbery yet again.
Not only did acquiring Cimber help solidify the bullpen, paired with some quality at-bats from Dickerson down the stretch, but the departure of Panik also cleared the path for Espinal to excel without feeling the added pressure of constantly needing to prove himself worthy to the coaching staff.
Rather than playing a few times per week, the former 10th-round pick started seeing his name in the lineup regularly, allowing him to transform into a constant fixture on the left side of the infield. Without anyone pushing him for playing time, the right-hander's production began improving even further, especially his offensive results.
For the most part, Espinal met his expectations at the plate through the first three months of the schedule, however, once Panik was shipped off to Miami, the youngster's results received a dramatic boost over the remainder of the season.
| | | | | | | |
| --- | --- | --- | --- | --- | --- | --- |
| | AVG | OBP | wOBA | SLG | ISO | wRC+ |
| Pre-Marlins Trade | .292 | .346 | .314 | .365 | .073 | 95 |
| Post-Marlins Trade | .325 | .397 | .366 | .437 | .111 | 130 |
Despite being utilized within the bottom-third of Toronto's lineup, Espinal made the most of his extended opportunity as he packed a sizeable punch whenever his turn came around, helping his team effectively turn over the batting order to its most lethal hitters. Along with recording his first two home runs in the majors, he also continued to hit for contact, allowing him to reach base consistently.
In addition to witnessing improvements to his overall statistics, the 5'10" infielder reached a new level of success regarding his plate discipline, which saw him increasing his walk totals while also reducing his strikeout and whiff percentages.
While none of these metrics were major concerns prior to this mid-season trade with the Marlins, still, there's always room for improvement and that's exactly what's transpired since then. In turn, Espinal finished the season with an equal ratio of walks to strikeouts, meaning he earned as many free passes as he did strikeouts.
| | | | | |
| --- | --- | --- | --- | --- |
| | Strikeout Rate (%) | Walk Rate (%) | Outside Swing Rate (%) | Swinging-Strike Rate (%) |
| Pre-Marlins Trade | 15.4 | 7.7 | 32.0 | 8.0 |
| Post-Marlins Trade | 9.9 | 9.9 | 27.9 | 5.8 |
Considering Espinal generated a concerning 24.2% strikeout rate, 9.4% swinging-strike rate and a 6.1% walk rate through 66 plate appearances in 2020, witnessing such impressive improvements at this stage of his young career speaks volumes about his development, and could suggest his ceiling might be higher than previously anticipated.
Building off that point, along with providing quality offence, the soon-to-be 27-year-old also proved to be, unexpectedly might I add, one of the top defenders on Toronto's roster. While the hot corner served as somewhat of a black hole through the first half of the season, everything changed once the Dominican native took over the starting duties.
Providing elite defence at third base, Espinal produced the highest RngR (4.7) and UZR/150 (13.9), finished tied for the second-highest UZR (6.1), recorded the fifth-most DRS (+8) and the eighth-highest defensive WAR rating (7.1) among all third basemen who totalled at least 500.0 innings, according to
FanGraphs.com
.
Additionally, he also created the sixth-highest OAA rating (+5) among those same qualifications, according to
BaseballSavant.com
.
Coming off this impressive performance, there's no doubt Espinal has established himself as a major-league player, in saying that, he's likely best suited as a part-time utility infielder moving forward. That's not to say he hasn't earned consistent playing time – because he has – but it'd beneficial for the Blue Jays to explore alternative options at third base this off-season.
With all-star players like Jose Ramirez, Matt Chapman, Carlos Correa, Corey and Kyle Seager all potentially available, the front office will undoubtedly be attempting to acquire another big-name ticket over the next few months, similar to how they signed Marcus Semien last winter.
Nevertheless, the sudden emergence of Espinal was a pleasant surprise this past season and is an aspect that could see the Blue Jays reaping the benefits of for many years to come.