Scoreboard Watching: Call-ups lead Yankees to sweep over Astros, Adolis García saves the Rangers, and more!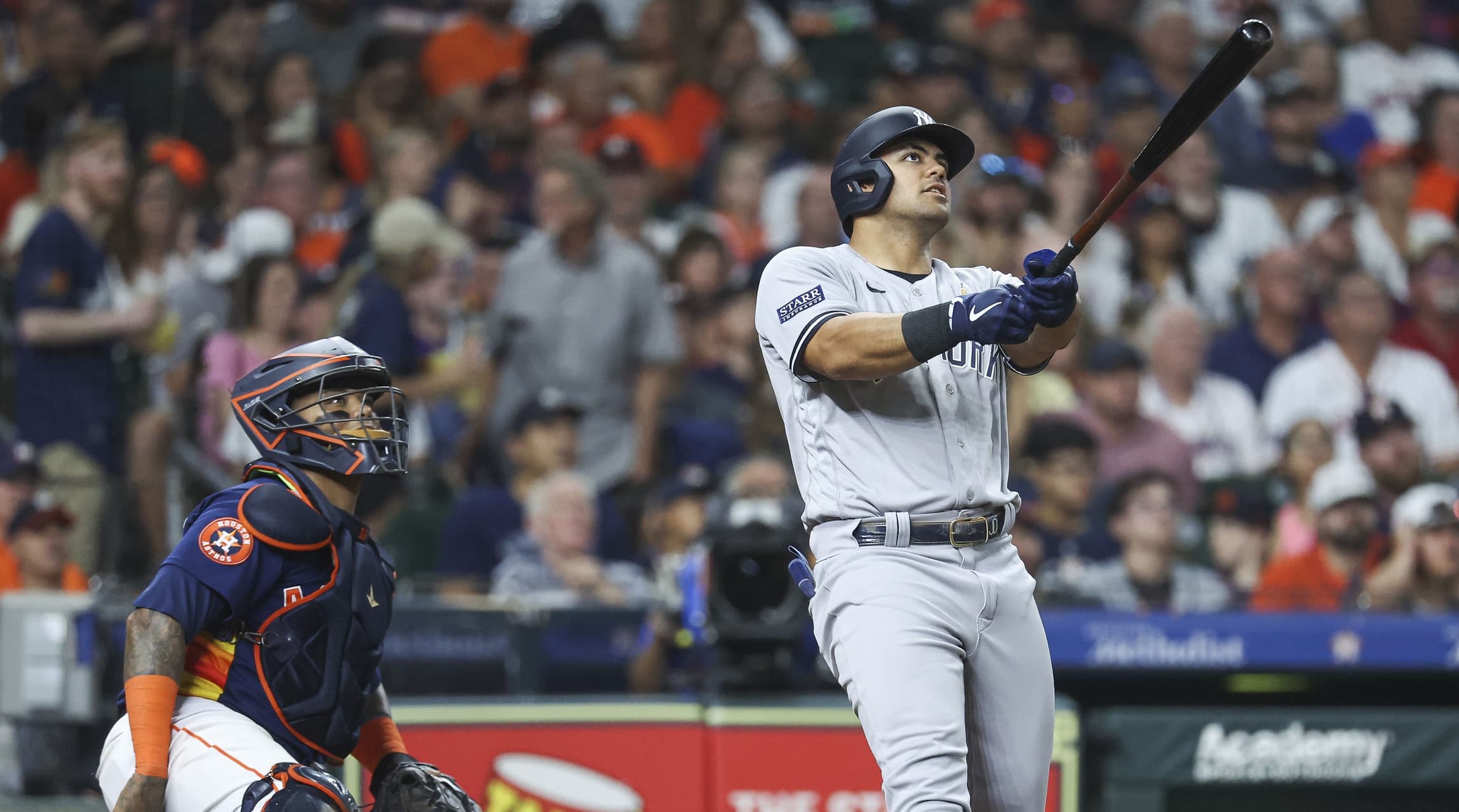 Photo credit:© Troy Taormina-USA TODAY Sports
If you faced a team that recently called up a top prospect, I feel sorry for you (Houston and Seattle).
Thankfully for baseball fans, this week has several intriguing matchups that all have playoff implications. Houston faces Texas, the Rays will battle the Red Sox, and the Twins will play the Guardians. Boston and Cleveland could very well be out of this article next week, so don't be surprised if this read starts getting shorter and shorter.
Baltimore Orioles
Weekend Recap: Baltimore took two of three from the Diamondbacks this weekend, shaking off a tough 4-2 Friday night loss and winning the latter two games. The Orioles are 11-4 over their past fifteen games, continue to maintain the best record in the American League, and are in line to walk into the postseason barring an epic collapse.
Over the past couple of seasons, the Orioles are reaping the rewards of their heavily stocked farm system, and rightfully so. But the youth has overshadowed a guy like Cedric Mullins who, despite being only 28 years of age himself, is one of the longer-tenured Orioles at six years. Mullins was an All-Star and a Silver Slugger just two seasons ago, and while he hasn't returned to that form since then, he is still a viable bat that Brandon Hyde can stick in the middle third of the order. Mullins was 5-for-12 this weekend, including a three-run homer that put Baltimore up for good on Saturday night.
Baltimore got some bodies back in one way or another this weekend, reinstating Aaron Hicks from the IL and claiming old friend Jorge Lopez off of waivers. Lopez had been with the Orioles from 2020-2022, but was traded last season to Minnesota in the midst of a career season. Lopez was traded to Miami later in July, but his 9.26 ERA and 2.486 WHIP with the Marlins ultimately led to his sendoff. Baltimore is hoping they can rekindle some of that All-Star fire from last season, and he got off to a good start on Sunday after pitching a scoreless inning of relief.
Looking Ahead: The Orioles stay out west and will face the Los Angeles Angels in a three-game series. Baltimore is still one of the best teams in the league, but the Rays are still on their tail at 2.5 games behind them.
Tampa Bay Rays
Weekend Recap: After a couple of close losses on Friday and Saturday, Tampa Bay was able to salvage the final game of the series scoring four runs in the ninth inning and winning 6-2 over the Guardians. This was Tampa's first series loss since early August, but thankfully they only fell one game further back of Baltimore for the AL East lead.
Tyler Glasnow three seven quality innings on Friday night, but unfortunately gave up the game-tying and game-winning runs during his final inning of work. Despite taking the loss, Glasnow is coming off back-t0-back months in which he posted ERAs of 3.00 or less, and the simple fact that he's healthy benefits the Rays enough. Pete Fairbanks blew his second save of the season during Tampa's loss on Saturday night, but Taylor Walls reversed the late-game magic on Sunday with a game-winning RBI single in the 8th inning.
Since Mike Zunino hit 33 home runs in 2021, the Rays have struggled to find consistent offensive production at the catcher position. This year, Rene Pinto has providing just that. Since he was recalled in early July, Pinto is batting .304 with an .812 OPS through 20 games. Christian Bethancourt and Francisco Mejia have caught the majority of Tampa's games, but Pinto's bat may be useful down the stretch. Pinto was 3-for-5 this weekend including a two-run home run on Sunday afternoon.
Looking Ahead: The Rays host Boston this week with an opportunity to realistically push the Red Sox outside of playoff position. Aaron Civale, Zach Eflin, and Glasnow will take the bump for Tampa Bay.
Toronto Blue Jays
Weekend Recap: While the Rockies are on pace to finish in the basement of the National League, they've been giving a few AL East teams a run for their money this season. That trend continued this weekend with a few close games, but the Blue Jays wound up taking two of three from Colorado. Toronto got some help from the out-of-town scoreboard, and are now only 1.5 games back of Texas for the final Wild Card spot.
With Bo Bichette and Matt Chapman still out with injury, the Blue Jays are getting some much needed help on the offensive side of the ball from Ernie Clement and Spencer Horwitz. Throw in Davis Schneider being their most consistent hitter right now, and you've got a miniature version of the Buffalo Bisons contributing at the major league level. Since his promotion back to the majors last week, Clement is batting .435 with a 1.087 OPS, a home run, a triple, and five RBIs. Horwitz was only called up prior to this series, but he crushed his first career home run on Sunday as part of a 3-for-4 day at the plate.
Roster-wise, the Jays both added and subtracted over the weekend. Chad Green joined the bullpen for the first time this season and the first time as a Blue Jay. He had a rough outing on Friday night allowing five hits and four runs while only recording two outs, but he bounced back with a critical scoreless inning on Sunday. Unfortunately, Toronto did lose Danny Jansen to the injured list after suffering a fractured right middle finger. Jansen has been one of their hottest hitters of late, and it had earned him a spot much higher in the batting order. Alejandro Kirk has been taking some good swings in the past two series', so the Jays will very much need that to continue in Jansen's absence.
Looking Ahead: The Blue Jays fly from Colorado to California for a three-game series in Oakland this week. This is yet another opportunity for the Blue Jays to defeat an inferior opponent and potentially make their way back into a Wild Card spot.
Boston Red Sox
Weekend Recap: It was NOT looking good after Friday's 13-2 loss in Kansas City, so much so that I considered leaving them out of the article this week. Thankfully, Boston won the final two games to win the series against the Royals and keep their slim playoff chances alive. Entering Monday, the Red Sox are 5.5 games back of the final Wild Card spot and have a 5.8% chance of playing in the postseason.
I normally take this time to shoutout certain players for their performances, and I think Masataka Yoshida is worthy of that today. Some people, including myself, had questions about Yoshida entering this season. However, he has answered the bell and has been a consistent bat in Boston's batting order. Including his three-run homer on Sunday, Yoshida is slashing .296/.350/.462 with an .813 OPS, 14 homers, and 66 RBIs. He leads the Red Sox in both batting average and hits, and he's showing that his five-year, $90 million deal may be worth it.
Boston's offense has clearly been their calling card all season, and that trend continued this weekend. But they did get a nice boost on the pitching side on Sunday. Chris Sale earned his first win since May 26th, pitching five scoreless innings, allowing only two hits, and striking out five. It marked the first time Sale had not allowed a run in a start of at least five innings since July 12th of last year.
Looking Ahead: Games are magnified for everyone right now, but the clock is ticking the loudest on Boston. They square off against the Rays for a three-game series this week, the first time these two have faced each other since Tampa Bay took three of four from them in early June.
Seattle Mariners
Weekend Recap: The Mariners dropped two of three in Queens this weekend. Much like Houston, the promotion of a top prospect by an opponent certainly didn't help the Mariners this weekend. Ronny Mauricio had five hits in his first series as a big leaguer, giving Mets fans a good taste of their future. The out-of-town scoreboard was in their favor, so Seattle remains atop the AL West by just one game.
The Mets played Texas closely last week, so it's no surprise that they gave Seattle a run for their money as well. A clutch solo home run in the 9th inning on Saturday from J.P. Crawford was the only thing that kept this from being a sweep. Luis Castillo and George Kirby combined for eight earned runs in only eight innings of work, but Logan Gilbert continued to be an underrated part of their rotation. He tossed 6.2 innings of one-run ball with nine strikeouts on Friday night, earning him his 16th quality start and lowering his ERA to 3.56.
Looking Ahead: The Mariners will face the young Cincinnati Reds this week at Great American Ballpark. These two have a lot in common when it comes to personnel; the Eugenio Suarez and Luis Castillo deals both revolved around these two squads. This also marks the first time since August 20th that Seattle will face a team with a winning record.
Houston Astros
Weekend Recap: Although the Astros have the Yankees' number in the postseason for several years, New York bested Houston this weekend at Minute Maid Park and dropped them to Wild Card spot #3. The Yankees swept the Astros for the first time since 2013 behind rookie Jasson Dominguez having a series to remember, becoming the first Yankee since Aaron Judge to hit a home run in two of his first three career games.
I could rave about the Yankees, but not only do I simply not want to, there are some problems to discuss in Houston. Although the Yankees feature some young hitters that don't have a deep scouting report on them yet, the Astros starting pitching did not excel against one of the league's most struggling offenses. Justin Verlander only struck out three batters through six innings, allowing eight hits and six earned runs. He also also gave up four home runs, the most he had allowed in a single game since May 27th of last year.
After being one of the most dominant and underrated up-and-coming pitchers last season, Christian Javier has run into a speed bump through 26 starts in 2023. This year, Javier has posted career lows in ERA (4.65) and K/9 (8.3), as well as a career-high 8.2 H/9. While Houston still has talent in their rotation, it has been a relatively down year for that group opposed to their recent exemplary seasons, and it is one of the reasons that they aren't running away with the AL West like they're used to.
Looking Ahead: An AL West clash with the Rangers awaits the Astros in what figures to be the best series of the week. The Astros are 6-4 this season against Texas, but this will be the last time they face each other this season, so ensuring they have the tie-breaker could come in handy at the end of this month.
Texas Rangers
Weekend Recap: Texas' rough second half stretch continued this weekend with a series loss to the Twins. As bad as they've been, the Rangers are still just one game back of Seattle for the AL West, and they also still maintain a Wild Card position.
The Rangers' bullpen has been a problem for several weeks, and the Twins made sure to add to that struggle this weekend. On Friday night, Max Scherzer gave Texas six scoreless innings in his start, but Brock Burke and Josh Sborz combined to allow five runs in the 7th and 8th innings to put the game out of reach. Aroldis Chapman allowed two runs in the 10th inning on Saturday, making it the fourth outing of his last six in which he's given up at least one run. I'll spare the bullpen some in that Jordan Montgomery allowed six runs on Saturday, definitely his worst start as a member of the Rangers.
This series was very close to being a sweep, but Adolis Garcia smashed a walk-off home run (with a nice pimp job) on Sunday afternoon to salvage the final game. That home run marked Garcia's 34th on the season and his 100th RBI, ranking him 3rd and 1st in the American League in those respective categories.
Looking Ahead: Texas and Houston will square off this week. Like I mentioned above, this could have big tie-breaker implications depending on the result. Houston just got swept by the Yankees, and while Texas lost their series this weekend, maybe the momentum from Garcia's walk off will carry over.
Minnesota Twins
Weekend Recap: One way to beat the Rangers is to out-slug them, and that's what Minnesota was able to do this weekend. The Twins won their season series against Texas with a 2-for-3 weekend thanks to five home runs and outscoring the Rangers 19-14. With this series win, the Twins remain 5 games up on the Guardians in the AL Central.
Royce Lewis (4-for-13, a home run, 4 RBIs) continues to show his value on the offensive side of the field, but Minnesota got key contributions from some of their role players this weekend. Look away Blue Jays fans, but Jordan Luplow has homered twice since joining the Twins, including one on Friday night. Donovan Solano was 4-for-5 on Saturday with a home run and three RBIs, pushing his average to .294 and his OPS to .790. Luplow was claimed off of waivers back in early August, and Solano was signed to a one-year, $2 million deal before the season. If these two are contributing somewhere in Minnesota's lineup, let's just say the Twins got a couple of steals here.
On the mound, the Twins are very happy that starter Joe Ryan is back in the rotation. After spending close to a month on the injured list for a groin strain, Ryan has allowed only two earned runs and eight hits through 11 innings. He's also struck out 14 batters versus only two walks. This was the version of Ryan that Minnesota saw during the first half of this season, and if they can continue to get that kind of production, the Twins have an ideal Wild Card rotation of Pablo Lopez, Sonny Gray, and Ryan.
Looking Ahead: They missed their chance last week, but the Twins can put the Guardians away for good this week as they face them in a three-game series. Conveniently enough, Lopez, Gray, and Ryan will take the ball for the Twins this week.
Cleveland Guardians
Weekend Recap: The Guardians did what they had to do and took two of three from the Tampa Bay Rays. However, Minnesota had the exact same result against Texas, so the Guardians weren't able to gain any ground on them this weekend.
Cleveland relied on some late magic in the first two games of the weekend, starting with scoring two runs in the 7th inning on Friday night en route to a 3-2 win. Bo Naylor manufactured the latter of the two runs with an RBI double off of Tyler Glasnow that ultimately won the game. Naylor is batting .353 with an OPS of 1.170 over his last 11 games, one of the best stretches of his young career. On Saturday night, the Guardians trailed 6-5 entering the 11th inning, but strung a pair of runs together to walk off the Rays and win the series.
This series featured the league-leading 37th save from Guardians closer Emmanuel Clase. Clase is only five saves behind his total from last season, and given the amount of close games that Cleveland plays, I'd say he's in line to match and/or exceed that this season. It's still hard to believe that Texas gave this man up for one inning of Corey Kluber.
Looking Ahead: There's nearly an entire month left, but this week could very easily make or break whatever hopes the Guardians have left. As I mentioned above, they will host the Twins for a three-game series, and will have to face arguably their three best starting arms. Lucas Giolito will start his first game as a Guardian on Monday night against Pablo Lopez.
---