Scoreboard Watching: Mariners pull within one game of Blue Jays, Yankees fall under .500, and more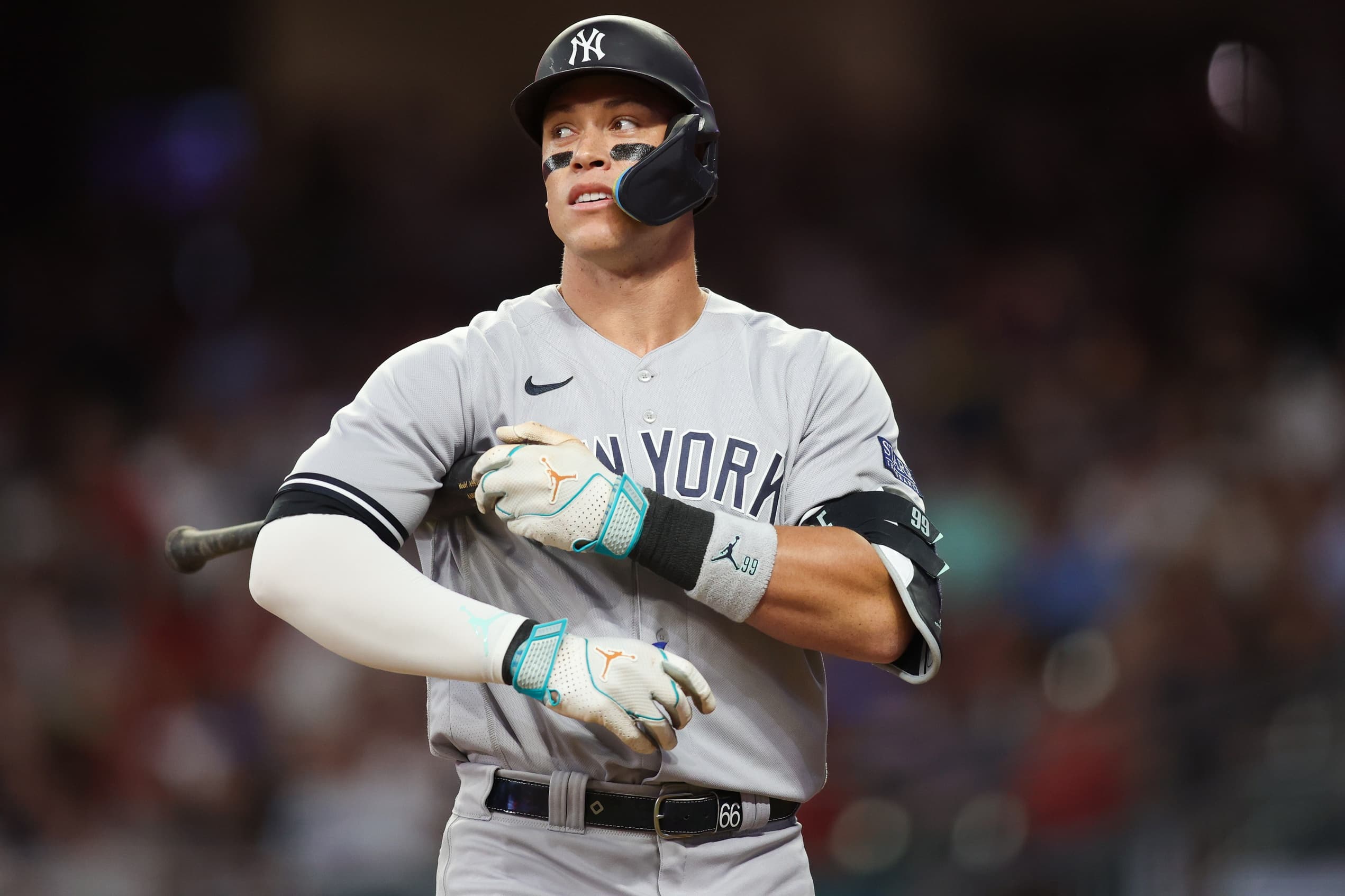 Photo credit:© Brett Davis-USA TODAY Sports
As we near September, each and every competitor's games are magnified more and more. Division races are heating up, storylines are aplenty, and fortunately for us, the Blue Jays are in the middle of it all.
Let's take a look at how teams in the American League playoff picture fared this week…
Baltimore Orioles
Midweek Recap: Rookie Grayson Rodriguez outdueled veteran Yu Darvish on Monday night, but after that, it was not a fun time in San Diego for the Orioles. Trade deadline acquisition Jack Flaherty has a 7.07 ERA through three starts with the Orioles, including a seven earned run performance on Tuesday in which career-rejuvenating Gary Sanchez launched a grand slam off of him. Flaherty and Shintaro Fujinami haven't exactly elevated Baltimore where they'd prefer to be at this time of year, but their young bats are still proving to be wise beyond their years.
Rodriguez has done nothing but lower his ERA since July, owning a 3.07 ERA in that time period. He's doing it at the right time, as these final starts of his season could determine if he has a spot on the playoff rotation given Baltimore gets there. The lineup and bullpen are loaded, but the rotation still has some question marks.
Looking Ahead: The Orioles have an off-day Thursday and will stay out west for a weekend series against the Oakland A's. It's a good opportunity for them to collect some more breathing room with the Rays being only two games back of Baltimore for the AL East lead.
Tampa Bay Rays
Midweek Recap: The Rays have been in the news for all of the wrong reasons this week, but they did take care of business on the field with a series win on the road over the San Francisco Giants. They sandwiched a 7-0 loss with a pair of dominant wins, including a 6-1 win on Wednesday in which Luke Raley hit an interesting inside-the-park home run.
The Rays are starting to get consistently good outings from Tyler Glasnow who has tossed five consecutive quality starts and has gotten his ERA down to 3.01. They may have also found a gem in Zack Littell, whom they converted to a starter earlier this year. Through seven starts, Littell has a 3.00 ERA with a 24-to-1 K/BB ratio (yes, that's 24) – far better than his numbers out of the bullpen. Both Glasnow and Littell are contributing positively at the right time, as it was announced earlier this week that ace Shane McClanahan will miss the remainder of this season due to needing Tommy John surgery. Tampa will continue to march on with what they have, but their rotation has taken a ton of damage this year.
The dark cloud hovering over Tampa Bay is the ongoing investigation of Wander Franco and the accusations of his involvement with a minor. Jeff Passan reported earlier this week that Franco is on the restricted list, and he did not travel to the previous series in San Francisco. His placement on the restricted list will reportedly be in effect until after their current road trip, but once they return, the organization and/or Major League Baseball will have a decision to make. It's worth noting too that Franco is undergoing a pair of investigations: one with the MLB, and one in the Dominican Republic.
Looking Ahead: Tampa has an off-day and, like Baltimore will stay out west. In Tampa's case, they will face the Angels, and they'll avoid facing both Lucas Giolito and Shohei Ohtani.
Toronto Blue Jays
Midweek Recap: The Blue Jays split a two-gamer with the Phillies, a series with two very different styles of games and results. Toronto's win in that series was largely due to another dominant outing from Yusei Kikuchi, who is turning into one of their best arms in the rotation. Kikuchi has allowed one earned run or less in six consecutive starts, and he has posted career bests in ERA, WHIP, and BB/9. In that same game, Blue Jays fans got their first look at the 8th and 9th innings punch of Jordan Hicks and Jordan Romano. It did not disappoint.
Toronto is also starting to get some valuable results from Cavan Biggio, who has been hitting much better of late. In these last six games, Biggio is 7-for-17 with 3 RBIs, and a game-winning RBI hit-by-pitch during Tuesday's win. The Blue Jays have several reinforcements on the way with Bo Bichette, Trevor Richards, Kevin Kiermaier, and potentially Chad Green returning to the team this week. Bichette's return will assist an offence in dire need of their best hitter, but the Jays did hold their own going 8-7 during his absence.
Looking Ahead: The Blue Jays will face the Reds in Cincinnati for the first time since 2014 this weekend. The Reds are one of the most exciting teams in baseball, and are stuck in a division race of their own. Jose Berrios, Chris Bassitt, and Hyun-Jin Ryu are the scheduled starters for Toronto, who are one game ahead of Seattle for the final Wild Card spot.
Boston Red Sox
Midweek Recap: Those dang Red Sox continue to hang around. Boston still has one more game to play in their midweek series against Washington. Slowly but surely they're getting back to full strength; they've already welcomed back Trevor Story, Garrett Whitlock, and Chris Sale within the last couple of weeks, and Tanner Houck is due to make his return within the next few days. The days of having a bullpen game two or three times through the rotation seem to be over for them.
The injuries have not been a welcome sight, but it has given Boston a chance to highlight Brayan Bello. In only his second year in Boston's rotation, Bello has a 3.81 ERA and a 1.26 WHIP through 20 starts. Those numbers are much improved from his rookie season, and while they aren't Cy Young stats, he's been eating innings during a time when Boston has absolutely needed it.
Looking Ahead: Boston and Washington will face off in a rubber match today with Sale making his second start since being activated off the IL. This weekend, they'll face off against the Yankees in the battle of which storied franchise wants to end up in last place in the AL East. They're only three games back of Toronto for the final Wild Card spot, and now that they're healthy, they might warrant some more attention.
New York Yankees
Midweek Recap: It wasn't as ugly as some thought it would be, but the Yankees were still swept by the Atlanta Braves this week. They were outscored 18-3 during the three-game tilt, and they've fallen under .500 for the first time since May of 2021. Making fun of the Yankees is always a fun thing to do, but this is seriously unchartered waters for this franchise right now, especially with superstars like Gerrit Cole and Aaron Judge in the middle of their best years.
Carlos Rodon, Nestor Cortes, and Frankie Montas are all still on the IL, and Luis Severino is in the middle of a nightmare of a season. Their below-average offense is providing Judge little to no help, with Billy McKinney and Jake Bauers being handed critical late-season at-bats. With the contracts they have on their books and their trade deadline punt, this is what the Yankees ultimately signed up for for the remainder of this season.
The Yankees are 6.5 games back of the final Wild Card spot, so Aaron Boone can keep it up with the "we're a couple of streaks away" lingo. But it looks real, really bad in the Bronx. They're another bad week away from being left out of this kind of article.
Looking Ahead: As mentioned above, the Yankees will face Boston this weekend. Cole will start one of the games, so the Yankees might get a win here.
Minnesota Twins
Midweek Recap: Minnesota split a mini two-game series with the Detroit Tigers this week. Their offence continued to rely heavily on a few of their rookies, with three of them coming up big this week. A clutch late-inning grand slam from Matt Wallner won the game on Tuesday night, with Edouard Julien and Royce Lewis combining for seven hits and three RBIs on Wednesday afternoon. Contributions from their youngsters are very much welcome in the Twin Cities; the team is fighting a bunch of injuries to a few of their regulars in Carlos Correa, Joe Ryan, Alex Kirilloff, and Byron Buxton.
The Twins recently added veteran Dallas Keuchel to eat some innings in Ryan's absence. He owns a 9.45 ERA through only two starts, but with Ryan expecting to start a rehab stint at AAA this week, Keuchel's time in Minnesota may be short-lived.
Looking ahead: With yesterday's loss, the Twins' lead over the Guardians in the AL Central now sits at 4.5 games. It goes without saying that every game is critical from here on out, but they are about to begin one of their more daunting stretches of the season. After a weekend tilt with the Pirates, Minnesota plays Milwaukee twice, Cleveland six times, and Texas seven times. The AL Central, although extremely weak, could very well have a different look to it in a couple of weeks.
Cleveland Guardians
Midweek Recap: Cleveland split a two-game series against the Reds in the Ohio Cup. That was about on par with their .500-type season, still sitting 4.5 games back of Minnesota in the AL Central with a record of 58-63. The Guardians are a pitching factory and they might have themselves a rotation piece of the future in rookie Logan Allen. After his start on Tuesday night, Allen has thrown 10 straight scoreless innings, bringing his season ERA to 3.33. They're hoping to eventually fix the issues with Noah Syndergaard, who got roughed up pretty well last night.
Looking ahead: The Guardians have a four-game series at home versus Detroit this weekend. The Tigers are only 3.5 games back of Cleveland, so the Guardians could really separate themselves from the rest of the pack with a positive result. They aren't making much ground on the Twins, and time will be running out before they know it.
Texas Rangers
Midweek Recap: The Rangers kicked off a home stand this week with a resounding series victory over the immensely struggling Los Angeles Angels. Texas outscored the Halos 19-5 despite dropping the final game of the series (and nearly being no-hit), but the biggest positive to take is that their deadline acquisitions are posting excellent numbers and keeping them atop the AL West. Max Scherzer, owning a 1.80 ERA through three starts with the Rangers, didn't allow a run through seven innings on Monday night, allowing only one hit and one walk. Jordan Montgomery is also through three starts with Texas, and he too is thriving with a 2.50 ERA and a 10 K/9 in those outings. Finally, Aroldis Chapman has a 1.69 ERA in 16 games and is settling in nicely as the setup man for Texas' bullpen.
The Rangers, unfortunately, lost rookie sensation, Josh Jung, to a thumb fracture last week and is expected to miss a total of six weeks. During that time, Texas will be in good hands with super-utility man Ezequiel Duran has taken over at third base. Duan is amidst an all-around solid year at the plate with 14 homers, 43 RBIs, and an .805 OPS. Texas also recently called up rookie outfielder J.P. Martinez, and he has not disappointed through his first six MLB games. Martinez is 8-for-19 with a .908 OPS and a pair of RBIs – because that's exactly what Texas needed, right? More offensive help?
Looking Ahead: Texas has a very interesting three-game set this weekend at home against the Milwaukee Brewers. Two division leaders will duel, and it will be interesting to see how Texas' powerful offence does against Milwaukee's always-stable pitching staff.
Houston Astros
Midweek Recap: After dropping the opener of a three-game series on Monday night to the Marlins, Houston fought back to take the final two games and win the series. The Astros are still very much in contention for the AL West crown; they trail Texas by only 2.5 games entering Thursday. Kyle Tucker continues to be one of the most underrated players in all of baseball, and he's well on his way to posting his third consecutive 30-homer season. Tucker is slashing .297/.377/.526 with 24 home runs, 92 RBIs (most in the AL), and 29 doubles.
While Martin Maldonado has been a beloved catcher during his time in H-Town, rookie Yainer Diaz is making a strong case to be the backstop of the future. Diaz has 16 home runs and 41 RBIs through 76 games this season, offering a lot more at the plate than Maldonado does.
Looking Ahead: Houston kicks off a divisional series on Friday night against Seattle, which I'll discuss below. It'll be a very important series for both teams in their quest to stay in the playoff race.
Seattle Mariners
Midweek Recap: The Mariners have won two games against Kansas City this week, but they are still somehow begging the Royals to sweep them. All jokes aside, Seattle and Kansas City will wrap up a hell of a series this afternoon, one that has been filled with plenty of excitement. The Mariners have at least clinched a series split, but six runs allowed in the 9th innings of these games have created some concerns with the backend of their bullpen, a spot they actually pulled from at the trade deadline when they dealt Paul Sewald to the Diamondbacks.
The offence has clicked for Seattle this week; whether it was Teoscar Hernandez' 5-for-5 night on Tuesday or Julio Rodriguez going 7-for-16 with 6 RBIs in this series, the Mariners are relying on their bats to keep them alive in the playoff race. On the pitching side, George Kirby has been a stud in Seattle's rotation, and he's already looking like a future Cy Young winner. Kirby has made 23 starts this season with a 3.11 ERA, and he leads all of MLB in WHIP (1.002), BB/9 (0.9), and K/BB ratio (9.36).
Looking Ahead: As I mentioned above, Seattle will wrap up the Royals series this afternoon and transition to face the Astros this weekend. Even if things go south against Houston, Seattle follows that series up with four straight series against teams with sub-.500 records. I hate to say it, but don't count Seattle out just yet.
---