Scoreboard Watching: Orioles and Rays square off, Texas has their swagger back, and more!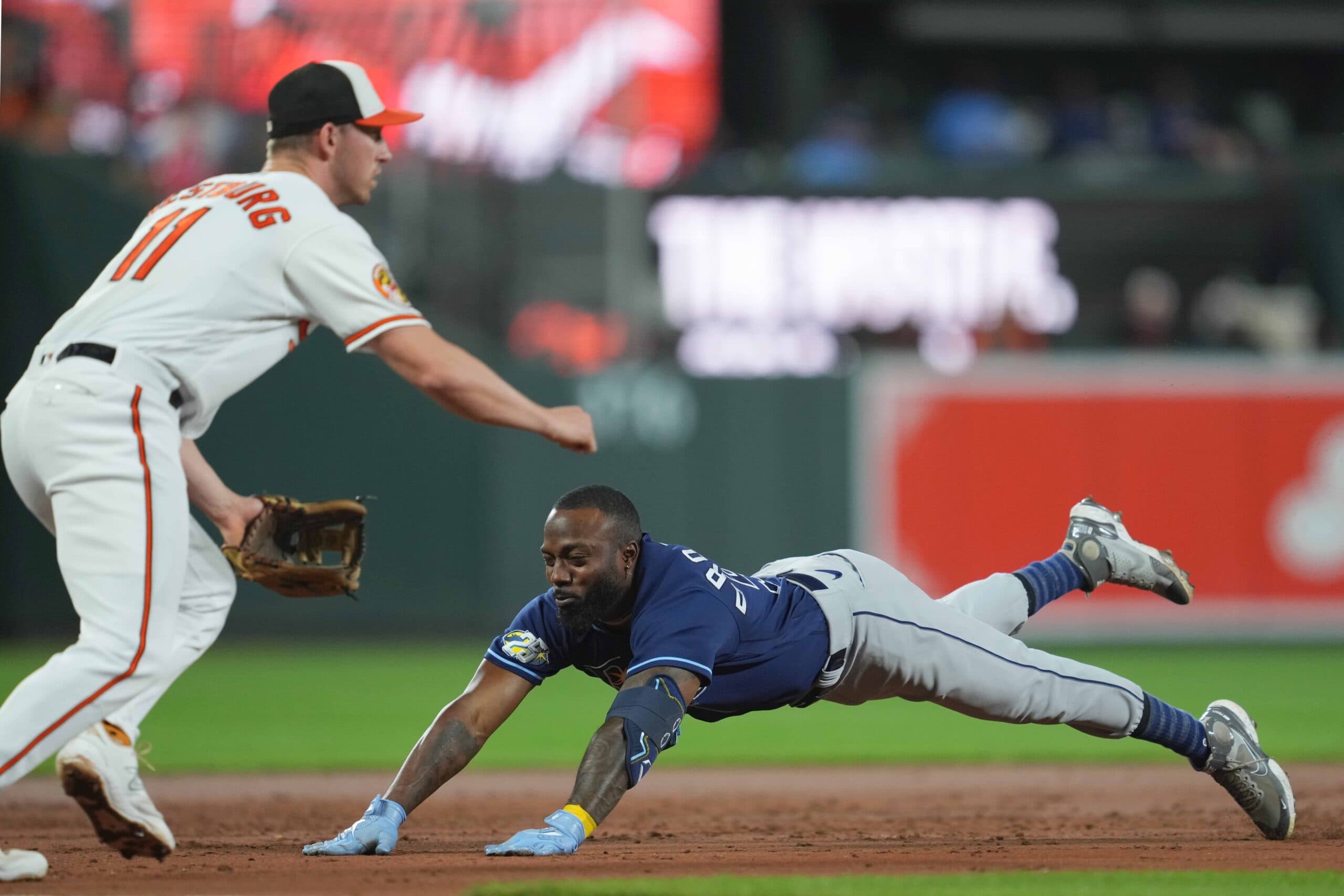 Photo credit:© Mitch Stringer-USA TODAY Sports
Toronto's collapse this week opened the door for a couple of competitors this week. Let's see how the playoff race looks heading into the final two weeks of the season.
The wild AL West
Houston maintained their AL West lead, but it wasn't without a struggle against one of the MLB's worst teams. The Oakland A's took two of three from the Astros this week, including outscoring Houston 10-2 through the first two games of the series. Houston bounced back on Wednesday to steal the final game of the series 6-2, a game in which they took a combined no-hitter into the 9th inning.
Not only that, but Yordan Alvarez zipped an Astros record 117.7 mph line drive into the right field seats for a home run. That win not only saved them from being swept, but it also kept Texas from catching them in the division standings. Houston starts a three-game series with the Kansas City Royals tonight, another inferior opponent that the Astros *should* be able to dominate.
The optics of this division change every week, especially with how streaky these teams are. Texas had been on the wrong end of some tough games lately, but they rewrote their late-season narrative with a dominant four-game sweep over Toronto this week. Almost everyone on this team had their hand in making it happen, but, most notably, Corey Seager came alive with a 9-for-17 set with a homer, 5 RBIs, and four doubles to pace the offence.
The only bad news that Texas got this week was that Max Scherzer will likely miss the remainder of the season with a teres major strain. Scherzer was dealing on Tuesday night, but he vividly felt some kind of injury in the sixth inning and was pulled from the game when he was unable to even complete his windup. It won't cover the loss completely, but Nathan Eovaldi is building himself back up since returning from his forearm injury on September 5th, so that will aid the rotation some. The Rangers head to Cleveland for a weekend set with the Guardians. They'll look to tee off on Lucas Giolito on Friday night, a guy who has not had much success since the trade deadline.
Seattle took two of three from the Angels this week, with only an extra-inning loss on Monday keeping them from a sweep. After some shakiness from their bullpen in recent weeks, the trio of Justin Topa, Matt Brash, and Andres Munoz pitched three high-leverage scoreless innings on Wednesday to complement Luis Castillo's quality start en route to a 3-2 win. With some help from Texas, the Mariners moved into the third Wild Card spot this week, and they'll host the Los Angeles Dodgers for a three-game series this weekend.
AL East
Just a year ago, the Rays finished 25th in the MLB in home runs with 139. This season, they have made their way all the way to 3rd with 211 home runs and counting. This includes four hitters with 20+ homers, and three more likely to hit that mark by the end of the season. They launched four this week against the Twins, none more clutch than Randy Arozarena's tie-breaking solo homer in the 9th inning of Wednesday's 5-4 win. Tampa outlasted Minnesota by taking two of three from them, a series that was somewhat of a sneak preview for a potential (but unlikely) playoff matchup.
The Orioles, on the other hand, got all they could handle from their bird nemesis in St. Louis. The Cardinals took two of three from Baltimore, dropping the Orioles' AL East lead to only two games at the time. Baltimore received some unwelcome news on the injury front as 1B Ryan Mountcastle left Wednesday's game with left shoulder discomfort, and he'll undergo further imaging to determine the severity. Fortunately, it sounds like he will avoid the IL, but in the wake of that news, Baltimore's 3rd ranked prospect Heston Kjerstad has been called up to the big-league club. Stop me if you've heard that about the Orioles this season.
The Rays and Orioles now find themselves in an unofficial division-deciding series this week at Camden Yards. The four-game set started last night with Tampa winning 4-3 behind a tie-breaking 7th-inning homer from Luke Raley. Tampa Bay's bullpen pitched four no-hit innings with seven strikeouts, making it 34 consecutive innings that they have not allowed a run. They're hitting their stride at the right time, especially with the Blue Jays facing them six times later this month (fantastic!). Baltimore's lead in the AL East is now down to one game.
The "third wheel" in the AL East is the Toronto Blue Jays, and as everyone who follows this site knows, they arguably had their worst week of the season. The Blue Jays go into this weekend only 1.5 games back of Seattle for a Wild Card spot, however, they'll face only AL East competition from here on out starting with Boston this weekend.
---