Scoreboard Watching: Red Sox take a few steps back, Guardians make multiple waiver adds, and more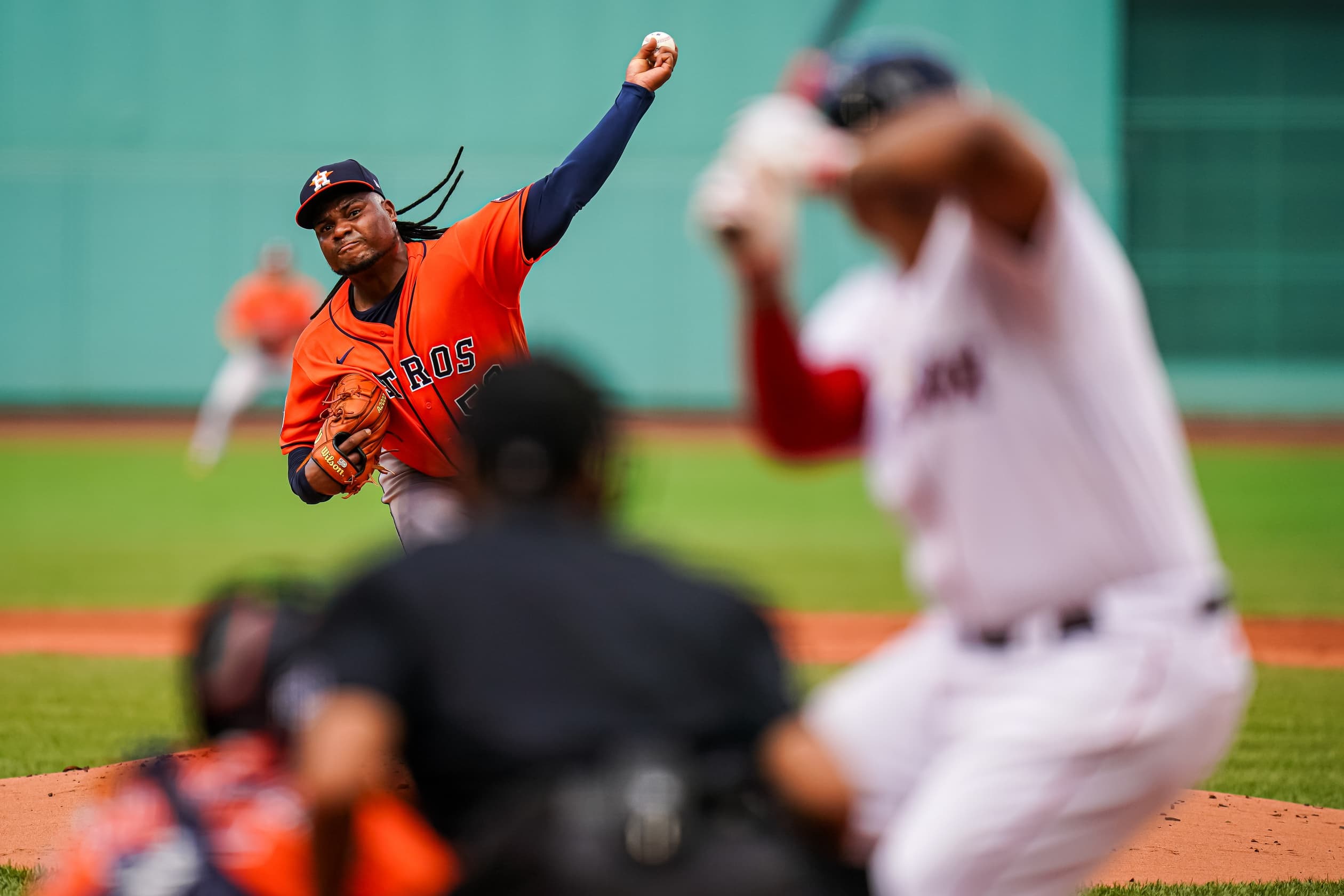 Photo credit:© David Butler II-USA TODAY Sports
September, we made it.
If tight division races are your thing, this MLB season is for you. The Guardians are back in the mix, not only with their play on the field, but also with their late-season additions thanks to the Angels. The AL West is shaping up to come down to the final day, and the Orioles and Rays are dueling for the AL East crown.
If your team is involved in all of this, take a minute and be thankful that you're a part of it. And then, stop and be thankful that I'm keeping you updated through all of it.
Baltimore Orioles
Midweek Recap: Baltimore maintained their AL East lead with a series win over the White Sox this week, finishing their nine game home stand with a record of 6-3. Although they aren't winning at a crazy pace like Seattle is, the Orioles still have the best record in the American League entering the weekend.
I gave Kyle Bradish a shoutout during the last version of this article, and now it's time to do the same for rookie Grayson Rodriguez after his start on Monday. After being optioned in late May, Rodriguez has returned to the big leagues and has done nothing but improve. Since his return from Norfolk, Rodriguez is 2-1 with a 2.83 ERA in eight starts. These starts haven't come against weak competition; he's had outings against the likes of the Dodgers, Rays, Astros, and Padres. Rodriguez tossed six innings of one-hit baseball on Monday night, the fewest hits he has allowed in an outing of at least five innings this season.
On the offensive side, the Orioles have gotten unexpected production all season from first baseman Ryan O'Hearn. O'Hearn was traded to the Orioles in exchange for cash back in January of this year, and was DFA'd two days later. Fortunately, O'Hearn was assigned to AAA a week after that, and finally joined the Orioles on April 13th. Since then, he has slashed .297/.332/.828 with 11 home runs and 45 RBIs. If he can hit four more home runs this month and maintain the averages, O'Hearn would set career highs in all of those categories. Cash well spent.
Looking Ahead: The Orioles head out west to face the Arizona Diamondbacks this weekend. Jack Flaherty is scheduled to start the final game of the series – he'll be looking to win his first game as an Oriole since August 3rd against the Blue Jays.
Tampa Bay Rays
Midweek Recap: The Rays made quick work of the Marlins, outscoring them 14-2 and sweeping the mini two-game series. That moves Tampa Bay within 1.5 game of the Orioles for the time being, with a mid-September series between the two shaping up to be electric.
They won this week in the most "Rays" way possible: by committee. The Rays scored ten runs in the final four innings of Tuesday night's game, with each starter recording at least one hit. Wednesday's game featured a scoreless game heading into the 10th inning, but Josh Lowe and Randy Arozarena drove in three runs in that inning to seal the series sweep.
Zach Eflin was the starting pitcher for the latter game of that series, tossing six innings of shutout baseball. Eflin, the most expensive free agent signing in Rays history, is on pace to have a career season in many different statistical areas. His success in the rotation is worth more than just being really good; the Rays have suffered an immense amount of injuries to their rotation, and Eflin has been the healthiest of the bunch. Even with a few starts to go, Eflin has already set a career high in wins with 13, and setting a career-best in innings, ERA, and WHIP is in his crosshairs. It's what the Rays do best – everything they touch turns to gold.
Looking Ahead: The Rays head to Cleveland to face the Guardians this weekend. With the exception of a series against the Angels in mid-September, this entire month is filled with opponents that have their hand in postseason contention. If Tampa Bay can come out of this stretch unscathed, Kevin Cash has a really good argument for Manager of the Year.
Toronto Blue Jays
Midweek Recap: Toronto squandered an opportunity to sweep the Washington Nationals this week. Trailing 5-3 during the Tuesday night game, the Jays were only able to muster one run out of having the bases loaded with no one out in the 9th inning. While they were still able to win the series, Tuesday night's loss is one that could very well be magnified if they miss the playoffs by a game or two. For now, they are 2.5 games back of a Wild Card spot.
The Blue Jays continue to get storybook production from rookie Davis Schneider, who went 4-for-10 against the Nationals with a home run, three RBIs, and a double. While Schneider is providing an offensive boost at a time when Toronto absolutely needs it, one of the more impressive aspects of his game is that he has already seemed to adjust to the high fastball. After this stellar series in Boston, teams were attacking him with that pitch as it was a proven weakness of his at that time. Now, he is punishing those pitches.
In other positives, Chris Bassitt tossed eight scoreless innings during Wednesday afternoon's win, and Vladimir Guerrero Jr. is riding an 11-game hit streak heading into the weekend. The Blue Jays did unfortunately have to send Bo Bichette and Matt Chapman to the 10-day IL this week, so the infield defense will be getting awfully creative in Toronto.
Looking Ahead: After an off day on Thursday, the Blue Jays will face the Colorado Rockies in a three-game series. This will mark the first time that the Blue Jays have played at Coors Field since 2019. Just for nostalgia's sake, Marcus Stroman, Aaron Sanchez, and Edwin Jackson were the starting pitchers for those games.
Boston Red Sox
Midweek Recap: Boston's playoff hopes took a major beating this week as they were swept by the Houston Astros. They have now lost 5 of 6 and are 6.5 games out of a Wild Card spot.
Although Boston struggled, reigning AL Player of the Week Adam Duvall did everything he could to keep the Red Sox afloat. Duvall, now on a 10-game hit streak, was 4-for-10 with two home runs, three RBIs, and a double. Since his hit streak started, Duvall has elevated his OPS from .795 to .933. If this continues, he should be a heavily sought after free agent this offseason.
Duvall's efforts couldn't carry the pitching staff, though. The Red Sox surrendered 25 earned runs over the three-game stretch with none of their starting pitchers making it past the fifth inning. August was not a good month to Chris Sale, who has posted a 5.30 ERA and has not pitched more than five innings in a start since he returned from injury.
It was announced earlier this week that Jarren Duran would miss the remainder of the season with turf toe surgery, another huge hit to Boston's playoff hopes. Something about AL East outfielders and toe injuries.
The Red Sox have had a tendency this year to get back into contention after a rough stretch of games. Now, however, time is of the essence, and they have some serious work to do.
Looking Ahead: The Red Sox travel to Kansas City to square off against the Royals for a three-game series. Looking at the rest of Boston's schedule, this is the last "soft spot" in their schedule until they face a slew of competing teams.
Seattle Mariners
Midweek Recap: The Mariners played with fire, but they were able to rally on Wednesday afternoon and avoid a series loss to the Oakland A's, ultimately taking two of three from the MLB's worst team. With their win on Wednesday, the Mariners have 21 wins in the month of August, a franchise-best for a single month. Furthermore, they have only lost two series since the All-Star break.
Seattle has had a flare for the dramatic during the past couple seasons, and while this series was against the lowly Athletics, their series-clinching win on Friday had some excitement. Teoscar Hernandez had a substantially productive month of August, and he ended it with a game-tying three-run home run in the third inning of Wednesday's win. J.P. Crawford capped it off with a two-run single in the 7th inning that put Seattle ahead for good.
With starting veteran arms like Robbie Ray and Marco Gonzales out with injury, Seattle is getting a good look at rookies Bryce Miller and Bryan Woo. Both youngsters started a game this week, combining to throw 12 innings allowing three runs, one walk, and striking out ten. They're benefitting from a weak schedule right now, but they'll get thrown into the fire once they face division rivals down the stretch.
Looking Ahead: Seattle is off to Queens where they will have a three-game series against the New York Mets. The Mets gave Texas all they could handle this week, but Seattle comes prepared with Logan Gilbert, Luis Castillo, and George Kirby starting in this series.
Houston Astros
Midweek Recap: After splitting a series with Boston last week, the Astros didn't miss a beat in Fenway with a three-game sweep of the Red Sox this week. Houston's offense is peaking at the right time, and it showed as the outscored Boston 26-11. Houston is now in a virtual tie with Seattle for the AL West lead, but they're one percentage point below them if we're getting technical. Hence, they're one game up on Texas for the second Wild Card spot.
Second baseman Jose Altuve hit for the cycle on Monday night, the first of his career and the ninth in franchise history. Altuve made the necessary adjustments from last week's series, as Red Sox pitching held him to only two hits in 15 at-bats. In that same game, Altuve and teammate Yordan Alvarez combined to go 8-for-10 with two home runs and eight RBIs. Alvarez himself went 8-for-13 in the series, with Alex Bregman pitching in a 6-for-14 set.
Looking Ahead: Houston will face the New York Yankees this weekend. This has become somewhat of a rivalry as these teams have met more and more in the playoffs, but unfortunately with the Yankees being a mess, we won't see that this year. However, New York is playing good baseball right now, and they seem to always play with a chip on their shoulder against the Astros.
Texas Rangers
Midweek Recap: I don't know how they did it, but the Rangers took two of three from the Mets this week. All three games were decided by one run, and in one way or another, it took a clutch hit or clutch out to get the job done.
Nathaniel Lowe's two-run single in the top of the ninth on Monday night completed a late-game rally for the Rangers, a win that could very well change the course of the season for Texas. They couldn't get anything going against Jose Quintana on Tuesday night, but Texas was able to scratch across a couple of run against New York's bullpen, and it was just enough to get the job done even with Aroldis Chapman allowing a home run in the bottom of the 9th. In the series finale, however, Chapman forced the winning run in after hitting DJ Stewart with a pitch with the bases loaded. At this time of year, a series win is a series win, no matter how hard it is.
After an abysmal month of July and a transition into the bullpen, Martin Perez rebounded nicely in August. Perez allowed six earned runs over 14.1 innings this past month, an arm and a leg better than the 17 runs he allowed over 18 innings in July.
Looking Ahead: The Rangers didn't have a ton of fun facing a middling team like the Mets, and now they will face the Minnesota Twins this weekend, a team that won a series against them last week. With the Blue Jays only 2.5 games behind them, the Rangers have some pressure on them to capitalize this week with Toronto facing Colorado and Oakland.
Minnesota Twins
Midweek Recap: The Twins had a really nice opportunity to bury the Guardians this week and theoretically put the AL Central out of reach. Unfortunately, they dropped two of three to Cleveland and still has them in their rearview mirror.
The final game of the series was going in Minnesota's favor, but four of Minnesota's five relievers allowed a run and spoiled an outstanding start from Sonny Gray. One of them was Griffin Jax, who had a sub-3.00 ERA at the beginning of August, but concluded the month having allowed ten runs over ten August appearances. Circling back to Gray, his seven-inning, three-hit performance on Wednesday pushed his ERA down to 2.92, first in the American League.
I seem to mention Royce Lewis a ton in these articles, but this guy continues to rake. Lewis had two home runs and five RBIs this week against Cleveland, upping his OPS to .874 for his rookie season. The Twins as a team were 1-for-18 with RISP over the final two games of the series, and those were both losses. Did the Blue Jays pass on a RISP illness to the Twin Cities?
Looking Ahead: Minnesota has a three-game series in Texas this weekend. While the Twins did take two of three from Texas last week, they will have to face Max Scherzer and Jordan Montgomery on Friday and Saturday.
Cleveland Guardians
Midweek Recap: To the Twins, the Guardians are like an old penny. They just keep showing up and hanging around. Cleveland rolled into Minnesota and took two of three from the Twins, bringing them to only five games back of Minnesota for the AL Central lead. Five games is still a hefty mountain to climb for Cleveland, but the Twins have yet to assert their dominance as the clear best team in that division, and those two teams will square off again next week.
Rookie Bo Naylor paced Cleveland's offense through the first two games with a pair of home runs and three RBIs. The catcher position has been an inconsistent one for Cleveland, so this would be the perfect time for Naylor to establish himself as the everyday guy. The Guardians clinched the rubber match thanks to a clutch three-run home run in the 10th inning from Kole Calhoun, who has quickly become one of Cleveland's better hitters of late.
Although having an off day, the Guardians became the center of attention on Thursday when they claimed Lucas Giolito, Matt Moore, and Reynaldo Lopez off of waivers. Those arms are from the Los Angeles Angels' "Black Friday" selling spree that they had earlier this week. While those names will be impactful, I was surprised to see them not grab Hunter Renfroe or Randal Grichuk to assist the offense.
Looking Ahead: The Guardians are back home where they will kick off September with a three-game series against the Rays. Tampa Bay took two of three from Cleveland just a couple of weeks ago, and the Guardians are scheduled to face their former teammate in Aaron Civale.
---