Scoreboard Watching: Seattle officially leads the AL West, Twins make a statement, and more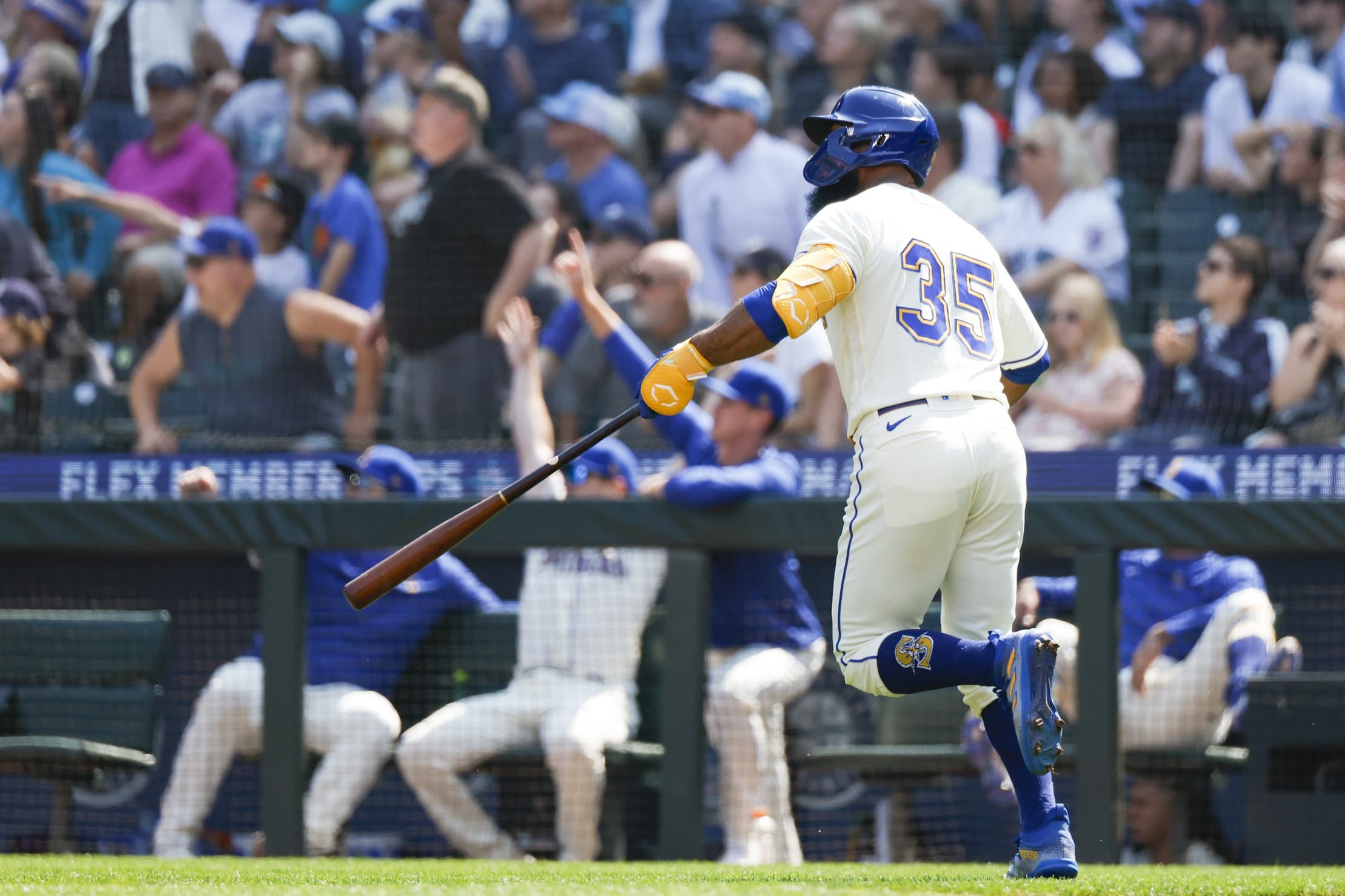 Photo credit:© Joe Nicholson-USA TODAY Sports
August is dwindling down to its final days, and while football season is around the corner, baseball is still as exciting as it has been all season. This weekend, Baltimore became the first American League team to 80 wins, the Rays and Yankees had some beef, and the Mariners are still that team right now. Let's take a look at the AL's competitors and their results from this weekend.
Baltimore Orioles
Weekend Recap: Baltimore got all they could handle from the pesky Colorado Rockies, but the Orioles were ultimately able to win the series taking two of three from them. With their series win, Baltimore continues to stave off the Rays and keeps a two-game lead atop the AL East entering Monday.
Baltimore received some unwelcome news on Saturday in that their All-Star closer Felix Bautista had to be sent to the 15-day IL with a right UCL injury. Bautista was removed with two outs in Friday night's game after he was noticeably bothered by something. While "UCL" is rarely used in positive context with injury reporting, the fact that it's only a 15-day IL may indicate that they're hoping they caught this early. Bautista has been incredible this season, posting a 1.48 ERA, 16.2 K/9, and 33 saves.
Fortunately, Baltimore still has a dominant bullpen without Bautista, so they have options when it comes to replacing him as their closer. The most likely candidate, at least in my mind, is Yennier Cano. The Havana, Cuba native didn't allow an earned run through his first 17 outings this season, and his "coming back down to Earth" stats are a 1.57 ERA, 0.97 WHIP, and 8.3 K/9.
Kyle Bradish continues to look like the club's ace after his outing on Saturday night, tossing six innings allowing only two runs. Bradish, in his second MLB season, trails only Gerrit Cole and Luis Castillo in the American League in ERA and is tied for ninth in quality starts. I was today years old when I realized Baltimore traded Dylan Bundy for him – yeah, they won this trade.
Looking Ahead: Baltimore stays at home this week and will face the Chicago White Sox for a three-game series. If you like high pitch velocities, this series is for you; Dylan Cease, Grayson Rodriguez, and Michael Kopech are three of the six starting pitchers listed for this set.
Tampa Bay Rays
Weekend Recap: In a series that ended with some fireworks, the Rays won their weekend series against the New York Yankees. This also concluded the season series with these two, with the Rays also winning that with an 8-5 record.
People forget how good Brandon Lowe was a couple of years ago. He collected MVP votes in 2021 after hitting 39 home runs and 99 RBIs, but injuries limited his action last season. He still hasn't returned to his prime self this season, but this past weekend was a good indication that his impactful bat still exists. Lowe was 6-for-12 with a home run and 5 RBIs against New York, and while his batting average is only .229 now, a good stretch of production down the stretch could be the boost the Rays need to win the AL East.
With both having ERAs in the mid-2.00s, Tampa Bay boasts an underrated closer duo in Pete Fairbanks and Jason Adam, because of course the Rays would be the team that has two closers. They both recorded a save this weekend, now combining for 29 saves between the two. Fairbanks has fought injuries for the majority of the past few seasons, but this year, he is nearing his career high in appearances, and Adam has posted nothing but elite numbers since being signed by the Rays prior to last season.
Looking Ahead: It'll be the battle of the Florida teams, as the Rays will play two games this week in Miami against the Marlins. Both pitching matchups figure to be exceptional; Aaron Civale will face Sandy Alcantara in the first game, with Zach Eflin and Jesus Luzardo squaring off in the finale.
Toronto Blue Jays
Weekend Recap: No, they didn't get swept, but it was the next worst thing as the Jays lost two of three to the Cleveland Guardians. Both losses were frustrating in their own way, but at this time of year, no one cares how you lost. It's another mark in the loss column, and another missed opportunity as we near September.
George Springer, Vladimir Guerrero Jr., and Davis Schneider both homered twice in this weekend, so it was encouraging to see some consistent power over the course of a series. Schneider has, without a doubt, earned an everyday role with this team. Where that is in the field is up for the team to decide, but his bat has been the breath of fresh air that Toronto has needed. Through 11 games, Schneider is batting .432 with five home runs and 11 RBIs, and he has yet to commit an error on the defensive side.
While the bats showed some life, two solo home runs on Friday didn't get the job done in a 5-2 loss, and some late-game blunders in different areas resulted in a 10-7 extra-inning loss on Sunday. The Blue Jays got some bad news on the injury front; Erik Swanson, one of Toronto's better relievers, was placed on the 15-day IL following Saturday's game with thoracic spine inflammation. Furthermore, Bo Bichette and Matt Chapman both left Sunday's game early with right quad tightness and right middle finger inflammation, respectively. Bichette has been labeled day-to-day, but there haven't been any developments yet on Chapman.
Looking Ahead: Toronto will face a surprisingly hot Washington Nationals team this week. The Nats are 17-8 in August and will play in Toronto for the first time since 2018.
Boston Red Sox
Weekend Recap: It was an emotional weekend in Boston. Mookie Betts returned to Fenway Park for the first time since he was traded, Kenley Jansen and Justin Turner got to catch up with some old friends, and Kike Hernandez and Alex Verdugo got to do the same. Did I miss anybody?
As far as results go, the Red Sox did lose two of three to the Dodgers this weekend, putting them at 4.5 games back of the final Wild Card spot. Offensively, Adam Duvall is on a heater right now, and it's come at a good time with Jarren Duran being out. Duvall was 5-for-13 this weekend with two home runs, two doubles, and four RBIs, making it five home runs in the last week for him. Trevor Story got on the board this weekend with his first home run of the season on Friday night, his first home run since September 4th of last year.
What hurt Boston this weekend was their bullpen; Red Sox relievers allowed 12 earned runs, albeit 10 of those coming from Nick Pivetta and Chris Murphy. The Dodgers are a very potent offensive team with a high ceiling, so Boston isn't the only pitching staff that's been a victim to LA's offense. However, as we near September, the Red Sox are trying to establish themselves as a legitimate contender, and weekends like this don't help.
Looking Ahead: Boston faces a familiar foe this week in the Houston Astros, a team that they split a four-gamer with last week. Chris Sale, Brayan Bello, and Kutter Crawford will take the mound for the Red Sox, with the latter two having August ERAs of 3.26 and 3.00, respectively.
Seattle Mariners
Weekend Recap: It's miraculous that the Mariners were labeled "sellers" at the trade deadline, because they've looked like anything but sellers of late. Seattle's tear included a three-game sweep of the Royals this weekend, a series that they won by a total score of 25-9. Seattle is now 19-5 in the month of August, and it has catapulted them into first place in the AL West.
Look away Blue Jays fans, because the hottest Mariner right now is Mr. Seeds himself, Teoscar Hernandez. Teo was 5-for-13 this weekend with two home runs and seven RBIs, including a grand slam on Saturday afternoon. Over the past two weeks, Hernandez is batting .426 with five home runs and 16 RBIs, and he's raised his OPS from .698 to .759.
There are some studs in Seattle's pitching staff, but Luis Castillo is clearly the head of the snake. Castillo threw seven one-hit innings on Sunday, lowering his season ERA to 3.01 and his WHIP to 1.00. His durability is also on full display, as Sunday marked his third consecutive start of going seven innings. It's borderline criminal that this man hasn't at least been a Cy Young finalist yet in his career, but this year might be it.
Looking Ahead: Seattle will more than likely continue their winning ways this week as they face Oakland in a three-game series this week. If you're waiting for the Mariners to cool down, don't hold your breath. Entering Monday, the Mariners have a one game lead over the Rangers and Astros.
Houston Astros
Weekend Recap: With the exception of one inning, the Astros were in total control over the Tigers this weekend. They took two of three from Detroit, with allowing a walk-off three-run homer on Friday night being their only dire miscue. Regardless, Houston had a winning weekend, and with Seattle's unbelievable month of August and Texas' losing streak, Houston is flying under the radar some and staying out of the spotlight.
Despite losing that game on Friday night, Framber Valdez threw seven no-hit innings before getting pulled after 114 pitches. It's been a "Jekyll and Hyde" month of August for Valdez, if you will; he has had two starts in which he hasn't allowed a hit, but he's also had two starts where he's allowed six earned runs. Regardless, it's a good thing to have an ace who is capable of throwing a no-hitter every time out.
Houston routed Detroit on Sunday 17-4 with the help of 25 hits and nine Astros having at least two hits. They also got five shutout frames from Justin Verlander, who now has eleven consecutive scoreless innings.
Looking Ahead: The Astros travel to Fenway Park for a three-game series against the Red Sox. J.P. France and Christian Javier both started against the Red Sox last week, with France needing a rebound after allowing 10 earned runs in his start.
Texas Rangers
Weekend Recap: The Rangers are officially out of first place in the AL West. While they did break their losing streak on Saturday, they have still lost 9 of 10 after dropping three of four to the Twins this past weekend. It's not completely over for Texas as they're only one game back of Seattle for the division lead, but the current trends in their division do not fall in their favor.
With the exception of Max Scherzer, Texas' pitching struggled immensely this weekend. Will Smith allowed a go-ahead home run on Thursday, three pitchers all allowed at least three earned runs on Friday, and they surrendered a walk-off walk on Sunday. The Rangers may just need the storm to pass, but this proverbial storm may cost them in the end.
While things are taking a turn for the worst, Corey Seager is having an outstanding season. He's spent multiple stints on the injured list this season, so he won't be able to qualify for any of the statistical leaders, but the numbers through 87 games are still noteworthy. In those games, Seager is slashing .341/.406/.645/1.050 with a 5.7 WAR, 24 home runs, and 79 RBIs. Again, he may not be able to win any awards, but he's proving his $325 million contract is worth every penny.
Looking Ahead: An interleague matchup against the New York Mets awaits the Rangers. While the Mets were sellers at the deadline, two of their best pitchers in Kodai Senga and Jose Quintana are scheduled to face the Rangers in this series.
Minnesota Twins
Weekend Recap: Alright Minnesota, we see you. The Twins took three of four from the Rangers this weekend, and their only loss was at the hands of being dominated by Max Scherzer. There's no shame in that.
Now, that series result might have been more about the Rangers being in a slump than it was about the Twins being good, but Minnesota still taking advantage of Texas' slump is still taking care of business. This could very well be a matchup we see in the playoffs, and Minnesota proved that they're not getting in the playoffs by default. They've earned it.
Rookie Royce Lewis sandwiched a couple of elite performance around a couple of so-so ones; he had a 3-for-3 night on Thursday that included a solo homer, and he hit a grand slam to get Minnesota back in the game on Sunday afternoon. Lewis now has a .312 batting average with an .858 OPS, and while he strikes out far more than he walks, he's only a rookie.
Looking Ahead: The Twins can bury the Guardians with a series win this week (preferably a sweep). They host Cleveland for three games beginning tonight, and it'll be the first matchup between these two teams since June. The series sets up nicely with Jorge Lopez and Sonny Gray – two of Minnesota's best starters – both starting a game this week. The Twins enter Monday with a six-game lead over the Guardians.
Cleveland Guardians
Weekend Recap: Jays fans know all too well what happened with the Cleveland Guardians this weekend. However, the Guardians are due some credit in that they won a series on the road despite not having the best roster on paper.
Ramon Laureano had his best series since he was acquired by the Guardians earlier this month, going 5-for-11 with two home runs, a double, and six RBIs. His second home run of the series put Sunday's game out of reach. This is exactly what Cleveland needed out of Laureano, and any chance they have to win the AL Central could be boosted if he can stay hot.
Kole Calhoun (4-for-13, two RBIs) and Jose Ramirez (4-for-12, two homers and three RBIs) also had notable series', but Cleveland will need those kinds of performances on a consistent basis.
Looking Ahead: As I mentioned above, the Guardians will face Minnesota this week. This matchup won't draw the same level of attention as a Mariners-Astros or Rays-Orioles series would, but hopefully the atmosphere at Target Field will be October-like.
---