Scott Boras confirms Hyun Jin Ryu will pitch in MLB next season, receiving high-volume interest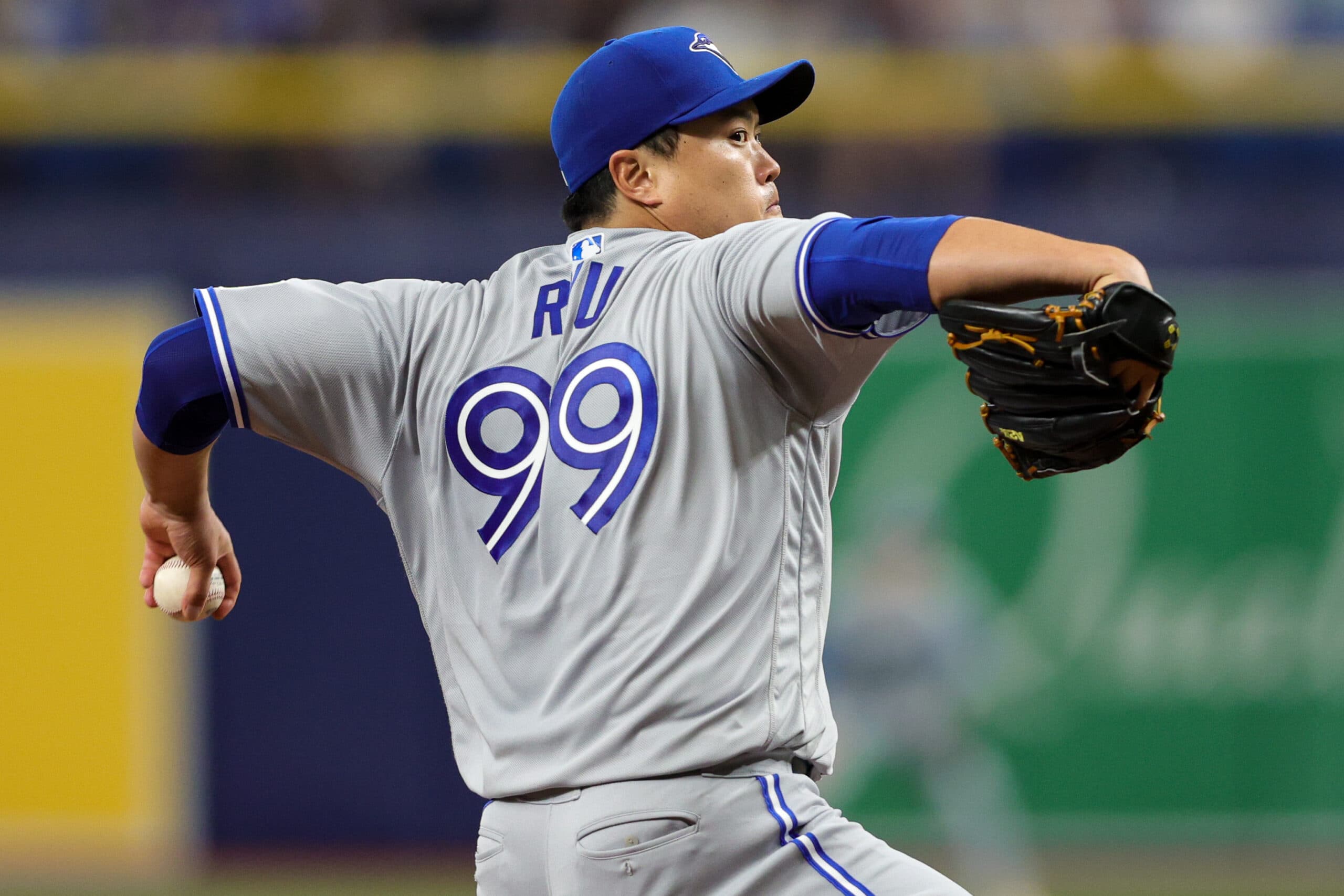 Photo credit:Nathan Ray Seebeck-USA TODAY Sports
An off-season can't truly begin until super agent Scott Boras speaks in front of a large contingent of reporters, and he did just that – in his usual pun-spewing fashion – at the annual GM meetings in Arizona on Wednesday.
Among the several topics covered, Boras was asked about the status of left-hander Hyun Jin Ryu, who finished a four-year deal with the Toronto Blue Jays this past season and is currently at home in Korea. While the 36-year-old's future seemed uncertain heading into this off-season, the free-agent starter's agent revealed he has already garnered plenty of interest from potential big-league suitors this winter.
Boras also confirmed Ryu will return to North America in 2024 to continue his MLB career instead of wrapping up his playing days in the KBO – a commitment he still intends to fulfill before announcing his retirement.
Ryu made four minor-league starts in his return from Tommy John surgery before rejoining the Blue Jays' starting rotation last August, posting a 3.46 ERA with 38 strikeouts across 52.0 innings in 11 starts. He was left off the franchise's playoff roster during their wild-card series against the Minnesota Twins.
The left-handed hurler stated he was
unsure about where he'd play in 2024
upon returning to Korea last month, saying, "I don't know what to tell you at this point. I think we'll have to wait and see. Only time will tell."
After spending six seasons with the Los Angeles Dodgers, Ryu signed as a free agent with the Blue Jays during the 2019-20 off-season, marking the beginning of his four-year stint with the organization. He logged 315.0 innings over 60 starts, earning a 3.97 ERA while registering 269 punchouts, worth a combined 4.9 fWAR.
The COVID-shortened 2020 campaign was his best statistical performance, where he shined to a 2.69 ERA with 72 strikeouts over 12 starts, leading to a third-place finish in the AL Cy Young race.
---
In addition to Ryu, Boras shared his thoughts on Cody Bellinger's free-agent market, claiming the Chicago Cubs reaped the rewards of the All-Star's bounce-back performance and must pony up a lucrative contract to retain his services.
That is certainly noteworthy for the Blue Jays' front office, which will likely express interest in the 2019 NL MVP this winter – if they haven't already.
Boras also believes the Boston Red Sox will act aggressively in free agency after finishing last in the AL East Division in 2023 at 78-84. With Craig Breslow running his first off-season as the franchise's chief baseball officer, replacing his predecessor Chaim Bloom, he could be looking to set a tone ahead of next season.
The Red Sox are operating with a projected Competitive Balance Tax payroll – or luxury tax payroll – of just under $190 million for 2024, positioning them almost $50 million below the $237 million luxury tax threshold.
Baseball's most infamous agent also could help himself from making a Taylor Swift-Travis Kelce reference during his media availability.
It is never a dull moment when Boras takes centre stage – which he talks his way onto – at the start of MLB free agency.
---