Should Steven Matz receive a qualifying offer this off-season?
Photo credit:John E. Sokolowski-USA TODAY Sports
After narrowly missing the playoffs this past season, there's no question the Toronto Blue Jays have a very interesting off-season ahead of them, beginning with deciding which players should receive a qualifying offer.
In total, the Blue Jays are slated to have 12 players hit free agency once it opens, although only three of them (Robbie Ray, Marcus Semien and Steven Matz) are potential candidates to warrant this type of offer. Once the 2021 World Series concludes, the front office will possess just five full days to submit these offers, afterwards, any player who receives one will have 10 days to accept or decline.
Though an official amount hasn't been set just yet, ESPN's
Buster Olney reported
this year's qualifying offer is expected to be valued at $18.4 million, down from last season's $18.9 million figure.
On the surface, both Ray and Semien are obvious choices to be tied to qualifying offers this winter, however, they'll each likely decline and opt to enter the free-agent market instead. Beyond this duo, Matz is the only other player on the roster who belongs in this conversation, but there's some debate about whether he's worthy enough to command such a lucrative salary in 2022.
Following a miserable 2020 season with the New York Mets, where he posted a 9.68 ERA, 7.76 FIP and a -0.7 fWAR rating through 30 2/3 innings pitched, the 30-year-old was sent north of the border in a trade, swapping places with Sean Reid-Foley, Yennsy Diaz and Josh Winckowski – who was later dealt to the Boston Red Sox.
Coming off this terrible showing, Matz's expectations as a starter were set fairly low heading into the regular season, and rightly so given his recent history. Luckily for the Blue Jays, the left-hander ultimately proved to be a valuable addition to the club's pitching staff as he easily exceeded his expectations during his inaugural campaign in blue and white.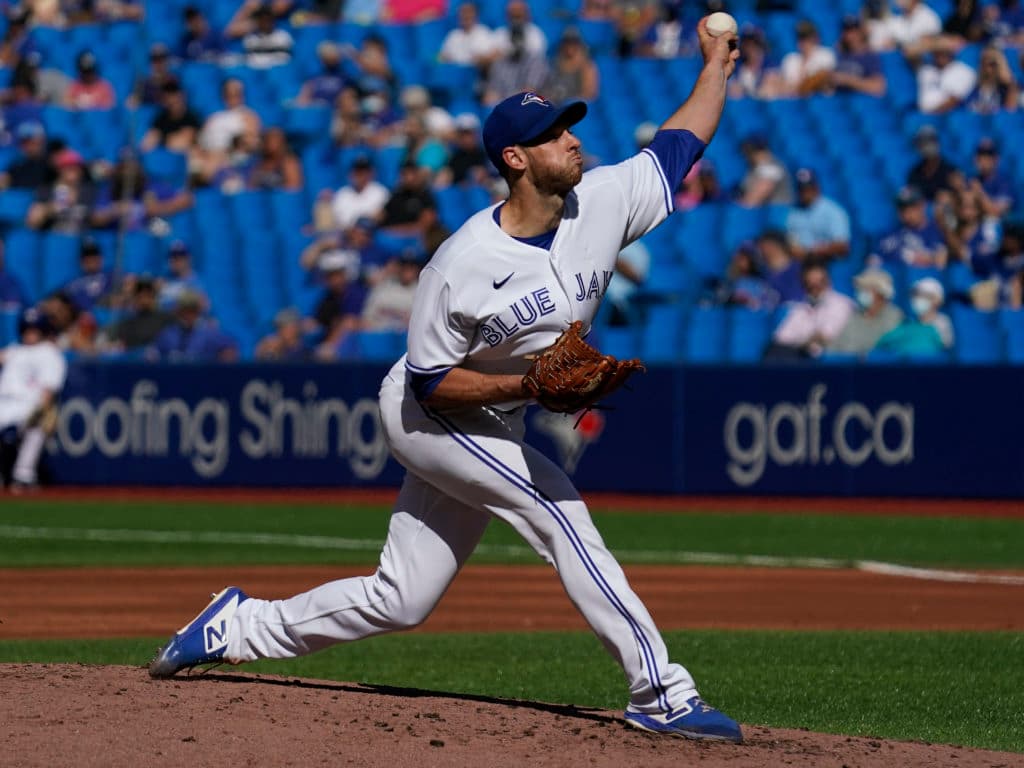 Credit: John E. Sokolowski-USA TODAY Sports
Attacking the strike zone more effectively than a season ago, the former second-round selection posted an encouraging 3.82 ERA, 4.06 xERA, 3.79 FIP, 3.94 xFIP, .264 OPP AVG, 22.3% strikeout rate, 6.6% walk rate and a 45.5% GB rate – his highest since 2019 – through 150 2/3 innings.
Additionally, Matz also finished with the 11th-highest fWAR rating (2.8) among all American League starters who compiled at least 150.0 innings pitched, according to
FanGraphs.com
.
Peeling back some of the layers of his performance, the 6'2″ hurler's tenure with Toronto didn't start smoothly as he struggled to keep balls in the yard and allowed plenty of contact throughout the first half of the schedule. In turn, he surrendered 13 home runs, a .275 OPP AVG and an 8.1% barrel rate over his first 90 1/3 innings of work.
Hitting his stride in the second half, Matz made some key adjustments after the all-star break and enjoyed an impressive stretch over the final two months of the regular season, which has firmly inserted him into the qualifying offer conversation.
Overcoming his first-half woes, the New York native totalled 60 1/3 innings through 11 starts, resulting in a 2.69 ERA, 3.43 FIP, 4.11 xFIP, .248 OPP AVG, 20.9% strikeout rate, 7.1% walk rate, 46.7% GB rate, 5.5% barrel rate against and just five home runs allowed.
Without this outstanding second-half showing, chances are Matz wouldn't even fall into consideration for a qualifying offer, especially since he was on track for a bullpen role prior to this mid-season turnaround. Thanks to it, he's now made himself a very favourable case to ultimately receive a QO in the near future.
Granted, the Blue Jays could negotiate a contract extension with the former Met rather than attaching a qualifying offer next to him, ideally one that'd feature a less expensive payout per season over multiple years. Having said that, it's also possible the veteran lefty pushes for the open market in an attempt to explore alternative options.
It may not seem like it, or perhaps it does, but Matz's current value appears to be the highest it's been since he emerged into the majors on a full-time basis in 2016, where he helped lead New York to the National League Wild Card Game. Considering he recorded a career-high in fWAR this past season, there might not be a more opportune time to seek a lucrative contract than this winter.
| | | |
| --- | --- | --- |
| | Wins Above Replacement (FanGraphs) | Innings Pitched |
| 2016 | 2.5 | 132.1 |
| 2017 | 0.3 | 66.2 |
| 2018 | 0.9 | 154.0 |
| 2019 | 1.6 | 160.1 |
| 2020 | -0.7 | 30.2 |
| 2021 | 2.8 | 150.2 |
If this indeed proves to be the case, then Toronto will need to cover its basis by offering Matz a qualifying offer, earning them a compensatory draft pick if he signs elsewhere. Since this team doesn't receive revenue sharing and also didn't exceed the first tier $210 million luxury tax, their selection would come following the Competitive Balance Round B.
Unless the front office magically re-signs both Ray and Semien, which appears to be fairly unlikely at the moment, this franchise could end up with a pair of comp picks by the end of the off-season – not too shabby for a playoff contender.
Internally, if Matz does depart through free agency, that could open the door for Nate Pearson to finally secure a spot in the starting rotation. But if he's not 100 percent healthy, or his command issues return, Ross Stripling could be stretched out in spring training and serve as a starter once again.
Outside the organization, there could be a handful of intriguing arms available in free agency that would help round out the rotation, including Alex Wood, Corey Kluber, Alex Cobb, Danny Duffy and Michael Pineda.
While the Blue Jays are no doubt open to bringing Matz back for another season or two, if that doesn't work out for some reason, there shouldn't be any shortage of corresponding moves to make to strengthen the pitching staff over the winter. But first, management must determine the course of action to take regarding Ray's free-agent status.
Once that's decided on, the focus can shift towards the rest of the rotation, which could prove to be one of the top units in the majors for a second straight season in 2022.