Should the Jays trade for Matt Chapman?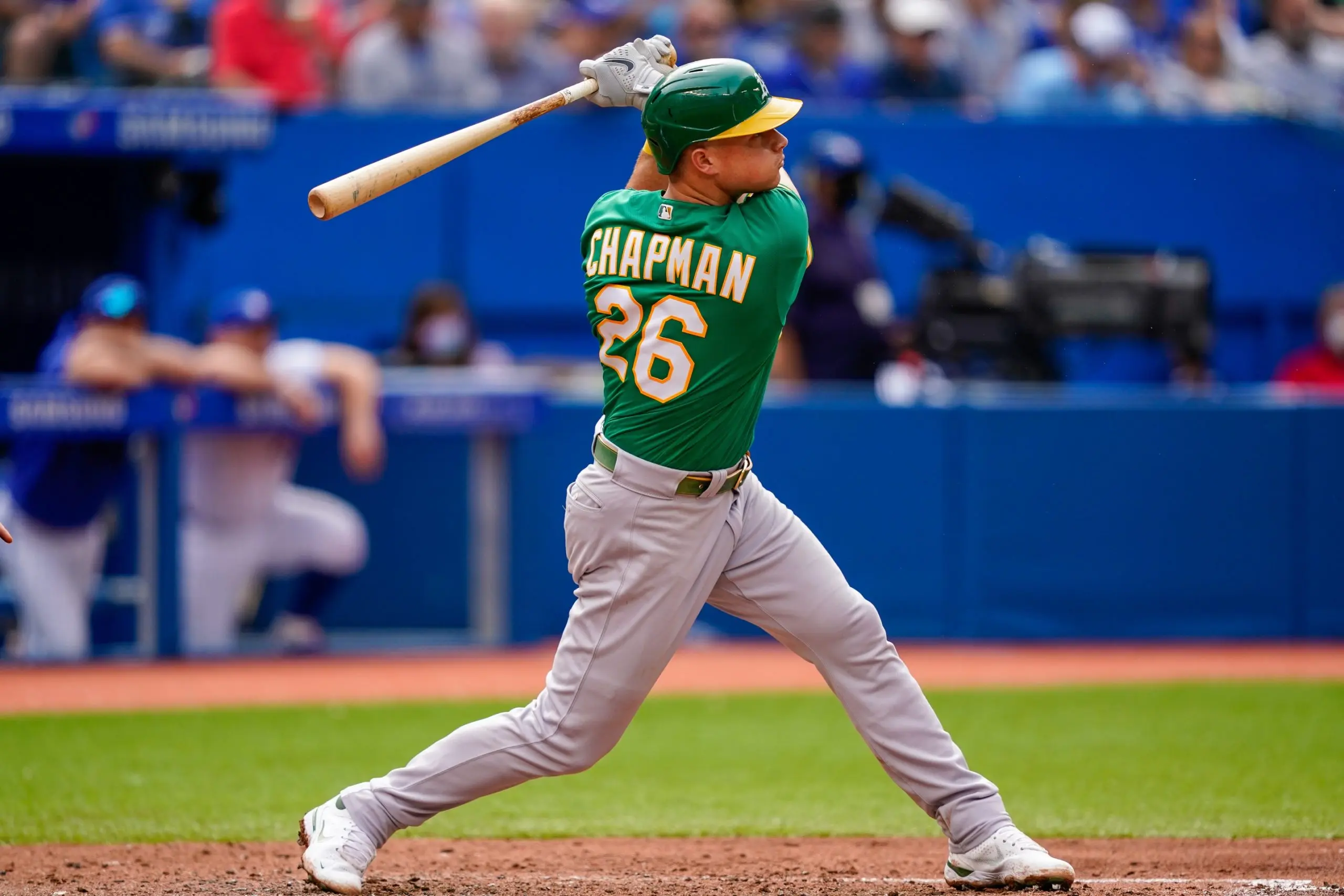 Photo credit:© Kevin Sousa-USA TODAY Sports
Let's start this article off with a fun fact, shall we? A portion of this article, as well as the idea, came from another article I'm working on. 
We all know that I want the Blue Jays to trade for Jose Ramirez, but what about Matt Chapman? The 28-year-old is a solid third baseman, with one of the best gloves at that position as well as power in the bat. Well, my dear reader that's what this article will be about.
He's very good defensively:
The current Oakland Athletic, Matt Chapman, is arguably one of the best defenders at third base. In his career, he owns a DRS of 78 in his 4955.2 innings played at the hot corner. Since 2017, he leads both these categories, only being challenged by St. Louis Cardinals third baseman, Nolan Arenado, who sits at 71 DRS. The next best third baseman in terms of DRS is Manny Machado at 28 DRS.
He also leads all qualified third basemen in Ultimate Zone Rating since 2017, as that sits at 47.3 during his career. Nolan Arenado ranks second at 37.1 and then another significant drop off after that.
If you're not into advanced defensive metrics, his fielding percentage of 97% ranks third for qualified third basemen behind Anthony Rendon (97.8%) and you guessed it, Nolan Arenado (97.6%). It's safe to say Chapman has been the best defensive third baseman in baseball since 2017.
However, we notice a decline after the 2019 season. In 2020, he put up a DRS of 2 along with an UZR of 3.5 in 304 innings played at third. One component in UZR is the range factor; in his prior three seasons (2017-2019) he had a range factor of 7.2, 10, and 6.1 respectively. In 2020, this dropped significantly to 1.1. Since DRS is an accumulating stat, the shortened season isn't the greatest sample size.
Chapman had a bounce back season defensively in 2021. He registered a DRS of 10 along with an UZR of 8.7. While this is absolutely gold glove calibre, it pales in comparison to his 2019 DRS of 28 and UZR of 14.8.
This "decline", if you can call it that, reminds me a bit of Kevin Pillar's decline in centre field. The former Blue Jays was one of the best centre fielders in 2015 and 2016, as he registered a 16 and 22 DRS respectively. In 2017, this dropped to 14, but took a tailspin starting in 2018, dropping to -3, -10 in 2019, -4 in 2020 and -1 in 2021.
Will Chapman face the same decline? Who knows, at the moment, he is still one of the best defensive third basemen in the league. Perhaps a change of scenery will help.
His bat, not so much:
This is where it starts to get worrisome. When I think of Chapman, I think of his 2019 form, where he had a DRS of 28, but also mashed an obscene amount of home runs. Between 2017-2019, I would argue that Chapman was the best third baseman in the majors. 
In 1612 plate appearances, he slashed .257/.341/.841 with 74 home runs while striking out only 23.9% of the time. He also had a solid walk rate of 10.1%, and this was on top of his 15, 23 and 28 DRS in those years.
While his glove has declined a bit since those seasons, his bat took a nosedive off of Mount Everest. In 2020, he slashed .232/.276/.812 with 10 home runs in 152 plate appearances. That's a decline, but it's not that bad, right?
Well, let's take a look at his walk and strikeout rates. His 10.1% BB% decreased by nearly half to 5.3% while his K% rose drastically to
35.5%.
While it is a rather small sample size, it's certainly a cause for concern, especially that high of a strikeout rate.
He had hip surgery after the 2020 season and this clearly affected his numbers in 2021. In 622 plate appearances, he slashed .210/.314/.716, the worst of his career. He added 27 homers, which is his second best to date. While his walk rate increased to a career best 12.9%, his strikeout rate only dropped marginally to 32.5%.
Combining the two seasons, he slashed .215/.306/.737 with 37 home runs in 774 plate appearances. His BB% jumped to 11.4%, but his K% skyrocketed to 33.1%. Compared to the first three seasons, this is a sharp decline.
Furthermore, the Jays are apparently looking to add more left handed bats, whereas Chapman is right handed. This may make the Jays think twice about trading for Chapman.
What are the benefits to acquiring Chapman:
While I personally believe going for Jose Ramirez is the way to go, trading for Chapman does have its benefits.
The Jays wouldn't have to give up the farm for him:
In comparison to trading for Jose Ramirez, the cost of trading for Chapman is a lot less substantial. While his apparent decline is worrisome, it does create an opportunity as his perceived value has taken a hit in the past two seasons. If the Blue Jays were looking to acquire the 28-year-old, it may not even cost a top prospect to do so.
Oakland is in a "sell now" mode:
The team under 50 feet of poop is at it again, as they are trading off all their good players. On Saturday, they traded right handed pitcher Chris Bassitt to the New York Mets for an okay return. They are also looking to trade Sean Manaea and Matt Olson. If the Jays could offer a few decent prospects, it's possible to get this deal done.
His contract:
Matt Chapman is under team control for the next two seasons. The third baseman is in his second year of arbitration and is expected to make around $10 million in 2022 per Spotrac 
His defense and power for that cheap of a contract could be well worth whatever Oakland is asking for.
The last time the Jays traded for an Oakland third baseman…:
You know the story, the Jays traded Brett Lawrie and a few other prospects (including Kendall Graveman) for third baseman Josh Donaldson. The similarities are pretty crazy, as Donaldson had just turned 29, and was a solid defensive third baseman (15 DRS in 2014). Donaldson did have a lower K% at 18.7% though, much lower than Chapman's in 2021.
As you all know, Donaldson was instrumental in the two Blue Jays playoff runs and added the AL MVP in 2015. Could a change of scenery help Chapman? Will the Jays strike twice with third basemen from Oakland?
As always, you can follow me on twitter @Brennan_L_D. I'm almost at 300 followers, so if I could get that before the start of Spring Training, that would be cool. Thanks for reading!