Sizing up the American League East: The Baltimore Orioles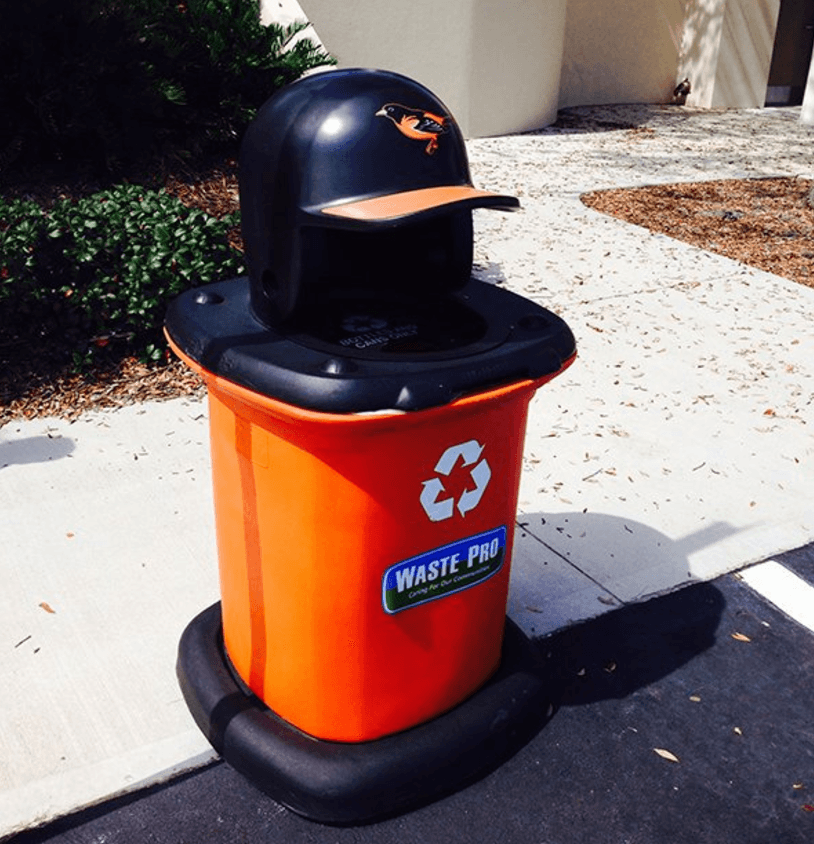 It's also important to keep in mind that the free agency period isn't finished yet. It is entirely possible that the Jays sign Kris Bryant or trade for Jose Ramirez once this dumb lockout is over, so this article may be revised if that is the case. Furthermore, all projected lineups in this series will be brought to you by Fangraphs' depth chart.
The Bad Birds of the East are going to be bad once again. I'm starting with them because it gives a chance for my editor to use the Oriole trash can picture. Speaking of trash, let's talk about the Oriole infield. Below is the projected infield for the 2022 Baltimore Orioles.
Jacob Nottingham (Catcher)
Anthony Bemboom (Catcher)
Ryan Mountcastler (First Baseman)
Trey Mancini (Backup First Baseman)
Rougned Odor (Second Baseman)
Ramon Urias (Shortstop)
Kelvin Guiterrez (Third Baseman)
Jorge Mateo (Utility)
Adley Rutschman (Catcher)
I hope Oriole fans are happy with another first overall pick! Nottingham has played only 53 games in the MLB and has hit below the Mendoza Line for his career. His defense is okay, but not more than average. Bemboom's career is pretty much the same story. However, Rutschman will likely make his debut in 2022, we'll get to him later.
Aside from Adley, Mountcastle is the only shining spot in the infield for the Orioles. He had a slash line of .255/.309/.796 with 33 home runs. This led to him finishing sixth in rookie of the year voting. If Mountcastle can build off his impressive second rookie season, he could be one of few bright spots for the team.
On a more serious note, it is nice to see Trey Mancini back in baseball. Shortly before the pandemic shut down in 2020, it was revealed that Trey had stage three cancer in his colon. Thankfully, I used the word "had" as he beat it and returned in 2021. Mancini is a serviceable backup 1B/DH as he had a slash line of .255/.326/.758 with 21 home runs in 2021. In 2019,  he had a slash line of .291/.364/.899 with 35 home runs, so if he can return to form, he is a player to keep an eye on.
I swear that the Orioles are a meme. Before the lockout, the Orioles signed Rougned Odor. He's bad, there's not much to say after that. Gutierrez is a below average fielder who doesn't excel as a hitter either., much like Odor, there's not much more to add.
Jose Urias had a good season in 2021, with a slash line of .279/.361/.774. While the 27-year-old is by no means a power hitter, the shortstop has shown the ability to be a contact hitter in his young MLB career.
Now let's talk about the aforementioned Adley Rutschman . The 23-year-old catcher had a great season starting in Double A. He registered a .271/.392/.901 slash line to go along with his 18 home runs at that level. He also nearly had an identical BB% (15.4%) to K% (15.9%). 
After a call up to Triple A, he played 43 games with a slash line of  .312/.405/.896 with 5 home runs. While his home run rate decreased, his OPS nearly stayed the same. What's more impressive is that his K% didn't jump drastically, as it only increased to 17.8%. Furthermore, he was still taking walks as he had a BB% of 13%.
The future is bright for the Orioles in one infield position at least.
Moving on to the Orioles outfield:
Anthony Santander (Right Fielder)
Cedric Mullins (Center Fielder)
Austin Hays (Left Fielder)
Ryan McKenna (Backup Outfielder)
DJ Stewert (Backup Outfielder)
Anthony Santander is a below average defender (-3 DRS in right fielder) as well as a below average batter at the plate. In 2021, he owned a slash line of .241/.286/.720 with a wRC+ of 92.
On the other hand, Austin Hays is the much better corner infielder as he had a 14 DRS between both right field and left field. He also had the better offensive production in his first full season, as he slashed .256/.308/.769 and added 22 homers. According to Fangraphs, he finished with an fWAR of 2.4. The 26-year-old is a player to keep an eye on.
To say Cedric Mullins came out of nowhere is an understatement. Between 2018-2020, he slashed .225/.290/.632 with 7 home runs in 418 plate appearances. In 2021, he had 675 plate appearances and slashed .291/.360/.878 with 30 home runs. Talk about a breakout year. Fangraphs gave him a WAR of 5.3.
The Orioles are still bad, but they do have some decent players with some exciting prospects upcoming.
Where do the Orioles offense rank in the AL East?
As always, give me a follow on Twitter @Brennan_L_D.