Some love for Daulton Varsho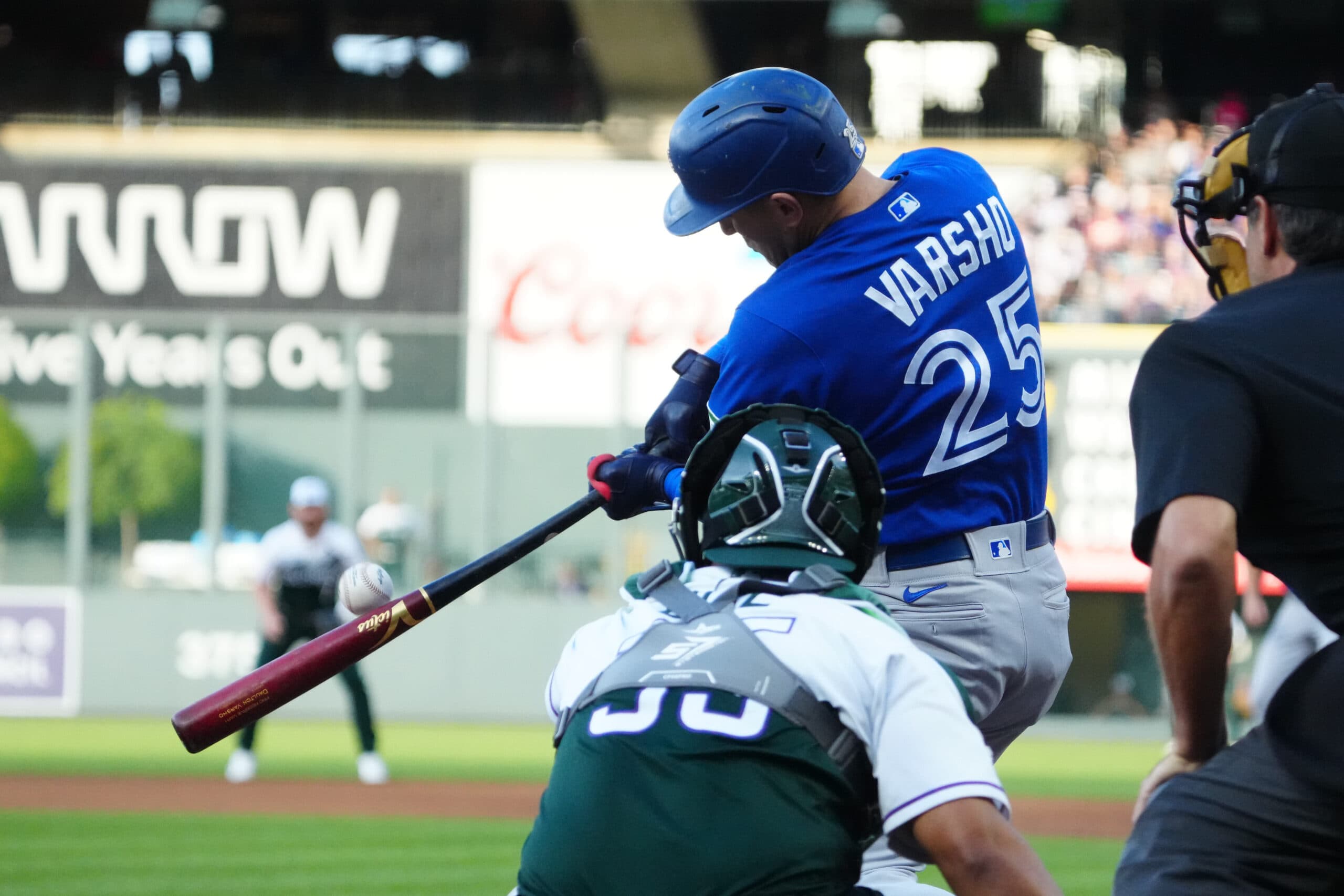 Photo credit:Ron Chenoy-USA TODAY Sports
Before the 2023 regular season began, the Toronto Blue Jays announced that the team had traded left fielder Lourdes Gurriel Jr. and rookie catcher Gabriel Moreno to the Arizona Diamondbacks for centre fielder Daulton Varsho.
Fast forward to October 2023, many Jays fans are now calling the trade a huge loss for the Jays as they witness both Gurriel Jr. and Moreno making a deep postseason run with their new team. It's tempting to grade a trade right away, especially after a frustrating season, but it'd be a mistake to write off Varsho altogether just after one full season. This is the case for Daulton Varsho and his potential for a bounceback. 
Looking at Varsho's
batting statistics,
one thing that's been clear is that his on-base + slugging percentage (OPS) number dropped significantly in 2023 compared to 2022. With the Diamondbacks, Varsho had a healthy OPS of 0.745 but in his first year in Toronto, it regressed to 0.674. This decline also indicates that his on-base percentage and slugging took a step back. It's evident that Varsho experienced his slump in his first full season with Toronto and the good news is that his batting stats are due for some positive regression next year.
The case for his batting bounceback is easier to understand when we observe his career stats in 2020 and 2021 with the Diamondbacks. Varsho didn't have the best debut year when he started with Arizona in 2020, but his 2021 stats show his great offensive progression with a 0.755 OPS. The truth is that Varsho may not reach 0.800 or 0.900 OPS. But it's safe to assume that he has the potential to reach the OPS in the 0.700s again given the historical data. 
Another noticeable thing from Varsho's
advanced batting stats
is a substantial dip in his isolated power (ISO) from 2022 to 2023. With Arizona, Varsho recorded a 0.207 ISO, but with Toronto, it dropped all the way to 0.169. This mysterious "power outage" will be something Varsho and the Jays' coaching staff will have to figure out to reach his full offensive potential. If there's one thing we know from Varsho's offence in Toronto, it was his weakness to high fastballs. Pitchers around the league capitalized on this very flaw during the 2023 season and finding solutions to either laying off or attacking high fastballs will also be key to unlocking higher on-base percentage and batting average for Varsho. 
In addition, we can see that Varsho's pull percentage went down in 2023. Considering that Varsho hit 27 home runs with a pull percentage of 48.9 per cent, it'll be crucial for Varsho to find ways to pull balls more given that his pull percentage dropped by 7.2 per cent in 2023. It's also worth noting that Varsho hit more balls either to the centre field or the opposite field in Toronto while pulling the ball less. If we count Varsho's 2022 season as a sustainable and successful season, the Jays need to help Varsho to focus on his pull power more in order to boost the team's overall offensive production.
Aside from the recent offensive woes, Varsho has made himself valuable with his stellar defence and baserunning. Thankfully, Varsho's defensive and baserunning stats haven't changed much year-over-year. Varsho stole 16 bases in both 2022 and 2023 and ranked 95 in baserunning value, according to
Baseball Savant
. His outs above average was fifth in MLB in 2023, demonstrating that his defence has carried the Jays' outfield defence.
Varsho's fielding percentage is also outstanding at 1.000 compared to the MLB average of 0.986 in 2023 per
Baseball Reference
. While there's no guarantee that Varsho can recreate his defensive values next season, it's reasonable to believe that he can certainly keep similar statistics barring any unusual circumstances.
Something that gets lost amid the data is that Varsho is only 26 years old. He has plenty of years to mature into a seasoned player and his 2023 season isn't indicative of who he is as a player yet. Furthermore, 2023 was his first time playing in the American League East full time and this is no small change given that some players take time to adjust. Take Trea Turner for example. He signed a massive 11-year contract with the Philadelphia Phillies in 2023 only to record disappointing offensive productions for a good chunk of that regular season. However, Turner finally bounced back towards the end of the 2023 season and carried that energy straight to the postseason. 
Yes, Varsho isn't your Shohei Ohtani or Aaron Judge, but that doesn't mean that he's completely lost his value after one disappointing season. There's room to grow and he still has two more years to showcase his true value. It also means that no trades can be properly assessed within a year or less than a year. It's easy to quickly count a trade as a win or a loss based on notable performances, but the truth is, most trades need at least two or three years for any accurate evaluation.
In 2024, Varsho will still be playing for the Jays, Moreno will play for the Diamondbacks, and Gurriel Jr. will likely depart Arizona to sign a new team. This trade narrative is far from over and Varsho certainly has an opportunity to rewrite this trade as a win-win for both Toronto and Arizona. So, give Varsho a chance to prove himself once more. After all, he may have that "dawg" in him that we didn't know about.
---