The 2023 Toronto Blue Jays Report Cards: Outfielders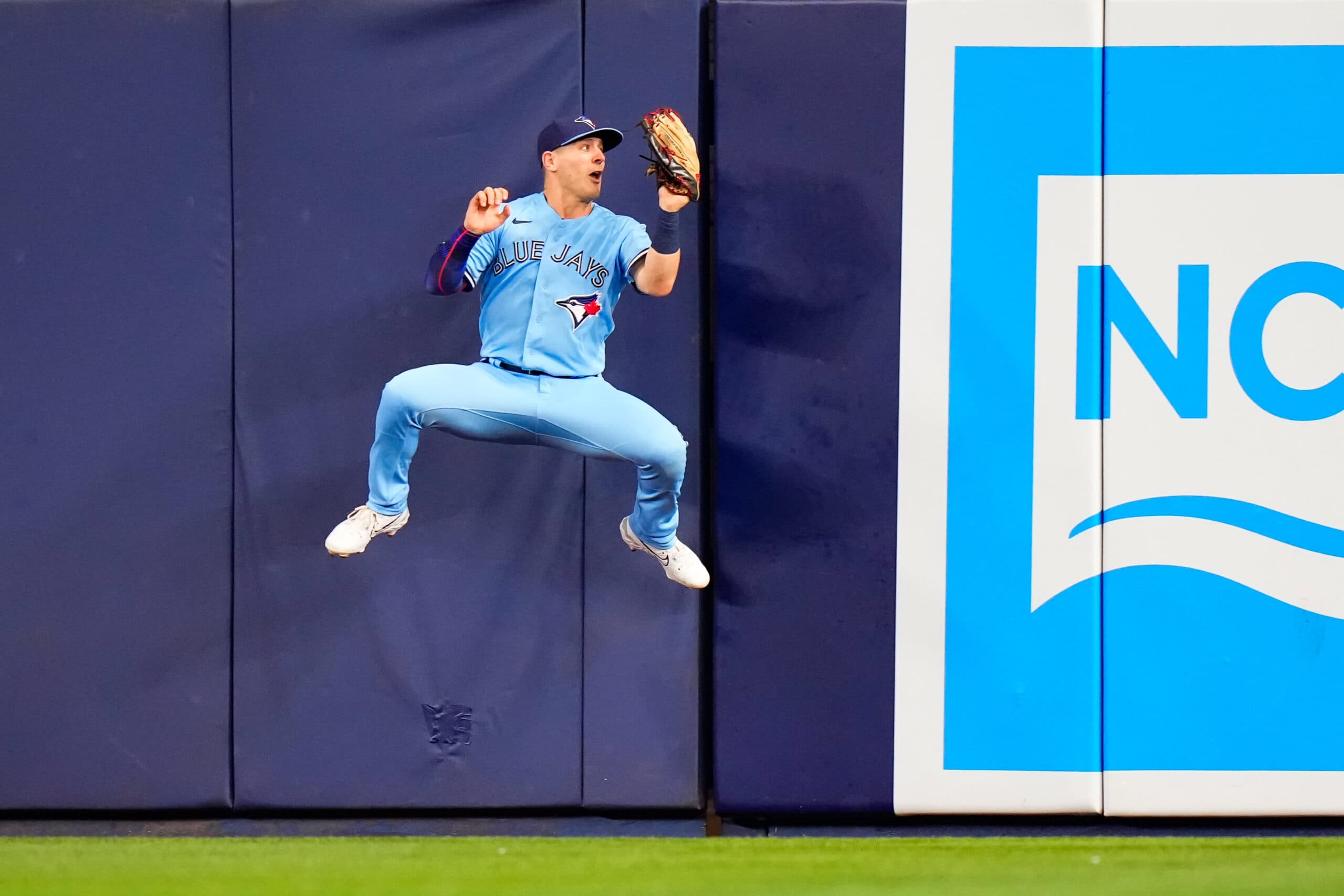 Photo credit:Rich Storry-USA TODAY Sports
The Blue Jays are laying low amidst the tail end of the postseason aftermath controversy while juggling the future of the club. The World Series is in full swing and once this concludes, Toronto's off-season baseball talk will reheat, not limited to management, gaps to fill, minor league development and most importantly, annual player reviews.
It's beyond safe to say that the 2023 Toronto Blue Jays season was a failure. Not only a senseless series loss but a sweep with very little to show offensively. Regardless of the outcome, there were good and bad notes individually. How would we grade the 2023 individual Blue Jays?
Gradings:
A – Exceeded expectations with a significant contribution. This player was among the most valuable on the team.
B — Contributed to the overall success of the club. This player excelled offensively or defensively at a level around what was expected.
C – Contributions were satisfactory. This player was around league average and didn't make the team worse but didn't reach expectations.
D
– Contributions were minimal. This player did not hold the weight of their position and considerations for next season must be reviewed.
Kevin Kiermaier – Grade: B
The 2023 version of Kevin Kiermaier was subtle and reliable to an extent this season. It goes without saying that this year's offence has been almost non-existent for the club, so obviously Kiermaier is a small ingredient in the mix. However, it is without a doubt that his presence defensively was valuable along with his ability to be on base and display tremendous athleticism.
He's shown overall improvement from last year and a few previous years with respect to certain numbers. His on-base presence has shown out more this year, with a .322 on-base percentage compared to 2022 which sat at .281. That being said, he stole 14 bags, which was more than the past 3 seasons. He's driven in 14 more runs than he did in 2022, and his batting average was the highest in 2023 at .265 since 2017 when he hit .276.
Defensively by the eye, Kiermaier is the guy you want out there in the grass and he's shown out this season in various ways. He's only committed three errors all season with 257 put-outs on 265 chances. Kiermaier is forever recognized for his glove and speed and would be a guy Toronto needs in 2024, although divisional rivals may have first shots at him.
George Springer – Grade: C
Springer's lead-off spot was not as sufficient as the club expected. Let's start with some recent numbers: two hits, zero runs, zero RBI nine at-bats, a .222 batting average, and a .222 on-base percentage in the postseason. This is barely satisfactory for an upper-class offensive outfielder leading off for the Blue Jays in a playoff scenario where offence killed any chance of advancement.
He's ended the season with a .258 batting average, 21 home runs, and 72 RBIs; these numbers are satisfactory and lower to an extent compared to the previous year. He struck out 125 times, walking 60 of those with 158 hits. His only impressive statistic toward offence was his 20 stolen bases and a .327 on-base percentage. Defensively, Springer is not questionable and may be one of the top defenders in the league, along with Kiermaier.
This "C" grade is based on the mere fact that contributions could have been emphasized, especially being in the lead-off spot. The totality of the offence this year for the club was horrible and ultimately led to early elimination for the Blue Jays in the postseason.
Dautlon Varsho – Grade: B
Without any consideration of the present comparison of the Varsho trade, a grade of "B" is appropriate and is very generous. Varsho would have been on the brink of a "C" in this ranking if it wasn't for his efforts in playing the game with IQ and playing the game with full-force hustle.
Varsho did not display close to the performance that the Blue Jays nation expected of him. Without exaggeration, in five postseason at-bats, nothing was done. Throughout the season, his walk-to-strikeout rate was horrendous: 45 walks to 135 strikeouts. He drove in fewer runs this year with 61 compared to last season at 74. Although he was up there in team home run leaders, he hit seven more bombs last year with 27, compared to this year's 20.
So why a "B"? Varsho brought a sense of confidence to each aspect of the game and satisfied various situations in which he was involved. He was able to play the short game, using bunt and hit-and-run tactics, along with stealing bags, which he did 16 times. His feet were always moving when on the pads and he did have quality at-bats when they mattered. His defence was never questionable and complimented a well-established outfield.
---