The 2023 Toronto Blue Jays Report Cards: Starting Pitchers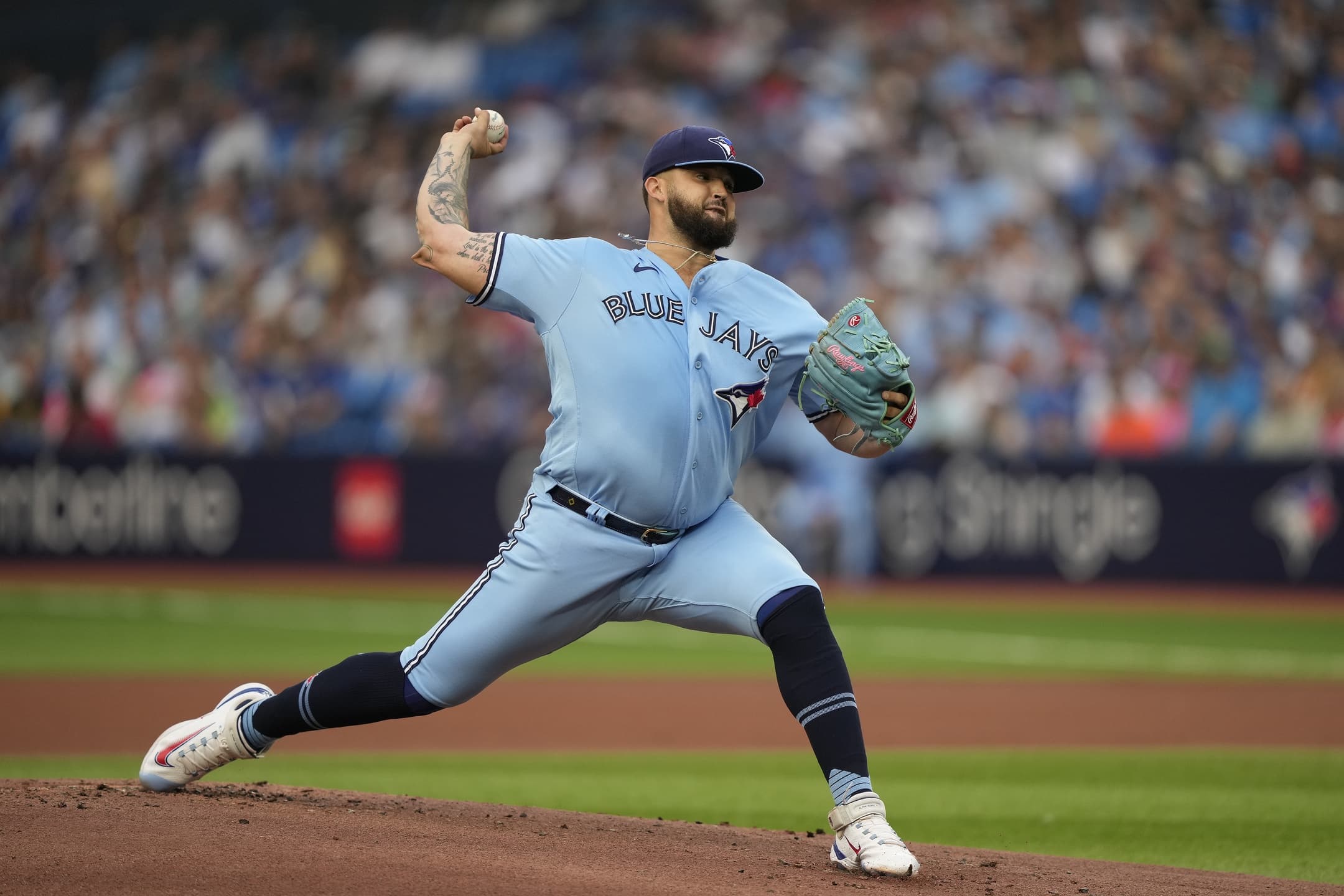 Photo credit:John E. Sokolowski-USA TODAY Sports
With high expectations in 2023, the Blue Jays offence was a major letdown, with production being minimal at the best of times and non-existent when it mattered. The expectations for pitching were parallel but Toronto's arms came through for the team even better than anticipated.
When speaking about pitching, the Blue Jays starting rotation was ranked one of the highest in the league, up until the start of the postseason. That being said, there were some weak links, disappointments, and improvements. Toronto employed a total of five regular starting pitchers. How did they pan out?
Grading Scale
A – Exceeded expectations with a significant contribution. This player was among the most valuable on the team.
B
— Contributed to the overall success of the club. This player excelled on the mound, offered quality innings, and provided more wins than losses in their record while giving the team a chance to win.
C – Contributions were satisfactory. This player was around league average and didn't make the team worse but didn't reach expectations.
D – Contributions were minimal. This player did not hold the weight of their position and considerations for next season must be reviewed.
RHP Chris Bassitt – Grade: B
After a semi-rough start, Chris Bassitt settled into his new starting role with the Blue Jays, getting accustomed to his new catchers, new home field, and pitchcom technology. Once the wrinkles were ironed out, Bassitt took the mound with a competitive edge at each and every start. He executed his repertoire well and shoved with confidence.
He put up the most wins in a single season this year, with 16 victories and 8 losses in 33 starts over 200 innings pitched. He struck out 186 batters while walking 59 of 826 batters faced. This season he's faced the most batters in a single season while pitching the most innings in a single season. His numbers were fairly similar to 2022, with better execution of his off-speed. Overall, Bassitt was a factor on the field when the Jays needed a win.
RHP Alek Manoah – Grade: D
This performance was not foreseen by Manoah, especially after a killer 2022 season. After a 2022 All-Star year with 16 wins, Manoah took a face-plant in 2023 and could not climb back to the top. His first demotion took place in June, when he was optioned to the Florida Complex League for remedial work. He was rushed back in less than a month and reassessed where things did not pan out, and in August, he was optioned back down to the minors.
He slated a horrendous 5.87 ERA in 87.1 innings, walking the yard with 59 bases-on-balls, only seating 79 K's.
Manoah's hype did not meet standard and his offseason will be crucial towards spring training and his future with the club. Reconstruction of his approach, conditioning, and fastball command will be his focus toward a successful return.
RHP Jose Berrios – Grade: B
Jose Berrios really turned it around this season. Although he won 11 and lost 12 this year, he's cut down his ERA from a 5.23 in 2022 to a 3.65 in 2023. Last year he led the team in hits given up at 199 and led the team in earned runs at 100.
Those numbers have since been slashed to 173 and 77. This year he offered the most innings pitched in the past four years with 189.2. He struck out 35 more hitters this year compared to 2022. As per Baseball Savant, his pitching, fastball, and breaking run values are all above 70%, along with his chase percentage. Berrios threw quality innings for Toronto and was a go-to arm in needed-win scenarios. Every time he took the mound, he competed for a victory. Berrios was a staple in the rotation.
---
Aug 23, 2023; Baltimore, Maryland, USA; Toronto Blue Jays starting pitcher Kevin Gausman (34) throws a first inning pitch against the Baltimore Orioles at Oriole Park at Camden Yards. Mandatory Credit: Tommy Gilligan-USA TODAY Sports
---
RHP Kevin Gausman – Grade: A
Without a doubt, the veteran Gausman is the clear ace of the club with the best composure, offerings, approach, and repertoire. He's known as the big game arm and the strikeout king, leading the American League with 237 strikeouts and only 55 walks.
Toronto's ace put up a 3.16 ERA with a 12-9 record and is expected to be a finalist for the Cy Young award under the expected winner, Gerrit Cole. He has a 93% strikeout percentage with a 90% pitching run value and 95% fastball run value. His four-seam was commanded on an elite level while executing the splitter, slider, and sweeper well to control counts. Gausman is elite and is the most valuable arm in the rotation.
LHP Yusei Kikuchi – Grade: B
This is another arm with a complete turnaround season. Kikuchi struggled in 2022 with a 5.19 ERA and disability to command the fastball, use the zone, and ineffectively execute his off-speed, getting burnt. His 2022 outing displayed untrustworthiness and a lack of confidence in his outings.
2023 was a flip-around, throwing quality innings, effectively commanding the fastball while spotting up, throwing more strikes, and weaponizing his off-speed to his advantage. Kikuchi worked from the southpaw, carving hitters and stacking K's, striking out 181, only walking 48. His dependency was evident and he offered quality innings. Kikuchi was a strong starter and could have been a go-to bullpen arm in any case needed during the postseason. Toronto saw him as a fourth starter in the season, especially with the misfortune of Alek Manoah.
LHP Hyun Jin Ryu – Grade: C
We did not see a full measurable chunk of work from Ryu this season as he was injured and only returned in August for 11 games and 52 innings. From what was observed, Ryu was easing back into his grove and looking more promising than ever. A full season in 2024 will describe his rebound from surgery. As for his short stint in 2023, the effort and results were satisfactory, especially considering Manoah's implosion and how desperate the Blue Jays were for depth innings.
---
Previously:
---