The Blue Jays are staying the course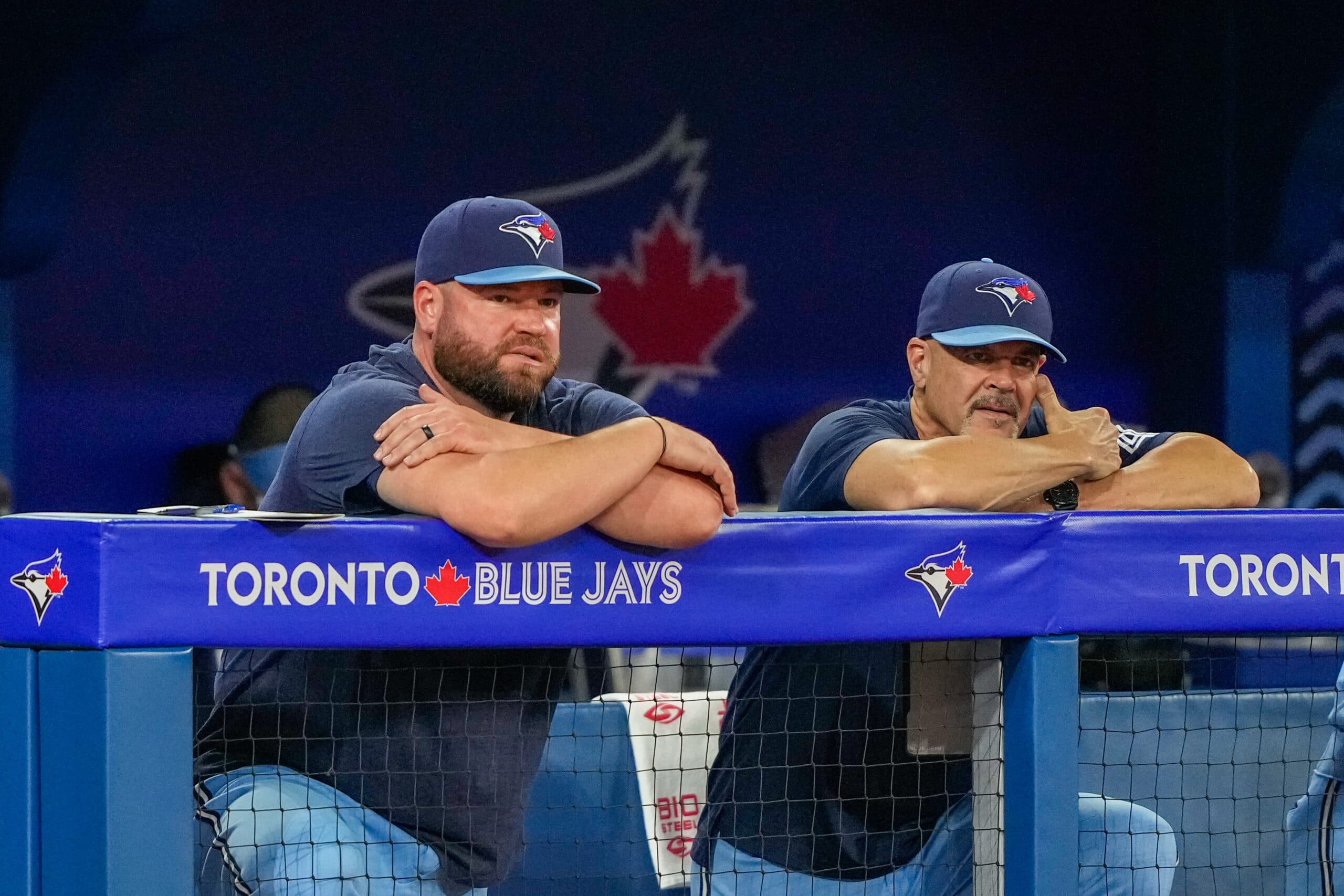 Photo credit:Kevin Sousa-USA TODAY Sports
President and CEO Mark Shapiro took to the podium earlier today to address reporters for his year-end press conference after a disappointing finish to the year with the Blue Jays getting swept by the Minnesota Twins in the Wild Card last week.
Reporters and journalists that cover the Jays peppered Shapiro with a smorgasbord of questions, ranging from the decision to pull José Berríos in game #2, communication issues within the organization, and the future of general manager Ross Atkins. These were all important topics and ones that Shapiro needed to address as the top dog in the organization.
With that in mind, let's take a look at what Shapiro had to say.
Ross Atkins stays but top-down communication is a sore subject
The first question out of the gate was what lies ahead for general manager Ross Atkins and his future with the Blue Jays organization and Shapiro was quick to confirm.
"Ross will be back… We need to get better, Ross needs to get better but he's done a good job and put us in a good position next year to be a very good team and certainly deserves that opportunity to continue to lead the baseball organization,"
Shapiro said
.
It's fair to say that Atkins has done his share of trying to form a playoff-contending team, adding premium free agents in Hyun Jin Ryu, Kevin Gausman, Chris Bassitt, and George Springer over the past few seasons while going above the CBT for the first time in franchise history. Atkins has had his ups and downs when it comes to the trade front, the Teoscar Hernández deal and the Whit Merrifield trade were both wins for the organization while the Mitch White trade and potentially the Daulton Varsho/Gabriel Moreno deal are losses (at least initially), but the postseason record hasn't turned around since the rebuild and that is what fans care about right now. He's had some big wins but he's also had some big losses both on and off the field.
The club hasn't won in October since the 2016 ALCS and that was a veteran squad that this duo inherited from the previous front office. They have been swept in their last three postseason appearances and some of their biggest stars have struggled to produce under the brightest lights. While Atkins and co. aren't up in the lineup swinging a bat, their track record of producing a playoff-winning team is non-existent, and that's dating back to the Cleveland days.
On top of this track record, communication issues between the front office and the coaching staff appear rampant considering one of the first things Atkins did in his press conference last Saturday was ensure the public knew that "The Decision" was manager John Schneider and his team's alone. Shapiro was asked to address some of these concerns and he at least took accountability for the ongoing communication woes.
"We had probably made some assumption that there was a clarity to the people, to the planning and preparation that goes into our games, not just for that game, but for every single one of our games… We have to be more clear with our players, more transparent, do a better job of communicating what that process is, and then most importantly, if at all, there's a line of demarcation when it comes into the game that the decisions lie with our staff and with John."
In comparison, this is what Atkins said to the public last weekend:
"I found out about it when you did… When Kikuchi was getting warm in the first inning, it was very clear that we had a strategy to potentially deploy. John Schneider made the decision to deploy that," said Atkins. "There was not an influence from the office that factored into that, other than maybe it was an organizational strategy communicated to players. When I say organization, I'm including players, many players over the course of the days prior to that strategy."
Schneider hit every wheel of the bus Atkins threw him under, and while the decision may have not involved the front office (I think it did, but I digress), the lack of accountability is what appears to be irking fans, as well as the on-the-field product that hasn't produced a postseason winning club after two to three years of fans seeing their favourite players traded away early into their tenure.
It can't be out of the question that this could be Atkins's last attempt at fielding a team that can win in the postseason. Although there is some blame to be shared amongst the players who underperformed these past two playoff attempts, sometimes change is needed to right the ship and that could be across the organization, not just with Atkins.
Blue Jays fans and their frustrations potentially carrying over into next year
It will be interesting to see if this disdain carries over into next season, especially if the front office struggles to improve the club in what is shaping up to be a pretty lacklustre free agent class outside Shohei Ohtani for what the Blue Jays currently need on the field (bats, bats, and more bats).
Failure to do so will not bode well for a fanbase that is already none too pleased with how the season ended and certainly won't fill the new and improved bars and social spaces the organization is putting in this winter. In a division where the Yankees, Red Sox, and Rays can be postseason contenders each season and the Orioles are boasting a dynasty-like young core of their own, the Blue Jays can't sit back given Bo Bichette and Vladimir Guerrero Jr. inch closer to free agency every passing year. That's not to say that the club won't be a postseason contending squad next year but another sweep in the AL Wild Card might lead to some anarchy on Front Street amongst the Blue Jays faithful.
Looking ahead, everything remains status quo: Schneider remains the manager, Atkins remains the general manager, and the Blue Jays organization continues to be very excited about the renovations. Considering how the 2023 season ended and the eight-year track record of Atkins producing a rebuild and zero postseason wins, there's a chance we could be having this same conversation again in a year's time but one less topic to bemoan.
---