The Blue Jays beat the Nationals to keep pace in the Wild Card race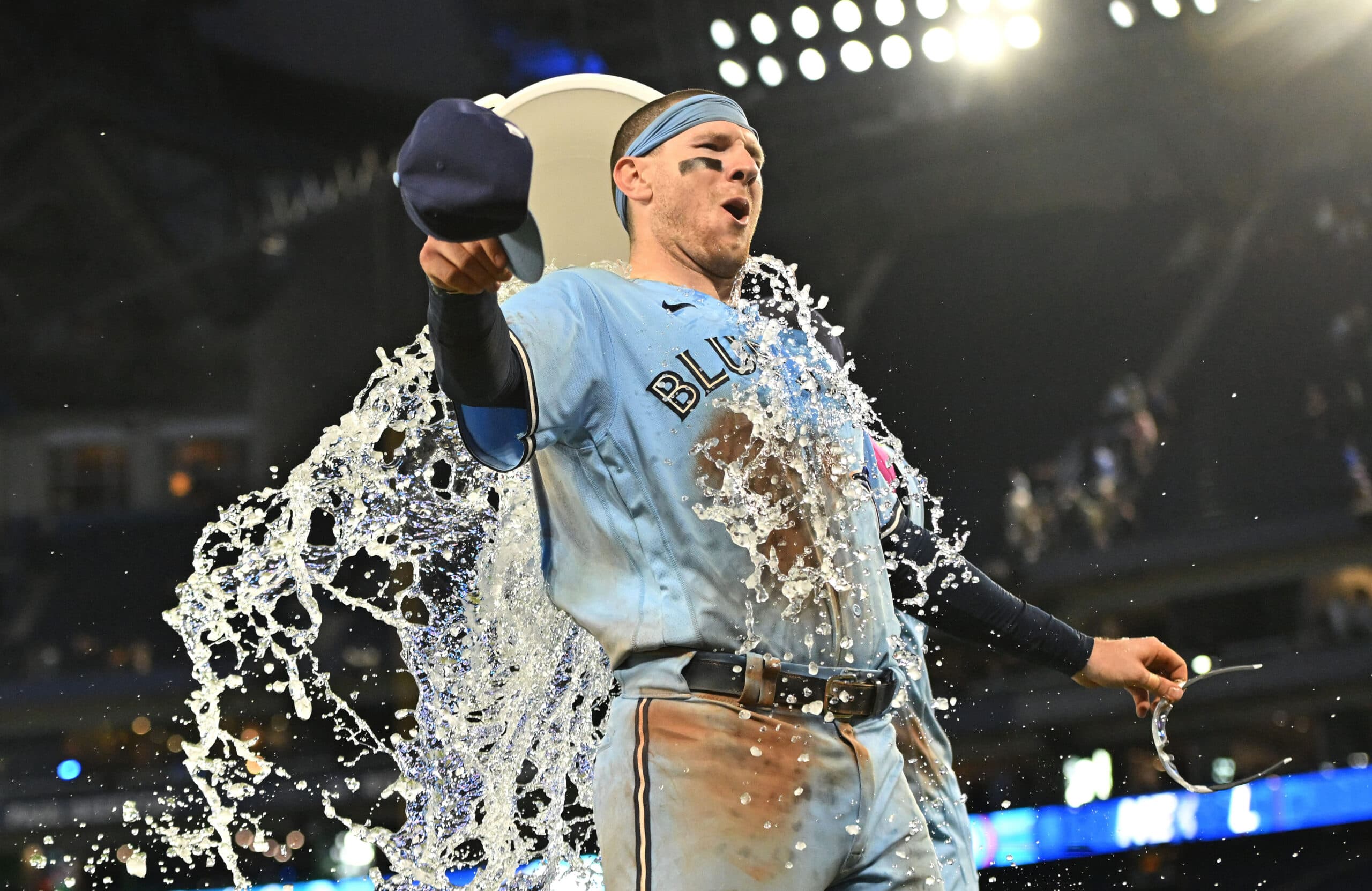 Photo credit:Dan Hamilton/USA Today
Let's get on a roll, Blue Jays.
On Monday evening, the Blue Jays defeated the team that was formerly known as the Montreal Expos 6-3. Let's look at the Blue Jays Nation's player of the game, as well as things worth mentioning.
Blue Jays Nation's Player of the Game: Trevor Richards
Coming into August 23rd's game, the 30-year-old right-handed pitcher had a 2.91 ERA, but was hit around as he gave up five earned runs in two-thirds of an inning (although, it's hard to pin the blame on him).
He had a great bounce back game on Saturday, hurling two innings of perfect baseball with two strikeouts, and that continued in Monday's game.
Richards finished with a line of
2 IP, 0 H, 0 ER, 0 BB, 1 K,
bringing his ERA to 3.43 and his FIP to 3.77 in 60.1 innings pitched, while also picking up the hold and eating important innings.
The changeup artist is super valuable in the bullpen, as he now has a 35.5 K%. He's still under team control for next season, but hopefully the Jays sign him to a short-term extension before he enters free agency.
Things worth mentioning…
Danny Jansen
hit his 16th home run of the season, surpassing his previous career-high of 15 that he hit in 2022. The 28-year-old catcher has hit clutch hit after clutch hit in 2023, and the Jays should think about giving him an extension in the near future before he hits free agency after the 2024 season. He also went 1-2 with two walks.
Ernie Clement
should be in the lineup more. On Monday, he went 2-4 with a strikeout, and was the only Blue Jay to have a multi-hit game. The 27-year-old utility player has obviously found
something
this season, as he's hit 11 home runs in Triple-A, tying his career total heading into this season. With Matt Chapman out of the lineup, Clement should get more chances.
Davis Schneider's
three-game home run streak is over, but he hit a single and drew a walk. Schneider also played third base, a position he's only played 75 innings since the start of 2021 (but is a natural at the position). The play below was a foul ball, but that's a nice play.
G
énesis Cabrera
has been absolutely fantastic for the Blue Jays since coming over near the deadline. Per Sports Illustrated's Ethan Diamandas, Cabrera has pitched 16.1 innings, allowing just seven hits and no earned runs, while striking out 12 and walking just two. Command and control was something that the 26-year-old lefty struggled with in St. Louis, but he's been fantastic with the Jays.
Scoreboard watching:
Despite the win, the Blue Jays still sit 2.5 games behind the final Wild Card spot. The New York Mets blew a ninth inning lead, handing the Texas Rangers a 4-3 win. Furthermore, the Houston Astros destroyed the Boston Red Sox 13-4 (well, it's not done, but Boston isn't coming back). Just. Keep. Winning.
Setting up for Tuesday's game:
The Blue Jays play the second of three games against the team that cost them a 2021 playoff spot, as they play the Nationals at 7:07 PM EST on Tuesday. Jose Berríos gets the start for the Jays, while Al Gore, I mean MacKenzie Gore gets the start for the Nationals.
---
As always, you can follow me on Twitter, Instagram, and Threads @Brennan_L_D.
---