The Blue Jays have some interesting homegrown talent who could help the bullpen in 2023 and beyond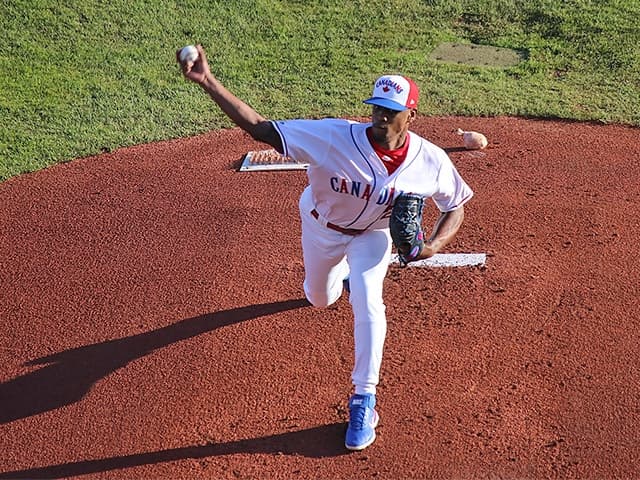 Photo credit:csplusbaseball.com
The Blue Jays bullpen has become incredibly deep over the past few seasons.
Remember the 17 pitchers on the Blue Jays staff/taxi squad to start the 2021 season? If not, it featured pitchers such as Tanner Roark, T.J. Zeuch, Ryan Borucki, Tyler Chatwood, Rafael Dolis, Julian Merryweather, Joel Payamps, and Trent Thornton (who may start 2023 in Buffalo). The Jays also had Tommy Milone, A.J Cole, and Travis Bergen on the now-defunct Taxi Squad. Here's an article for Blue Jays Nation's Cam Lewis if you want to see how far the team has come.
Of course, the 2021 opening day roster still featured Tim Mayza, David Phelps, and Jordan Romano. However, they were the only three mainstays in the bullpen out of the fourteen names I listed.
The state of the present-day bullpen:
Fast-forward to the present day, and the Jays have added Anthony Bass (1.54 ERA, 3 FIP in 2022),
Yimi García (3.10 ERA, 3.47 FIP), Adam Cimber (2.80 ERA, 3.47 FIP), Erik Swanson (1.68 ERA, 1.85 FIP) as mainstays. 
This doesn't even mention adding Trevor Richards, who had a good 2021 and a pretty good second half to 2022, or Zach Pop, who may not be on the 2023 roster because he has options.
The bullpen is incredibly deep with players that have produced great results. Yes, they did trade Rowdy Tellez, Joe Panik, Jordan Groshans, and Tesocar Hernández to acquire many of these relievers, but as a whole, these were all pretty good trades.
One of the few aspects the front office has failed at in the eyes of some is that they haven't developed any homegrown relievers. While that may be true for the 2021 and 2022 seasons, the times are changing.
Before we look at some names:
Before looking at names, I want to begin with this. When the current regime took over in late 2015, the farm system was devoid of top-tier prospects. When the team was rebuilding between 2017-2019, they drafted primarily position players with a few starting pitchers. However, the few relievers they did draft in the late rounds are now emerging.
Now, it's true that relievers are usually starters that moved to the bullpen, but they didn't really even draft starters in the top 5 rounds during the rebuilding years. The main exceptions are Nate Pearson and Adam Kloffenstein, the latter has struggled since the plague year but only turned 22 in August.
This isn't even mentioning the fact that there were only five rounds in the 2020 draft, which gave them essentially no chance at drafting relievers. They haven't really drafted starters, nor have they drafted a ton of relievers up until 2021.
Relievers that could impact the Jays in 2023:
With all that being said, let's look at about seven relievers that I could realistically see making the Blue Jays at some point in the season.
Nate Pearson:
I had already mentioned his name, but he looks like someone who could be a reliever used in high leverage in the upcoming years.
Pearson finished the 2021 season pitching well out of the bullpen, posting a 0.93 ERA and 2.24 FIP in 9.2 innings. While he struggled with command (17.1 BB%), he had an incredible 36.6 BB% while throwing gas and having plus secondary pitches.
However, 2022 was another unfortunate year for the now 26-year-old. During Spring Training, it was announced that he had mononucleosis, which is a hell of a virus to have for a professional athlete. He also suffered a lat injury in a rehab game, which didn't allow him to pitch until mid-August.
On top of that, his statistics in AAA weren't great, as he had a 3.55 ERA and 4.38 FIP in 12.2 innings. He did have an impressive 36 K% in Buffalo, but also struggled with walks as he had a 14 BB%. Overall, he had a 31.7 K% which ranked 16th in the Jays system for players 25 or younger.
To pitch more innings, the Jays sent him to the Dominican Winter League, where he didn't allow an earned run and had a guestimated 1.21 FIP (I had to calculate it myself) and a 36 K%. He also had a 45.24 whiff%, meaning that batters swung and missed 45.24% of the time whenever they swung.
The Tigres del Licey used him solely as a one-inning, high-leverage reliever. Hopefully it was the Jays giving them the instructions, and they have the same plan for him in 2023.
Bowden Francis:
Bowden Francis was the prospect that was a part of the Milwaukee Brewers Rowdy Tellez deal. The then 25-year-old had a 3.93 ERA and 24.9 K% in 132.2 innings pitched across two levels and three teams in 2021. He also pitched mainly as a starter in 2021.
However, Francis appeared to have struggled in the 2022 season, posting a 6.59 ERA and 6.02 FIP. However, from July 6th onward, Francis' ERA dropped to 4.47 and he had a respectable FIP of 3.42. He also had a pretty impressive 29.8 K%, while limiting the walks with an 8.3 BB% in 46.1 innings pitched.
He's currently in Puerto Rico, where he has a 33.3 K% and 2.4 BB%, giving up no runs in his 12 innings pitched.
He's been used to start games, but the plan may be for him to continue to be a bulk starter once returning to affiliated ball. Either way, I've liked what I've seen from his plus fastball, plus slider, and plus curveball.
Adrián Hernández:
It appeared as if Hernández would have gotten a call-up to the majors had he not suffered an injury in the middle of the 2022 season. Upon his return, he had less-than-desirable results, one positive was his 33.3K%. This ranked 13th in the organization for players under 26 with 10+ innings pitched.
He's pitching with Los Mochis in the Mexican Winter League, where he has a 2.31 ERA (one earned run shouldn't be there) and 32.7 K%. He also has a 42.70 whiff%, with most coming on the 80-grade changeup, which yes, is an MLB-ready pitch. The next step
Hernández has to take to get to the next level is with his command.
Hernández is Rule 5 eligible in 2022, so there's a solid chance he'd be selected when that draft occurs at the end of the winter meetings. If he isn't, he could be one of the first relievers to be called up.
Hagen Danner:
Already on the 40-man roster, Hagen Danner was drafted in 2016, but as a catcher. He spent his first three seasons playing the backstop, before converting to a reliever in 2021. With the High A Vancouver Canadians, he had a 2.02 ERA and 3.61 FIP in 35.2 innings pitched. He also had a pretty darn high 29.4 K% and a rather low 8.4 BB%. Not bad for someone who hadn't pitched much since 2016.
He missed all but four games at the start of the season with an injury, but looked fantastic in the Arizona Fall League. He had a 3.52 ERA in 7.2 innings pitched, but all those runs came in his first outing before pitching seven scoreless innings. The 24-year-old had a 28.6 K%, with a 3.6 BB%.
Danner had a solid 29.41 whiff% and a 31.96 called strike + whiffs %. He used his high-90s fastball well and showcased a plus slider, which sits in the high-80s.
Hayden Juenger:
Moving away from relievers that pitched in winter leagues, we have 2021 6th rounder Hayden Juenger. Between Double A and Triple A in 2022, the 22-year-old righty had a 3.76 ERA and a 27.7 K% in 88.2 innings pitched, which ranked 34th in the Blue Jays organization for players with over 10 innings pitched. He had a slightly high 10.3 BB%, but had issues with the long ball, giving up 18 on the season.
Despite that, the Jays have been aggressive with him since drafting him, as he started his professional career in High A Vancouver. He features a mid-90s fastball which I believe has touched 97 mph, as well as a plus changeup. His best pitch is his slider which has a late break.
Juenger, along with Bowden Francis and Nate Pearson, could potentially be the first bulk relievers the Jays call up if they need innings to be eaten.
Brandon Eisert:
If Hernández is an example of secondary pitches being able to generate swing and miss, then Eisert is a great example of how deception can be used to generate whiffs.
The 24-year-old lefty only averaged 91-93 mph on his fastball, but my lord did it ever look fast to batters, especially against lefties. His 31 K% was only ranked as the 12th highest in the Jays organization with 30 or more innings pitched. However, he had the fifth highest K-BB% ratio of 25%. This is due to the fact that he just didn't walk many batters, as he had a 6 BB% in 2022.
While he sits in the low 90s with the heater, the deception makes it play up. He also features a plus changeup and plus slider.
The 24-year-old lefty is someone to keep an eye on in 2023 as long as he doesn't get scooped up in the Rule 5 draft.
Yosver Zulueta:
The 24-year-old was added to the 40-man roster around a week ago and had it not been for injuries, it's possible that he would have pitched in relief for the Jays in 2022. He's featured
a lot
on Blue Jays Nation, so I won't go into
too
much detail, but here's the quick rundown.
The flamethrowing right had a 3.72 ERA across four levels, with a 33.9 K%, which ranked as the 12th highest for any Jays prospect with 10 innings or more pitched. While he struggled with the walks as he moved up the levels, this is to be expected from a pitcher who hadn't really pitched since 2019.
He features a 100 mph fastball, with a plus change and slider, as well as a curveball he uses as a "get-me-over" pitch. I could see him making it out of Spring Training in the bullpen, but my hope is that the Jays allow him to start with the Buffalo Bisons, as it's
way
too soon to give up on him as a starter.
I included him here because he was in the discussion for a callup in the summer, but yeah, he's a damn good pitcher.
Relievers who could help out further down the road:
I'm going to list a few more names of relievers that may not be ready to help out in 2023, but could certainly put themselves in a position to pitch for the big league team in 2024 or 2025.
Troy Watson:
Between Low A and High A, the 25-year-old had a 2.79 ERA and 2.32 FIP. He had the 15th highest K% of 32% in the Blue Jays system of anyone under 26 years old with 10+ innings pitched. Pretty impressive considering this is his first season back from Tommy John.
He sits in the high-90s with a fastball and also features a hard slider, a curveball, and a splitter that's nasty when it works.
T.J Brock:
The Jays went reliever-heavy in the 2022 draft, but oh man did they pick up quite a few good relievers. One of which was 23-year-old righty, T.J. Brock. 
While he had a 5.11 ERA, he had an impressive 2.84 FIP in 12.1 innings pitched with mainly the Vancouver Canadians. His 39.3 K% ranked third amongst Jays prospects with 10+ innings pitched.
Not just that, but he's had the highest whiff% out of any pitchers I've counted so far for my Patreon exclusive document I'm working on (it's over 45%).
This guy gets swings and misses, throws 100 mph, and has a great secondary pitch. He'll be a bullpen ace, mark my words. It's possible he sees a Hayden Juenger-esque push up the minors in 2023.
Mason Fluharty:
Another one of their 2022 draft picks, Fluharty had a 3.52 ERA and 3.99 FIP in 15.1 innings pitched with the Vancouver Canadians. While those numbers don't stand out, his 32.3 K% was impressive nonetheless.
He is a two-pitch pitcher, featuring a low 90s cutter and a sweeper, but the 21-year-old has a ton of movement on his pitches, which makes him hard to square up. He'll definitely be interesting to watch for a full season in 2023.
Jimmy Burnette:
One of the Jays' favourite profiles is lefties that sit in the low 90s, with a lot of deception. While Burnette is a lefty, he brings the heat.
Between High A Vancouver and Double A New Hampshire, the 24-year-old (then 23) had a 4.31 ERA and 3.43 FIP in 56.1 innings pitched. While he had a 14.4 BB%, his 37.6 K% was the sixth highest in the organization for pitchers under 26 years old.
He sits in the mid-90s with his fastball but has reached 97 mph. His other weapons include a slider and a changeup.
It's possible we see him with the Triple A Buffalo Bisons in 2023. While it's a long shot to see him in the majors next season, there is the remote possibility of it happening.
Ryan Boyer:
Moving into two relievers you may not have heard of, but you should get to know, we have 25-year-old Ryan Boyer.
The righty pitched at Low A, High A, and Double A in the 2022 season, recording a 3.60 ERA and 3.32 FIP. Where he really stands out though is with his 36.3 K%, which ranked ninth in the organization.
While he only sits 92-94 mph with the fastball, the angle at which he throws it generates
A TON
of whiffs (he had a 35.14 whiff%). He also features a sweeper which is a plus pitch as well.
I plan to do some Prospect Profiles in January, and Boyer is someone who I think everyone should get to know.
Lazaro Estrada:
I've mentioned Estrada before in my articles, but it's certainly worth repeating as more information has come to light.
First off, next to Nick Frasso, Estrada's 40.5 K% was the highest out of any prospect pitcher with 10+ innings pitched. He averaged 92.8 mph on his fastball according to Baseball Savant, and peaked at 95.6 mph (this as a starter).
The other news is that Baseball America ranked his curveball as the best curveball in the entire organization (which yeah, it's true). Estrada averaged 3263 RPM on his curveball, and it reached 3427 RPM which is just an utterly stupid number.
I'm not sure what the plan is with Estrada, but the guy has insane curveball spin and solid velocity. It's to be seen whether they plan to use him as a reliever or a starter in 2023, but he's certainly worth mentioning.
So yes, the Jays are developing relievers:
So out of all the names I listed, pretty much all of them have swing-and-miss in their arsenal. Not just that, but at least half of the guys have plus velocity.
The thing is, teams don't really "develop" relievers, at least not in the traditional sense, such as they do with starters or position players.
Relievers come through many different pathways, such as moving to the bullpen after a stint as a starter, such as Nate Pearson or Bowden Francis. Yosver Zulueta and Lazaro Estrada are two other possible examples, but that depends on the team's plan for them.
Teams can also find them on the waiver wire, which admittedly, the Jays have not been great at.
Other times, you find them in the late rounds of the draft, but they take a few years to develop, such as Troy Watson, Brandon Eisert, and quite a few others on this list.
Sometimes a team finds relievers as early as round four, like how the Jays did when they drafted T.J. Brock and Mason Fluharty in 2022. This tends to happen when the team overslots a pick (as they did with Tucker Toman), but needs to pull that money from the later rounds, hence why relievers are drafted.
Hell, former second round pick Hagen Danner converted from a catcher to a reliever that throws heat.
The position is the most volatile in the sport, and while they perhaps haven't developed relievers quite yet, there are plenty of them coming. In fact, I didn't even mention guys like Eric Pardinho, Adam Kloffenstein, Trent Palmer Trenton Wallace, and Cooper Benson, that pitched as starters but could end up being relievers.
Either way, it'll be exciting to see how all these guys do in the 2023 season.
As always, you can follow me on Twitter and Instagram @Brennan_L_D. Eventually, I'll be posting a Google Sheet on my Patreon that features every single Blue Jays pitcher's swing and miss numbers, something I've had to accumulate by relentlessly tallying up numbers. If you're interested in that, you can become a Patreon here!
---