The Blue Jays robbed José Berríos of one of the biggest starts of his career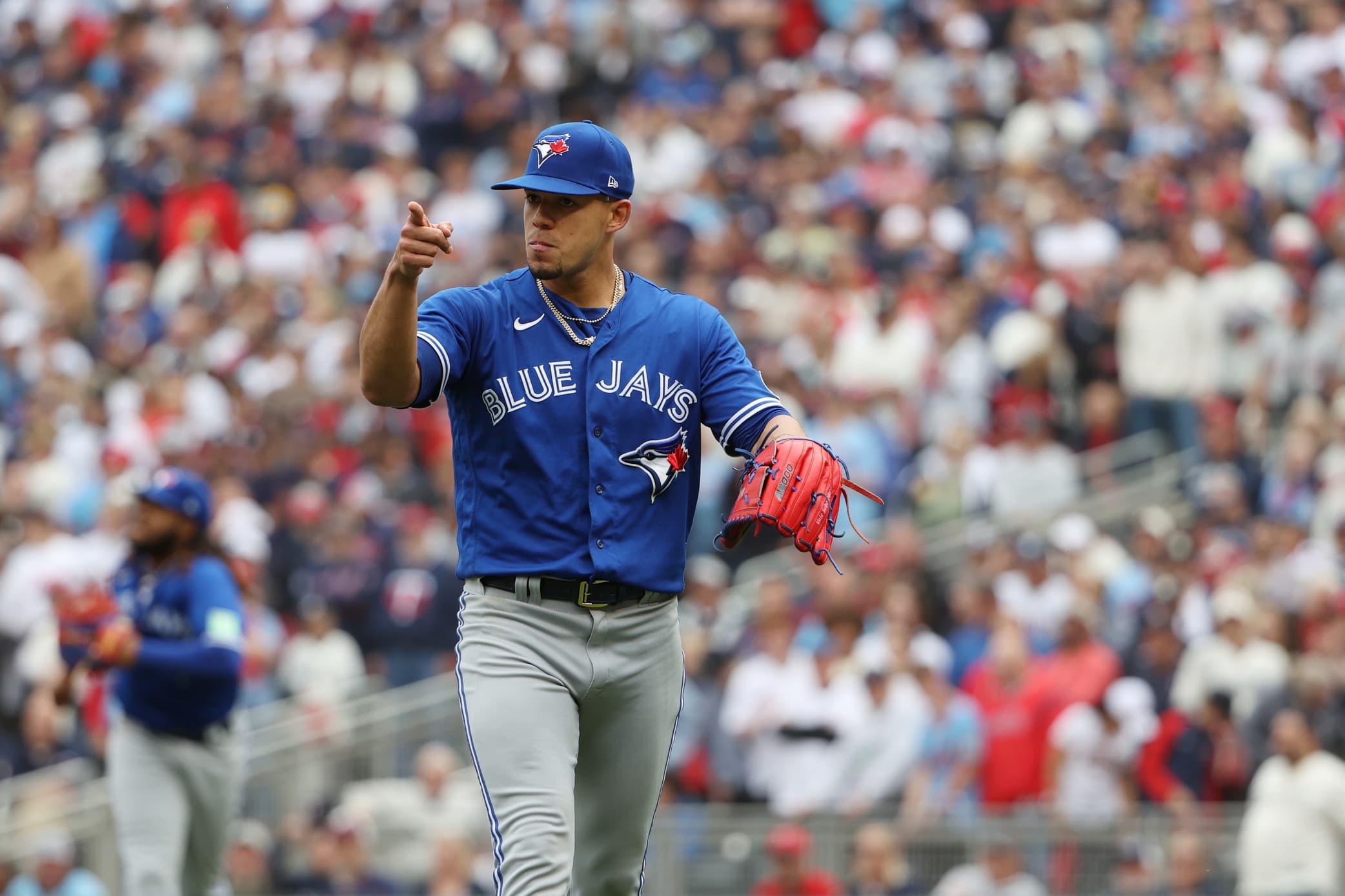 Photo credit:© Jesse Johnson-USA TODAY Sports
Facing elimination on Wednesday afternoon, the Blue Jays handed the starting job to José Berríos for Game 2 of the AL Wild Card round. Berríos was announced prior to the start of the series, but it was likely a tough call between him, Chris Bassitt, and Yusei Kikuchi.
After an abysmal 2022, Berríos had a much improved season this year, posting a 3.65 ERA and a 1.18 WHIP, on par with his earlier seasons with the Twins. If anyone had any doubt that the 2022 Berríos was still lingering, dominating this playoff game against his former team would surely erase it.
He did, even though he didn't log as many innings as one would've thought.
Berríos pitched three innings plus a batter, allowing three hits, no runs, one walk, five strikeouts, and 47 pitches. He was cool, calm, and collected, including shouting out loud after recording three strikeouts in the third inning. Hell, he was even clapping his hands after a foul ball from Michael A. Taylor, knowing he was ahead in the count and in his zone.
Throughout much of his outing, the Blue Jays had Kikuchi and Genesis Cabrera warming up in the bullpen. The Twins started five left-handed hitters in their lineup, so lefty pitchers were definitely going to be used today. However, as I said earlier, it came way earlier than expected.
Berríos walked Royce Lewis to lead off the 4th inning, paving the way for John Schneider to seemingly overmanage and pull Berríos from the game. Given the amount of outrage on Blue Jays Twitter, Kikuchi was carrying a ton of weight from Schneider's decision-making on his shoulders.
Kikuchi promptly loaded the bases and allowed two runs before escaping the inning. The Twins taking a 2-0 lead in the 4th inning brought the crowd alive, and it almost made the game feel as if the Blue Jays never had a chance. Schneider has said before that every decision is a "process-driven decision", but I'm having a hard time seeing this process.
Let me start here. Regardless of who made this decision – front office, Pete Walker,  Schneider, whoever – this is an absolute slap in José Berríos' face. This is a guy that is in the second year of a 7-year, $131 million deal. He's getting $18.7 million a year, and he just got pulled from the game as if he were a rookie with a short track record of success. Furthermore, he was pitching an excellent game against the team that traded him. There were no bases-loaded jams, inabilities to finish at-bats or wild pitches. Berríos was great.
The move made me ask a boatload of questions. Did John Schneider not learn from pulling Kevin Gausman early last year? Did John Gibbons pull Marco Estrada after three innings in Game 5 against Kansas City in 2015 because of "matchups and analytics"? Is that the message you want to send to free-agent pitchers who have an interest in playing for the Blue Jays? Do you think Berríos is happy with potentially five more years of that ideology?
Between the 4th and 5th innings, ESPN's Michael Kay and Alex Rodriguez spent the majority of the time taking some subtle shots at the move, with Kay suggesting that this decision was made last night in front of a computer spreadsheet. One could suggest that having the Yankees play-by-play broadcaster and a former Yankee flaming the Blue Jays could be rock bottom. Even Sportsnet's Buck Martinez said that "there are a lot of people who have their fingerprints on this move."
If you support the move, you can throw whatever numbers you want to at me. I've got another couple of numbers for you: Three innings, no runs, 47 pitches.
---