The Blue Jays' top outfield option is off the market. Who's left?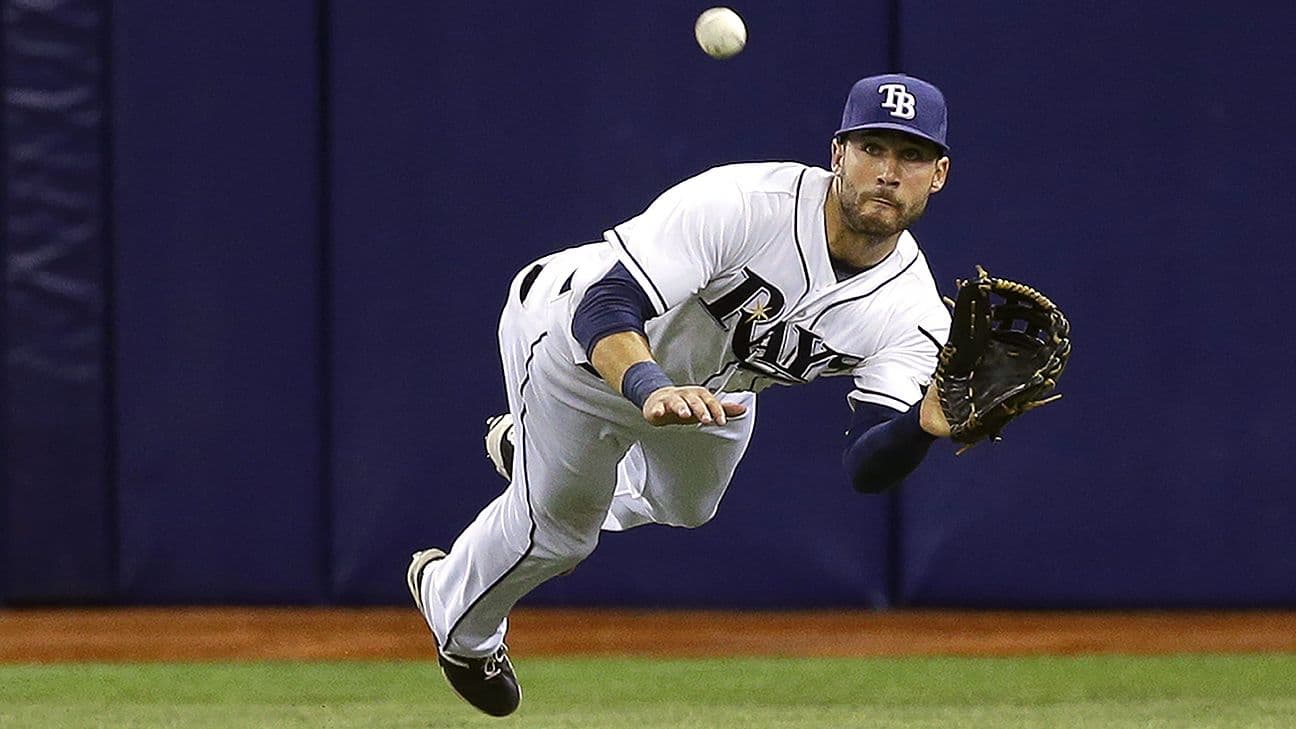 Photo credit:ESPN
Since the Toronto Blue Jays moved Teoscar Hernandez for a relief pitcher back in November, much of the focus around the team in the off-season has been how they're going to replace him in the outfield and in the middle of the lineup.
The top (realistic) option for the Blue Jays on the free-agent market was Brandon Nimmo, but he came to terms on an
eight-year, $162 million contract
to stick around with the New York Mets on Thursday night. Japanese outfielder Masataka Yoshida and reclamation project Cody Bellinger have also already signed with other teams, so the market for outfielders is getting smaller.
Let's go through who's left for the Blue Jays…
Jurickson Profar 
Profar is an option who's rarely been talked about but he makes a lot of sense for the Blue Jays given their love of having players who can play multiple positions. He's a bit of a mixed bag offensively, as Profar's .243/.331/.391 slash line in 2022 was much better than his .227/.329/.320 line was in 2021, but he's a switch-hitter who's played left, right, and centre field along with first and third base over the past two seasons.
Andrew Benintendi 
The No. 7 overall pick of the Red Sox from the 2015 draft has never really lived up to his All-Star potential but Benindenti is a quality corner outfielder. He was traded from the Royals to the Yankees ahead of the trade deadline this season and the Blue Jays were among the teams in the mix to acquire him. He slashed a .304/.3734/.399 line in 2022, an on-base result better than his career norm but power numbers that were down from his usual production. Benintendi has played mostly in left field but he suited up in centre when with the Red Sox.
Michael Brantley 
The Blue Jays were apparently close to signing Michael Brantley back in the off-season ahead of the 2021 season shortly after they signed George Springer. Brantley is a player that Mark Shapiro and Ross Atkins know well from their Cleveland days, as he's one of the players who came back in the trade that sent CC Sabathia to Milwaukee. Brantley gives the Blue Jays something they need, which is a contact hitter from the left side of the plate, but he'll need to see a lot of time at DH, a challenge for a team already looking to give Springer fewer reps in the outfield.
Kevin Kiermaier 
We know Kiermaier well because he's spent the entirety of his nine-season big league career with the Tampa Bay Rays. Kiermaier doesn't have much of a bat but he's an excellent centre fielder so the Rays were always willing to shrug off his lack of production. The biggest worry with Kiermaier is his durability, as injuries limited him to 63 games in 2022.
Joey Gallo 
Gallo was a disaster with the Yankees, as he slashed a .159/.291/.368 line over 140 games in New York after they traded for him in 2021 and let him go in 2022. He's a true three-outcome player, as well over half of his plate appearances in the big leagues have resulted in a home run, walk, or strikeout. Unfortunately, there have been a lot more strikeouts than walks and homers lately for Gallo.
Oct 2, 2021; Pittsburgh, Pennsylvania, USA; Pittsburgh Pirates center fielder Bryan Reynolds (10) hits an RBI triple against the Cincinnati Reds during the sixth inning at PNC Park. The Pirates won 8-6. Mandatory Credit: Charles LeClaire-USA TODAY Sports
How about a trade…?
The other route that the Blue Jays could take to acquire an outfielder this winter is through a trade. The widely-discussed St. Louis Cardinals deal has been wiped from the table because they signed Willson Contreras to fill their need for a catcher earlier this week, but there are other options out there.
The Pirates and Diamondbacks stand out as teams that the Blue Jays could match up with. All-Star outfielder Bryan Reynolds, who carries a potentially elite switch-hitting bat but has question marks surrounding his defence, has requested a trade out of Pittsburgh. Arizona has a wealth of outfielders, Daulton Varso, Jake McCarthy, and Alek Thomas, who would all make some sense for the Blue Jays, as well.
There's still plenty of runway left this winter but the market for quality outfielders is getting smaller by the day.
---