The Blue Jays use the long ball to defeat the Tigers 9-3 in the home opener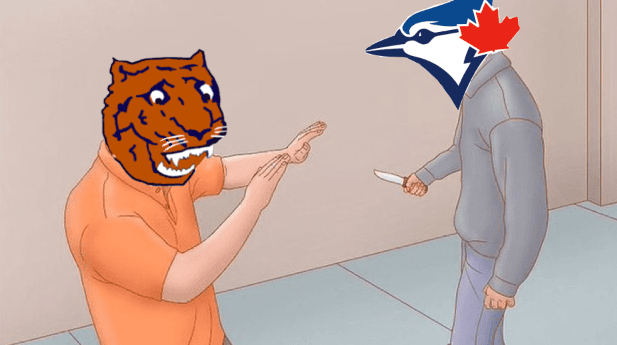 Photo credit:Wikihow
There's not many atmospheres like a home opener, especially when said home has had some renovations done through the previous offseason.
The Blue Jays hit five home runs which backed a shaky start from Alek Manoah, as they defeated Detroit 9-3 in front of a sold out crowd on Tuesday night. It's almost beating the same drum over and over now, but it was the first game with the new additions to the Rogers Center, and fans at the game or at home watching on TV had the chance to check it out. Let's dive into who made this exciting night possible.
Blue Jays Nation's Player of the Game: Kevin Kiermaier
Of all Blue Jays players – returning or new – who were excited to play at Rogers Center this year, Kevin Kiermaier's exhilaration was visibly unmatched. During an interview with Hazel Mae before the game, Kiermaier went as far as to say that he loves the Canadian National Anthem so much that he might even consider performing it one day. Well, all of that culminated to a storybook-like play to lead off the second inning, as he robbed Kerry Carpenter of a home run with a sensational leaping catch at the center field wall. It was the literal first in-game chance for Kiermaier to make that play at home, and he did it flawlessly.
Several camera angles covered the reactions of his teammates, with Alek Manoah and Bo Bichette being noticeably very ecstatic. It was a classic defensive play by Kiermaier, who had made plays like that with the Rays for several years. Now, he gets to make those catches with "Blue Jays" on his chest. Hilariously enough, Carpenter hit a fly ball to deep center field again in the 5th inning, but Kiermaier caught it standing up about 2 feet from the wall.
Kiermaier did it at the plate as well, going 1-for-4 with a home run in the 5th inning, his first with the team. Again, this guy has been stoked since Day 1 to be a Blue Jay, and he's certainly showing it with his play.
Things worth mentioning
Alek Manoah's start: To say that Manoah's outing tonight was a grind would be an understatement. After a three-up and three-down first inning in which he threw nine pitches, he sustained a prolonged second inning in which he had throw 42 pitches. This included a three-run home run to Nick Maton, who became the answer to the trivia question of who hit the first home run in the newly renovated Rogers Centre. Manoah fought to get through 4.1 innings, with Maton's home run being the only runs put on the board.
Manoah's final line: 4.1 IP, 4 H, 3 ER, 5 BB's, and 3 K's. Dan Shulman and Buck Martinez both discussed the lack of a good release point from Manoah, as well as the lack of whiffs he was able to generate. The walks were a concern, but he was able to get a couple strikeouts from the two-seamer in against lefties. Despite the trouble that Manoah endured, he kept the game winnable for the Blue Jays, and never unraveled. It's also important to note that 21 of his 94 pitches were foul balls.
Brandon Belt and Alejandro Kirk: Belt heard all of the haters throughout the last week. After striking out 15 times in his first 23 at-bats, Belt went 3-for-4 tonight with two singles, a double, and an RBI.
Kirk, on the other hand, had only four hits through his first 23 at-bats, and he got the scoring started tonight with a long RBI single off the right field wall. Kirk threw Matt Vierling out at second base on a steal attempt in the 7th inning, his first runner thrown out of the season. Kirk ended his night with a three-run missile to the left field balcony in the 8th inning, which put the game out of reach.
The bullpen: Zach Pop relieved Manoah in the 5th inning, and wound up pitching the 6th inning as well. That kickstarted a very ideal end-of-game bullpen rotation, in which we saw Pop, Erik Swanson, Yimi Garcia, and Anthony Bass take care of their own frame in innings 6 through 9. Pop continues to impress, and he had a little extra movement on his sinker and slider tonight. The 9th inning was certainly in line to be handled by Romano, but the Blue Jays extended their lead from one run to six runs in the 8th inning, so a save situation was ruled out. Had the Jays not extended their lead any, a Romano outing would've been certain, and that mix of relievers (Romano included) is one that John Schneider may go to several times.
Home runs aplenty: I've mentioned Kiermaier and Kirk's home runs, but several others got in on the mix throughout the game. Bichette, George Springer, and Matt Chapman all had solo home runs, with Springer's coming one pitch after Kiermaier's. Chapman figures to benefit from the adjusted walls at Rogers Center, but his homer tonight would've been a home run in 28/30 parks regardless. Man, that guy is on fire.
Game 2 of the series is tomorrow evening, as Kevin Gausman will look to maintain his 0.00 ERA through his third start. He will be opposed by Eduardo Rodriguez.
---