The case against Ross Atkins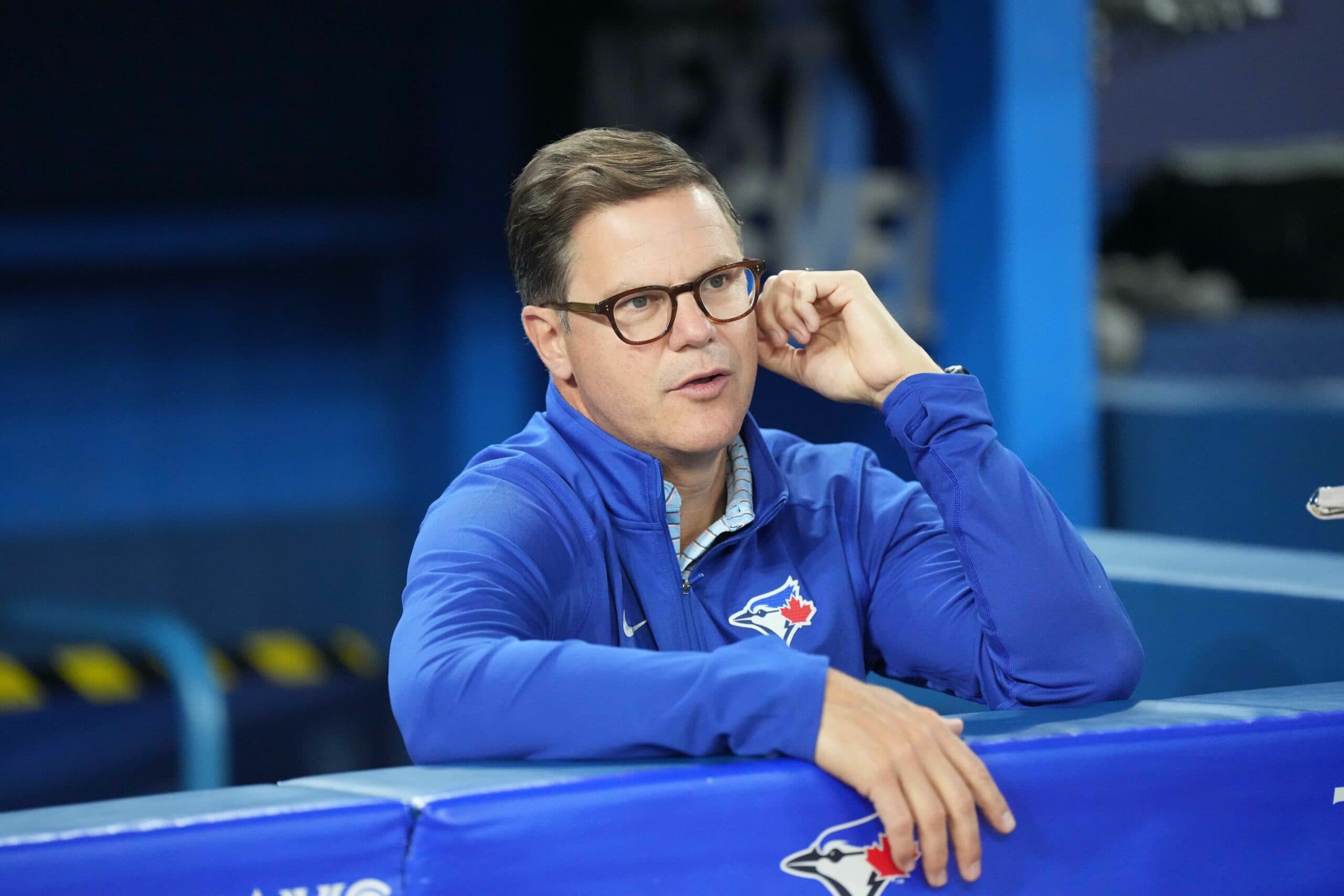 Photo credit:Nick Turchiaro-USA TODAY Sports
Another year, another disappointing loss in the Wild Card series for the Jays.
This article is the first part of a two-part series about the guy whose teams keep getting swept in the playoffs. I'll start with the case against Ross Atkins and then finish with the case in favour of him later on.
Many years, not a lot of winning:
Although this article is arguing against Atkins, it's difficult to fault him for the three seasons between 2017 and 2019, where the Jays failed to reach the playoffs.
When Alex Anthopoulos left in 2015, he left one of the oldest teams in baseball with bad contracts and very little in terms of farm. While it was worth it for that magical 2015 playoff run which should have resulted in a Blue Jays championship, it's important to note what Mark Shapiro and Ross Atkins had to work with. Despite these hardships, the Blue Jays once again made it to the American League Championship Series, falling to Cleveland in five games.
Instead, we'll look at what transpired
after
the rebuild from 2020 onwards. Now, 2020 was a big year for the team, as the core of Vladimir Guerrero Jr., Bo Bichette, and a handful of others made their debut the season before. Not just that, but the Blue Jays spent big in the off-season, picking up Hyun Jin Ryu to a four-year, $80 million deal. They were swept by the Rays in two games that playoff, which was to be expected.
The 2021 season was their best year, but due to only two Wild Card teams getting in, the Jays were on the outside looking in after an incredibly rough spring spent in Dunedin and Buffalo. The bullpen was not good for the early part of the season, and it cost them as they were eliminated on the final day.
Up comes the 2022 season, and this is really where the problems start. At this point, they are considered contenders. The starting pitching
should've
been great, but aside from Alek Manoah, Kevin Gausman, and Ross Stripling of all people, it struggled mightily. Furthermore, Guerrero Jr. regressed from his MVP-calibre season in 2021, and Springer was often injured. Not just that, but there were signs of 2023 in this team, as they struggled to consistently hit in the early part of the season. Like the 2020 season, the Blue Jays were defeated in the second game of the wild card game, after leading 8-1 in Game Two.
Then you have the 2023 season, which is still fresh on everyone's mind. It was like the 2022 season dialled up a million. All season, the Blue Jays failed to hit with runners in scoring position and constantly ran into outs on the bases. Moreover, the team struggled with a lack of power, often looking to hit opposite-field singles compared to pulling the ball. The pitching was great though, and this team should've made it to the American League Divisional series at the very least.
Some of his trades have been lacklustre:
There's one trade that sticks out, and that's moving Gabriel Moreno and Lourdes Gurriel Jr. for Daulton Varsho last winter. 
A catcher was going to be moved no matter what, as Alejandro Kirk and Danny Jansen had great seasons, while Gabriel Moreno was one of the best prospects in baseball. Keeping all three on the roster or stashing Moreno in Triple-A wasn't going to happen. 
Kirk regressed with the bat, slashing .250/.334/.358 with eight homers in 422 plate appearances for a 1.6 fWAR and 96 wRC+. This was down from a 129 wRC+ and 3.9 fWAR the season before, but he still was one of the premier defensive catchers in the league, posting 17 Defensive Runs Saved (behind Moreno's 20).
Danny Jansen also had some regression, going from a 141 wRC+ in 248 plate appearances to a 116 wRC+ in 301 plate appearances. However, the 2022 was a career-best year and due to him already being in arbitration, he had a lot less value than Kirk and Moreno.
In contrast, Moreno slashed .284/.339/.408 with seven homers in 380 plate appearances, on top of posting great blocking and throwing numbers (although his framing needs work).
So this was a missed trade, but there were others. Such as trading Nick Frasso and Moises Brito for Alex De Jesus and Mitch White. We all know how White, who was brought in as a bulk reliever/spot starter, pitched in his two seasons with the Jays.
Another controversial decision was retaining Josh Donaldson after the 2017 season. It's long been rumoured that the St. Louis Cardinals had offered a young Jack Flaherty for the 2015 American League MVP, but the Jays turned it down to foolishly attempt to make the playoffs in 2018. After Donaldson was hurt in that campaign, all the Jays got for Donaldson was Julian Merrywether.
Don't forget acquiring the likes of Billy McKinney, Derek Fisher, and Socrates Brito over the years. Even Randal Grichuk, who had some successful years in Toronto, represents the type of player the Atkins front office has always weirdly obsessed over, athletic outfielders who swing hard but swing at everything. 
Drawing the line of when to use analytics:
Don't get me wrong, I love analytics. In fact, I think baseball is the only sport where analytics really work. However an entire pitching strategy shouldn't be predicated on analytics, and Game Two of the American League Wild Card Series proves that.
José Berríos was dealing for the Jays, throwing just 47 pitches in three innings (and a batter). In an attempt to force the Minnesota Twins' hand to remove some of their left-handed pitchers, the Blue Jays brought in Yusei Kikuchi.
This isn't to criticize Kikuchi at all, but why would you ever pull one of your best starters when he's dealing? Especially with your season on the line? It just doesn't make sense.
Moreover, this was a factor last playoffs as well, as the Jays pulled Kevin Gausman when he was pitching well in the 2022 playoffs only for Tim Mayza to give up a massive home run to give Seattle life.
They have an in-house option:
It was shocking when it was announced that James Click was departing from the Houston Astros, who had just won the 2022 World Series with him as the general manager.
A few months later, the Blue Jays hired him as vice president of Baseball Strategy. If the Blue Jays do decide to fire Ross Atkins, Click is the obvious choice to replace him.
As always, you can follow me on Twitter, Instagram, and Threads @Brennan_L_D.
---