The case against trading Alejandro Kirk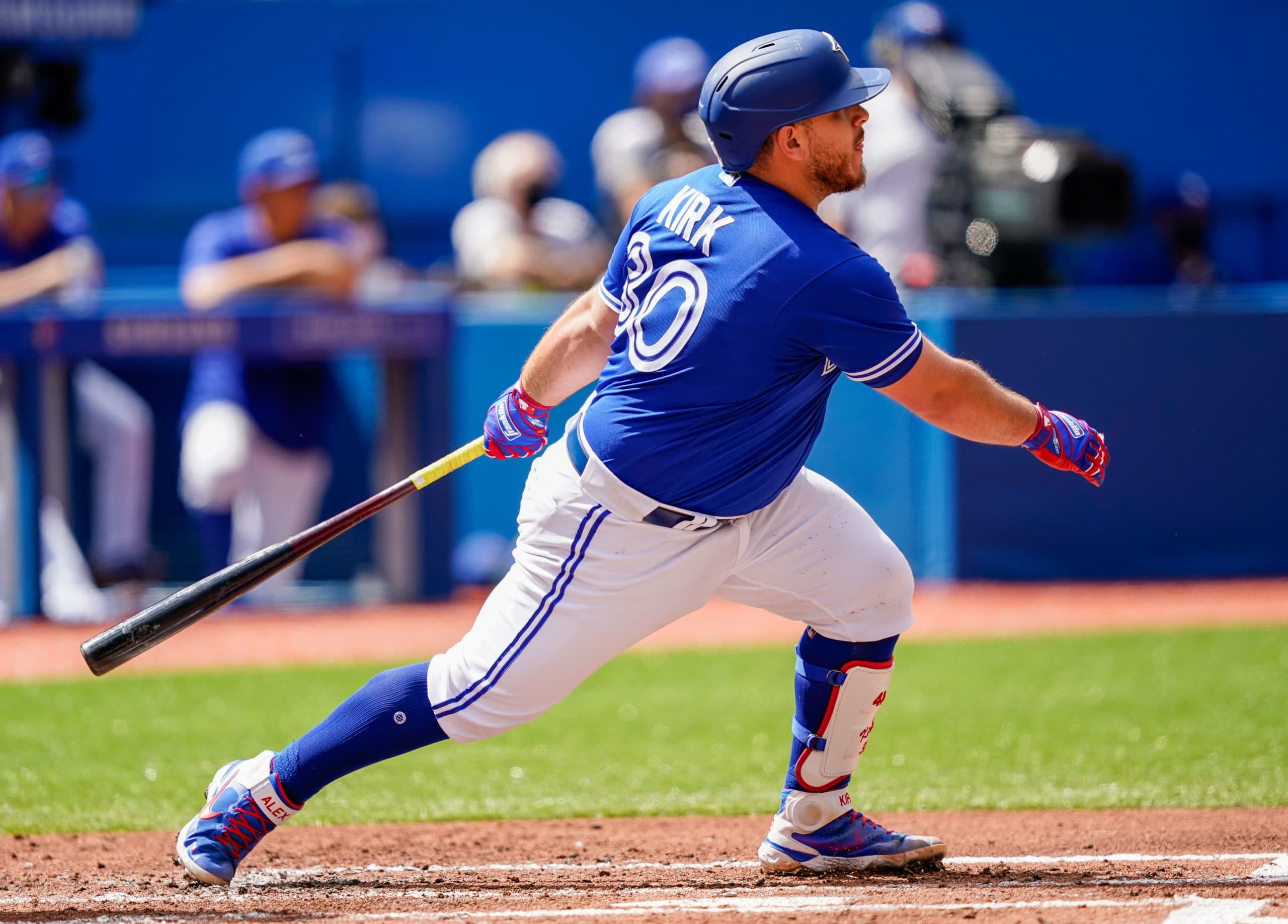 Photo credit:Kevin Sousa-USA TODAY Sports
The Blue Jays are still interested in Jose Ramirez.
Would you not be? The 29-year-old is a fantastic player and honestly, I'd give my first born to Mark Shapiro and Ross Atkins if they were to trade for Jose Ramirez.
What does this have to do with Alejandro Kirk:
You may be wondering what this has to do with Alejandro Kirk. Well, according to Shi Davidi of Sportsnet, there were scouts "following" Kirk around at the complex. It remains to be seen if they were
literally
following Kirk around, but this means that the Guardians are clearly interested in the 23-year-old catcher.
With that being said, I do not think the Toronto Blue Jays should trade Alejandro Kirk.
Kirk's hitting ability is insane:
When I ask the question "what does Kirk excel at", there's a good chance that you just thought of the 5 '8 catchers' hitting ability.
Despite only playing in 69 games (nice) and appearing at the plate only 214 times, Kirk has shown a great ability at the plate. His MLB career slashline sits at .259/.336/.791 with nine homers and 10 doubles. While some may chalk this up to a small sample size, I completely disagree.
In his short time in the MLB, he has walked 20 times (or 9.3%) while only striking out 26 times (or 12.1%). This has been a trend in his professional career dating back to his two seasons in the minor leagues.
| | | | | |
| --- | --- | --- | --- | --- |
| Level (year, age) | Age | Plate Appearances | Walk percentage (BB%) | Strikeout Percentage (K%) |
| Rookie Ball (2018) | 19 | 244 | 13.5% | 8.6% |
| A Ball (2019) | 20 | 96 | 18.8% | 8.3% |
| A+ Ball (2019) | 20 | 276 | 13.8% | 11.2% |
You likely know that Alejandro Kirk made his MLB debut in 2020. Due to the pandemic, that season was canceled for the minor leagues. Kirk was assigned to the alternate camp, but impressed so much that he got the call up to a playoff bound Blue Jays.
So what makes Kirk such a good hitter:
While I can give you all the stats in the world, that doesn't really explain
why
Kirk is such a good hitter. For starters, the catcher is 5'8, meaning that he has a rather small strike zone. When you pair that with the fact that he's a very patient hitter, you can see why he draws a lot of walks.
Not just that, but Kirk is a spray hitter. The 23-year-old hit 145 balls in play last season, but 39.3% of those balls went right back up the middle. He pulled 37.9% of those balls and went the opposite way only 22.8% of the time, which is the lowest percentage at any level.
It's also important to keep in mind which type of balls are being batted in play. 60% of his 145 balls in play were ground balls. While Kirk is literally one of the slowest players in the MLB, if that ball finds a hole, he is on base. 38.6% of balls were fly balls, with 14.3% of those fly balls going for homers. While he's a spray hitter, he certainly has power.
Kirk's line drives percentage is what really sticks out to me. 20% of batted balls are line drives, which have a batting average of .685 (compared to a .239 for GB and .207 for FB). The catcher also tends to hit for a higher LD% in his extended plate appearances.
While having a catcher that can hit is nice, especially one at Kirk's level, defense is arguably a lot more important for the position.
"Kirk is bad defensively" is just untrue:
Kirk's defense has been called into question before. Some believe that due to his weight, he's automatically bad defensively, but this is just false according to Baseball Prospectus.
In my article about Reese McGuire, I introduced a new defensive metric for catchers that I would use in my articles. With Reese, it was to showcase how good he was behind the plate. With Kirk, it's to show he's at worst, slightly below average.
Fielding Runs Above Average is a metric that ignores biases and uses play by play data and compares that to every other player at that position. With 0 being average, Kirk had a FRAA of 0.7.
Another stat Baseball Prospectus uses for catchers is Catcher Defensive Adjustment. It literally took two hours to find the definition of it for the McGuire article, but the best way I can explain it is a combination of framing, blocking and throwing. With 0 being average again, Kirk had a 0.9 CDA. Interestingly, Danny Jansen had a CDA of 1.1, so make of that as you will.
In terms of his framing, Kirk had a -1 Catcher Framing Runs, which essentially converts runs saved on pitches taken in the "shadow zone", or just off the plate. While Kirk is in the negatives, he's not so far in the negatives that you can consider him "bad". For context, Danny Jansen is at a +1 while Reese McGuire is at a +4. Many qualified catchers rank between -1 and +1, so Kirk is smack in the middle.
This is purely speculation, but I believe the people that think he's a bad defender see a stocky player and automatically assume he's a bad defender. While there are certainly questions about his future durability, Kirk has shown he's not bad defensively.
But the Blue Jays have Moreno on the cusp of the team:
This is true, and keep this in mind, I like Moreno and he'll likely be a big leaguer who'll make multiple all-star games. With that being said, nothing is guaranteed. Moreno profiles to be a big leaguer by 2023, but stuff happens, perhaps he hits a wall (figuratively) in 2022 which could slow down his development, perhaps some external force hurts his chances of making the team in 2022.
Moreno is a prospect for a reason, even with the likelihood of being an everyday starter in the bigs, you don't know what you'll get with him. With Kirk, you know you're getting an above average hitter who is average at the plate.
This also brings up another point which you may not know. Moreno was converted from shortstop before the Jays moved him to catcher. In fact, he played some third base before his thumb injury last season and played third base in the Arizona Fall League in late 2021. The Jays love their versatility, and Moreno may fit that profile.
Due to his height, Kirk will likely not be able to play first base. That leaves him playing either catcher or DH. While he may not stick at catcher for his entire career, Kirk is a special hitter and the Jays shouldn't give him up because a prospect
may
be better than him in a few years.
As always, you can follow me on Twitter at Brennan_L_D. Another reason I don't want the Jays to trade Kirk is because I bought his jersey during the 2020 season. It's not even #30. Please don't trade him, my Blue Jays jersey purchases are already bad enough.