The New York Yankees will clinch the American League East division unless the Blue Jays sweep the series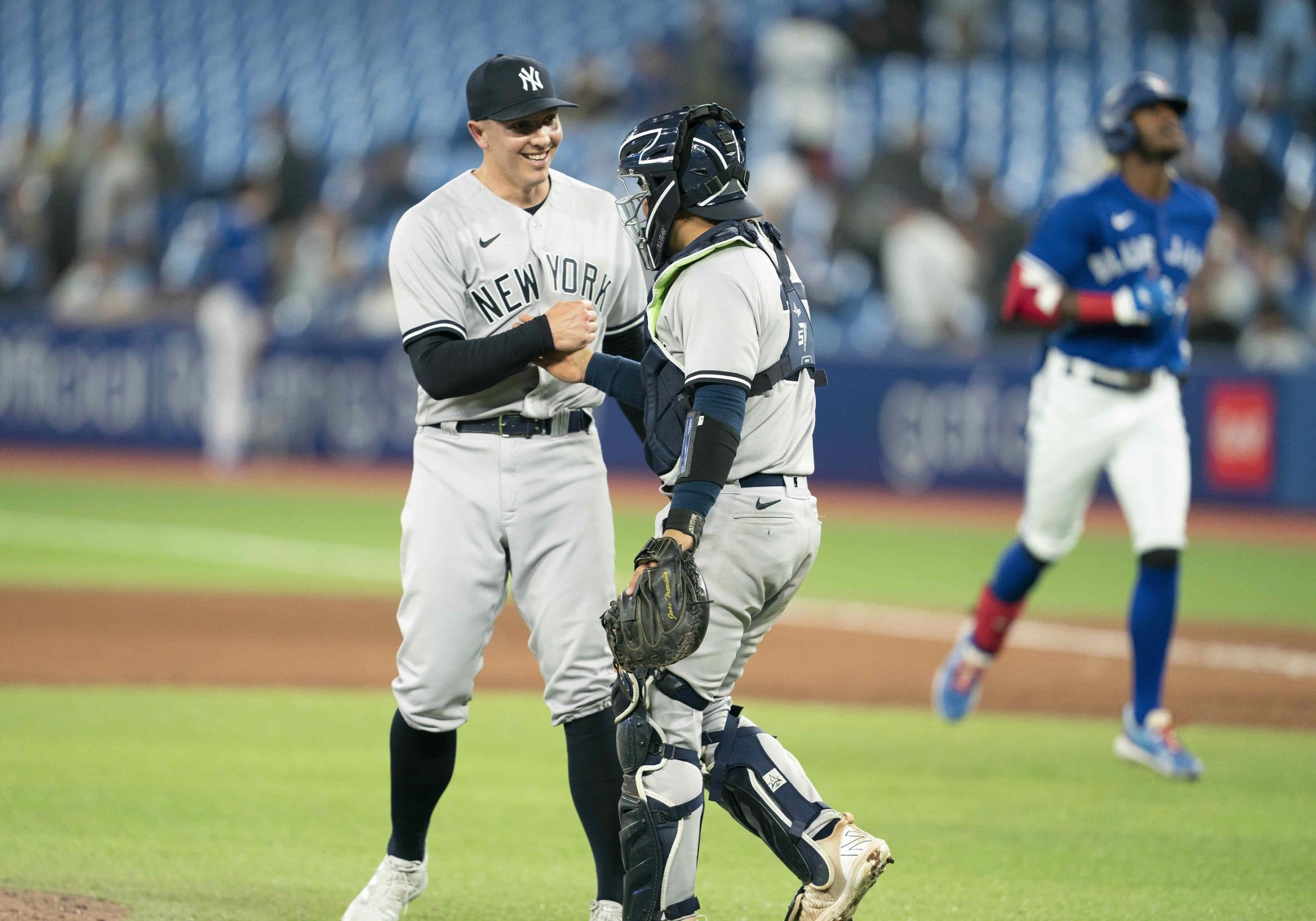 Photo credit:© Nick Turchiaro-USA TODAY Sports
There is a possibility that Aaron Judge will break the American League home run record, along with the Yankees clinching the AL East in the upcoming series.
Per Ben Nicholson-Smith, the team from New York has a magic number of two to clinch the division. This means that unless the Blue Jays sweep the three game set starting Monday, the Yankees will clinch the division, along with the second bye in Toronto.
However, for my pride, I'd prefer that didn't happen until their next series as clinching away is not a sight I'd like to see. I'm sure it's the same for the players, as well as the maintenance workers at the stadium.
As it stands, the Blue Jays are currently 8.5 games back of the Yankees, meaning it's incredibly unlikely that they'll catch them in the first place. However, it's not all bad news.
The Blue Jays are currently six and a half games up on the Baltimore Orioles, who are the team that is looking in. Not just that, but they also have a two game lead on the Tampa Bay Rays for the first wildcard spot, meaning that they'd play the second wildcard team at home for all three games.
They can extend their lead to three games with a win tonight, as both Tampa and Seattle are off. However, it's becoming increasingly unlikely that the Blue Jays will fall to the third wildcard spot, arguably the easiest path to the American League Championship Series.
Funnily enough, there is a way that both the Blue Jays
and
the New York Yankees can clinch what they're after on the same night. The Jays will have to win the first two games, but the Orioles will have to lose Monday night and win on Tuesday night. That sets up Wednesday night, where both the Jays and the Orioles would have to lose. 
The Jays' postseason number currently sits at four, and that setup (which is explained better in the Tweet above) would guarantee the Yankees the division and the Jays a postseason berth.
Either way, it would be ideal, if only for my pride, that the Blue Jays sweep the Yankees and clinch a wildcard berth on home turf against a fellow playoff team. Who knows, the Yankees division lead will only be at 5.5 games after this, and the Jays will only have two teams out of the playoffs remaining.
As always, you can follow me on Twitter @Brennan_L_D. 
---