The Slider — George Springer's biggest nemesis this season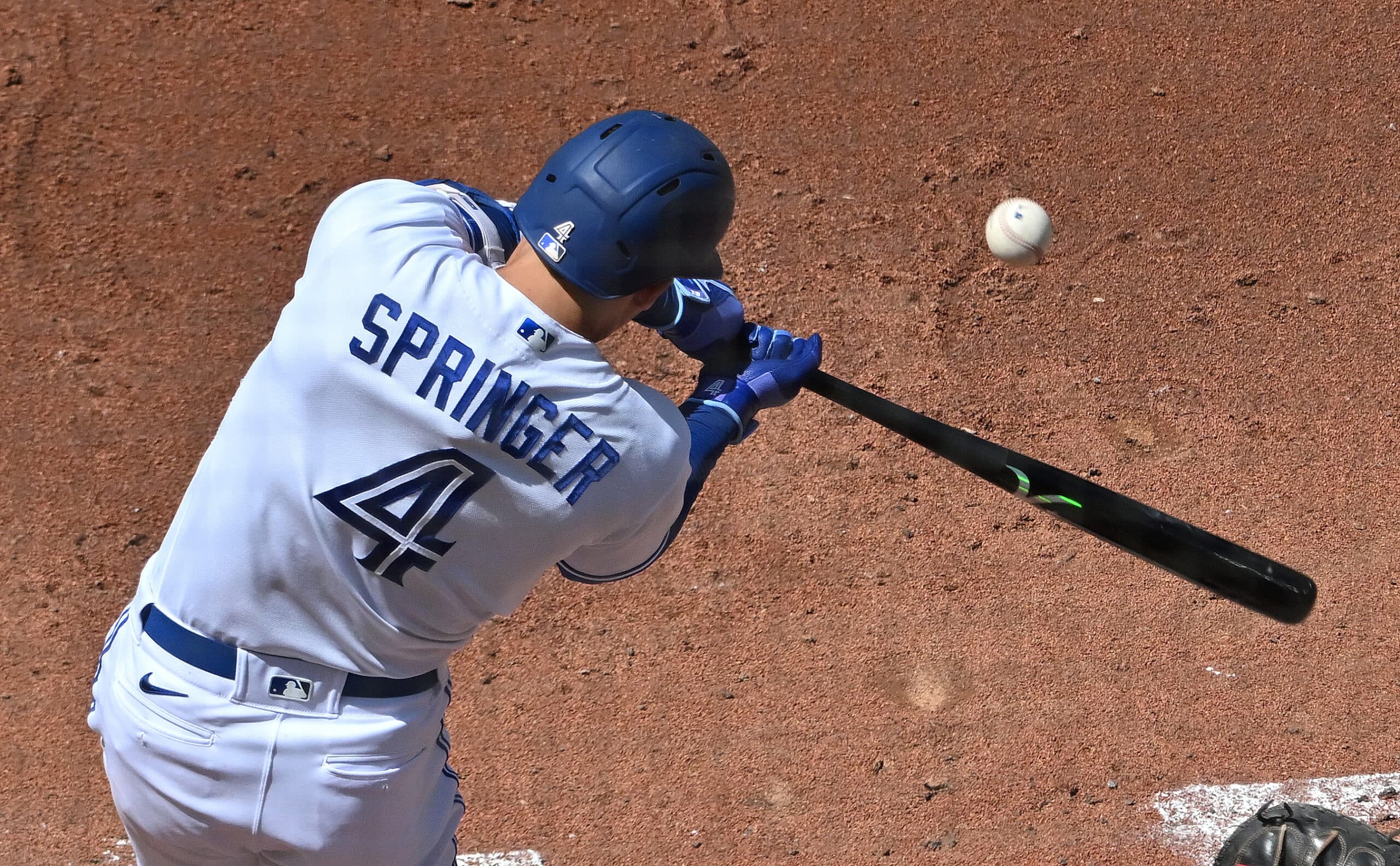 Photo credit:Dan Hamilton-USA TODAY Sports
Since signing with the Blue Jays prior to the 2021 season, Springer has dealt with various injuries that have limited him his first two seasons but he has produced when he is healthy and in the lineup (.907 and .814 respectively, earning an All-Star nod last season). The Connecticut product has dealt with a few bumps and bruises throughout this campaign but he has remained in the lineup for a majority of the season minus a few days when he was on the paternity list around the All-Star break, welcoming his second child to the family.
Overall, the season has been full of ups and downs for the veteran outfielder, as Springer has dealt with some bad luck in the batter's box to start the year and also saw a stretch where he went 0 for 35 in late July/early August, putting himself in the company of Ed Sprague and Danny Jansen for an unwanted franchise record before poking a shallow shot against the Orioles on August 2nd to end the hitless drought. When he was struggling, Springer was also moved from his usual leadoff spot and down in the lineup, with a change of scenery needed for the righty-batter who was not having the normal success you would see from someone that high in the lineup. He has recently been moved back up into the leadoff spot.
After yesterday's game against the Oakland Athletics, Springer has amassed a .260 average with 17 home runs and 56 RBIs, sitting around the 60th-70th percentile range in xwOBA and xBA. He is two games away from surpassing last year's mark of 133 games and he currently owns a .293 BAbip while ranking sitting around the 50th percentile in SLG, Barrel%, and Hard-Hit%, which makes sense given his decreased lack of power when compared to last seasons line stats.
George Springer and his struggles with the slider
Underneath the surface, there is also an interesting tidbit that Springer is struggling with this season as well –
the slider
.
Prior to yesterday's game, Springer had amassed a .162 average when facing the offspeed pitch, which stands at a -13 run value for the 33-year-old. With a .282 SLG and a 31.6 Whiff%, Springer has not been able to capitalize on the offering, which doesn't bode well considering it is the second most pitch he has seen this season at 22.9%, coming in just under 4% below the fastball. With a
minimum
of 10 plate appearances, Springer ranks second last in terms of negative run value when compared to other big leaguers (Tim Anderson is -17). Yesterday, A's starter Luis Medina struck Springer out on three sliders (all swinging) in his second at-bat and he fouled off a slider in his third at-bat before punishing a fastball for a double on the next pitch.
Interestingly enough, Springer hasn't struggled as much with other breaking ball offerings, boasting a -4 run value on the sweeper but a +9 run value on the curveball, with the right-handed batter owning a .444 average and a .722 SLG on the pitch. These stats are slightly skewed considering Springer has seen considerably fewer pitches of the sweeper and curveball (114 and 109 respectively compared to the 478 sliders) but it appears that the more spin/movement on the ball (aka more sweep or downward movement), the better the results.
History-wise, the slider has not given Springer trouble like it has this season:
2022: 4 RV / .234 AVG / .436 SLG
2021: 1 RV / .271 AVG / .508 SLG — (First season with Blue Jays)
2020: 2 RV / .267 AVG / .533 SLG
2019: 16 RV / .348 AVG / 609 SLG
While it hasn't been one pitch he has dominated compared to the 4-seam fastball (34 RV as a Blue Jay) throughout the past few seasons, one of the more popular pitches in the game is really giving him trouble this year, which may explain the decreased power values and a hint at the bad luck.
Blue Jays Springer and his recent upward trend
Looking ahead, Springer is trending in the right direction since his hitless streak came to a halt, owning a .313 average since August 3rd while adding seven doubles, four home runs, and 13 RBIs to the tune of a .902 OPS and a .351 BAbip. He is also playing well defensively, making numerous highlight-reel catches all season long while holding down a 0 DRS and ranking in the 70th percentile in Range (OAA). All of this bodes well given the recent injury troubles hampering the starters for the Blue Jays, although Davis Schneider and Ernie Clement have been performing well in their absence.
With the Blue Jays currently outside the playoff picture in a tight AL Wild Card race, having Springer find his bat right now will be a breath of fresh air for a ball club that has a flair for the dramatic as of late. Whether he can find a way to connect with the slider before the end of the season is another story.
---