Three Key Things: How the Blue Jays won their first series at Tropicana Field since 2021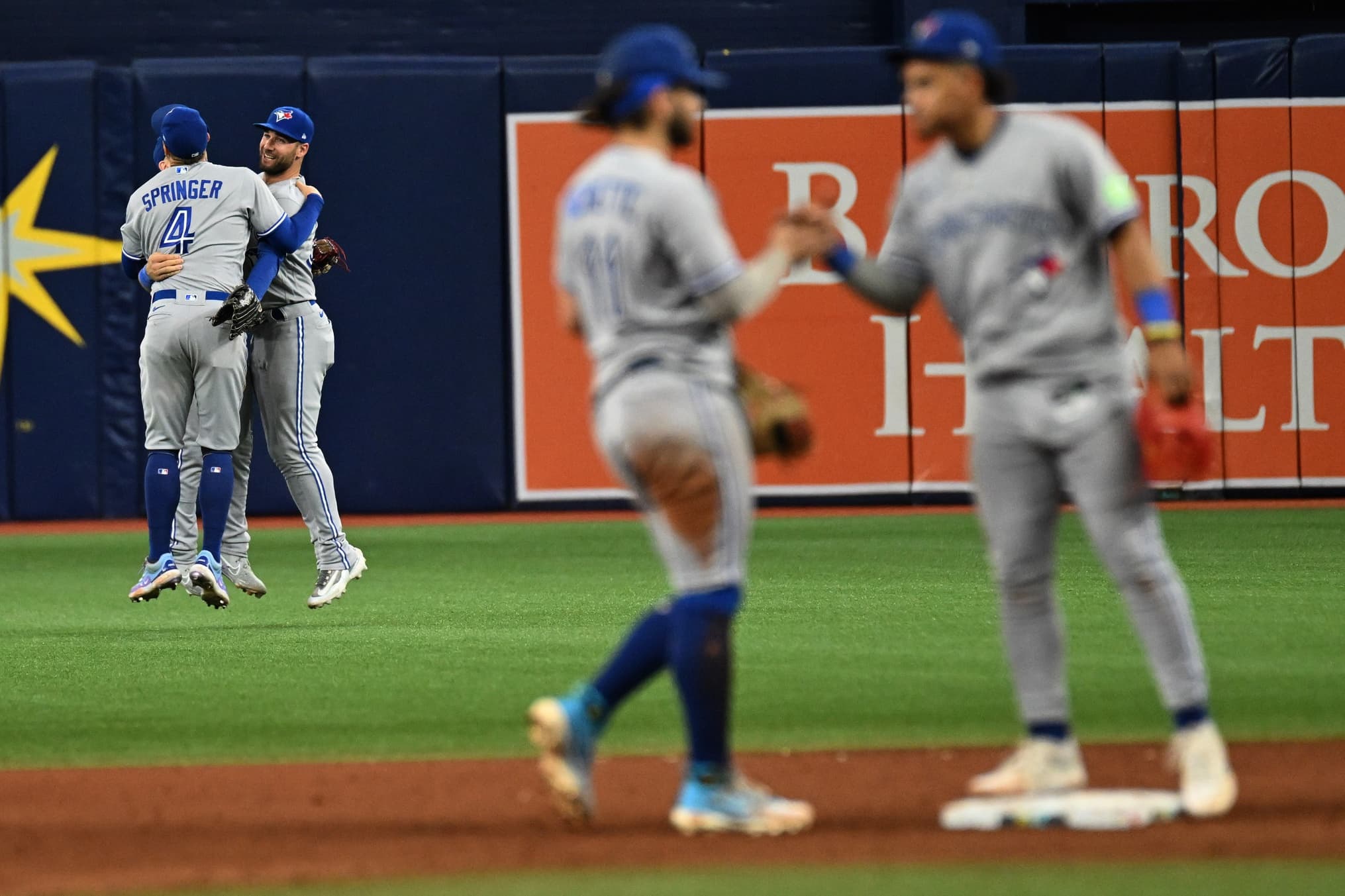 Photo credit:© Jonathan Dyer-USA TODAY Sports
The Blue Jays appear to be peaking at the right time, and this weekend's series win coincided with a beautiful out-of-town scoreboard throughout the weekend. The Blue Jays erased deficits in all three games of this series and were able to scratch out a couple of wins in Tampa Bay, maintaining their place in the second Wild Card spot.
Let's take a closer look at what happened this weekend.
1) George Springer changed the trajectory of this series
Since his inaugural season with the Blue Jays in 2021, George Springer has had a signature moment in each season. Whether it was that three-run home run to complete a comeback against the Red Sox in 2021 or his three-run homer against Colin Poche against Tampa Bay to clinch a win in a September series last year, Springer has had his hands in the dramatic.
Enter yesterday, a day after the Blue Jays had been "Trop'd", if you will. A blown save from Jordan Romano and a comeback victory gave the Rays a ton of confidence heading into the series finale, and to make matters worse, they kicked off Sunday's game with a 2-0 lead after one inning.
In the second inning, Whit Merrifield tied the game with a two-run single, and it was Springer's turn two batters later. With two on and two out, Springer laced a ball to the deepest part of the park in left centre that was misplayed off the wall by Manuel Margot. The ball bounced several times toward centre field before it was picked up by Margot, but it gave Springer plenty of time to sprint around the bases for a three-run, inside-the-park home run. Springer slid home to the celebrations of Merrifield and Kevin Kiermaier, and the Blue Jays never trailed for the rest of the game.
Springer followed that up in the bottom of the third with a pair of defensive gems. He threw Curtis Mead out at second base in an attempt to stretch a single into a double, and he robbed Isaac Paredes of an RBI with a diving catch one batter later. This was a game in which the Blue Jays had the best player on the field on Sunday, and he was showing it.
2) This is the offence we need to see more often
Boy, was this a good sight.
One of Toronto's most prominent issues this season has been their inability to manufacture clutch hits, especially with two outs. Without looking, I'd say this weekend (against the Rays of all teams) was the best that Toronto had looked at the plate with two outs. The Blue Jays had a total of 15 two-out hits and 11 two-out RBIs. They also had a decent showing with runners in scoring position, going 10-for-25 in those opportunities.
Individually, it wasn't just Springer. There were several Blue Jays who had their hands in the series win this weekend. Vladimir Guerrero Jr. smashed a pair of home runs on Sunday, Daulton Varsho provided a pair of insurance runs in both wins, Cavan Biggio pitched in a few more hits, and Jordan Hicks was tremendous again. On Guerrero's front, it was the first time Guerrero had a multi-home run game since his three-homer game against the Yankees in April of 2022.
3) Did John Schneider do the right thing in keeping Jordan Romano in the game on Saturday?
Most of this series was fun, but I mentioned earlier that Romano did blow a save on Saturday that resulted in a tough 7-6 loss. The blown save came with some controversy, as Romano was noticeably somewhat bothered by a finger issue. It was revealed after the game that Romano was pitching through a cracked fingernail, but John Schneider and trainer Jose Ministral both came out to check on their closer during the 9th inning to ensure he was OK.
Schneider elected to leave Romano in the game, and he proceeded to allow a walk-off single from Josh Lowe to lose the game. As we posted after the game, this move drew some criticism as Schneider could have easily taken Romano out of the game and handed the ball to Tim Mayza (especially since Lowe is a lefty).
It's easy to find fault with Schneider's choice after the fact. Before Saturday, Romano had converted 26 consecutive saves and had only blown three all season. Furthermore, Romano had only allowed two earned runs since July 23rd. In this particular instance, Schneider trusted Romano's word in that he was OK to pitch. Apparently, Toronto's coaching staff knew about his injury going into Saturday's game. Romano's fastball topped out at 98 mph and his slider maxed out at 89 mph, so I'd say his velocity wasn't too much of a concern.
Schneider stood firm on his decision after the game, as he should, saying, "It's your closer. It's the guy you trust in any situation." In a game of this magnitude, it's understandable to want your closer to finish the game off. Romano had been stellar of late, and Toronto was staring a win in the eyes. But also, why wouldn't Schneider go to Mayza if he was available? Lowe was the sixth batter Romano faced, so he had already eclipsed the three-batter rule.
Schneider has made some head-scratching moves this season, but I find it incredibly hard to believe he makes them without a process or a reason. This is another instance, but it definitely came with its questions.
---