Under the C's – RHP Devereaux Harrison shines in Vancouver Canadians win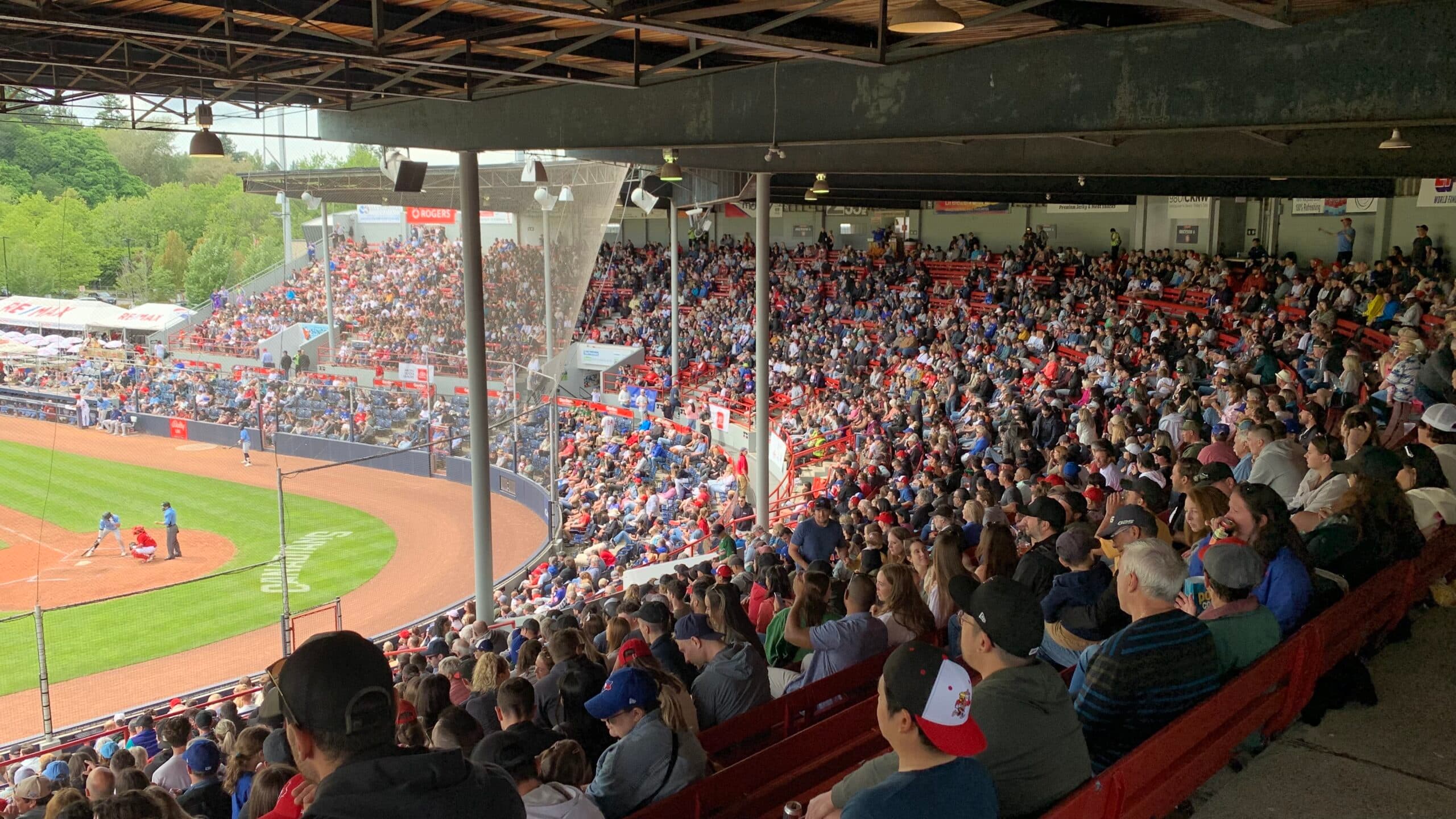 Photo credit:Joey Pitt
Vancouver showed up loud and proud on Saturday afternoon, selling out Historic Nat Bailey Stadium to see their Canadians battle the Hillsboro Hops, and march closer to the Northwest League's First Half Title.
The Kid's Got an Arm
In July of 2022, the Toronto Blue Jays drafted right-handed pitcher Devereaux Harrison in the 9th Round of the MLB Draft. In June of 2023, less than a calendar year later, Harrison has already worked his way up to High-A ball in Vancouver, and after pitching in relief for the first two months of the season, he's found his way into the starting rotation.
Saturday afternoon's matchup with the Hillsboro Hops[D-Backs] was the now 22-year-old's third start of the season on the mound for Vancouver, and the righty has already worked his way into the hearts of fans at The Nat, and into the consciousness of the writers here at Blue Jays Nation.  In six innings of work on Saturday, Harrison allowed no runs on four hits(three singles and a triple), with two batters walked and four strikeouts.
Brothers from the Same Planet
If you take a quick glance at a Vancouver Canadians roster sheet, one of the first things that'll jump out at you are two guys with the same last name.  Though they're not actually related, Dasan and Devonte Brown have shared numerous qualities with one another this season on Rogers Field at Nat Bailey Stadium, and Saturday afternoon, their knacks for vision at the plate and on the bases were critical for a Vancouver win.  After Devereaux Harrison and Hops pitcher [D-Backs #10 Prospect] Yu-Min Lin, traded goose eggs on the scoreboard for the first three innings, Dasan would lead off the fourth inning with a walk, before stealing second base, and running home after after an RBI double to the centre field wall from Michael Turconi to give Vancouver a 1-0 lead.
Three innings later, another similar scenario breaks out.  This time, Devonte Brown shows some strong discipline at the plate, as Hops relief pitcher and Vancouver native Eli Saul was throwing to the outside.  Devonte took the walk to first, then darted to third off a Josh Kasevich base hit, and ran home after a flyout to right field by Gabby Martinez.  The two runs from Dasan and Devonte Brown would be all that Vancouver would need to pick up the shutout victory and clinch a series win over Hillsboro.
With the victory on Saturday, along with a Spokane loss, the Canadians are now just one win away from clinching the Northwest League's First Half title, and guaranteeing them a spot in the Finals this Fall.  The C's will look to get the job done on Sunday afternoon at The Nat, in the final game of the series with the Hillsboro Hops.
---