Vladimir Guerrero Jr. and Kevin Gausman own the Yankees during a beautiful 5-1 series-clinching win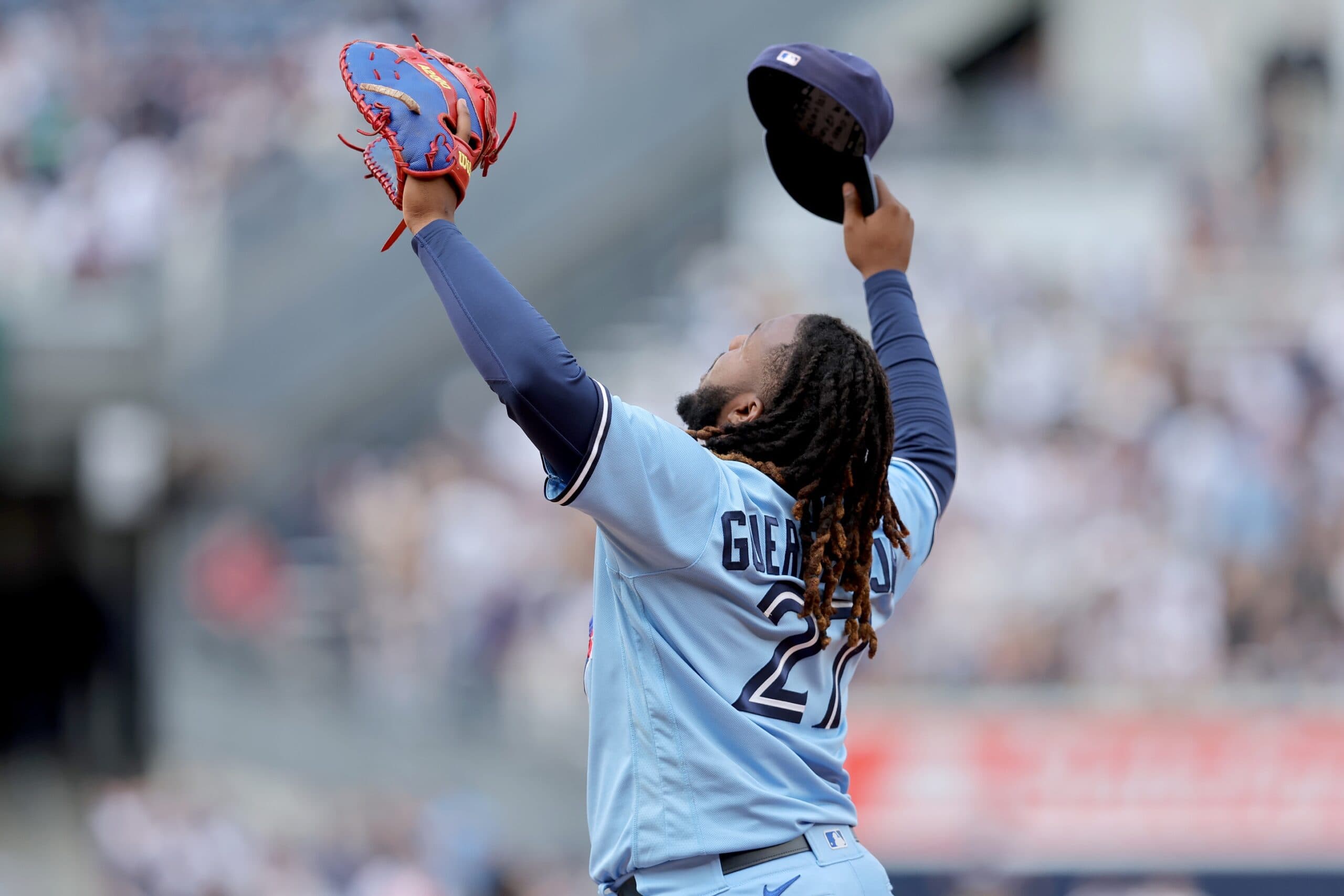 Photo credit:Brad Penner-USA TODAY Sports
With the new schedule that the Blue Jays will play this year, there will be fewer opportunities against AL East opponents than there have been before. With that being said, there will also be more of an emphasis to win the games against teams like the Yankees in April to potentially take the stress off of Toronto in September.
After yesterday's walk-off loss, the Jays bounced back and defeated the Yankees 5-1 on Sunday afternoon and won the first series of the season against the team from the Bronx.
Blue Jays Nation's Player of the Game: Kevin Gausman
Gausman's last start in Houston went abnormally awry, as he allowed seven earned runs over 4.2 innings with six of those runs coming in the opening frame. Without being in the pitcher's room, I'd say Gausman probably didn't need to make too many adjustments since Houston has always been a talented lineup. There was, however, a concern over the lack of chase from his splitter which likely led to him noticeably using the fastball more today as his put-away pitch. Of his eleven strikeouts today, six came on his fastball and five came on his splitter.
Don't get me wrong, the splitter was still elite as always this afternoon. Nobody knew it more than rookie Anthony Volpe, who struck out twice on a couple of nasty versions of it.
Gausman's use of his fastball was the most prevalent against Anthony Rizzo, whom he punched out twice on the four-seamer. The first time was in the first inning, as Gausman ended a 9-pitch at-bat with a perfectly located pitch on the outside corner of the plate. Rizzo vehemently did not agree with the call, as he was almost jogging down to first before turning to home plate umpire Quinn Wolcott and yelling "No f*****g way, Quinn. You cannot give him that pitch! That's down!"
Rizzo's very next at-bat, Gausman got him in a 1-2 count and threw a fastball in the exact same spot. Wolcott rung him up and got no argument from Rizzo. Trolling at its finest.
The most trouble Gausman got into was a leadoff double from DJ LeMahieu in the 5th inning, but he proceeded to strike out the next three batters he faced to get out of the inning.
For the day, Gausman went seven innings allowing three hits, no runs, no walks, and eleven strikeouts. Vintage Kevin Gausman.
Things worth mentioning
Vladdy and Varsho go back-to-back: The Blue Jays and Yankees were scoreless through five innings, but Toronto found their fireworks in the sixth inning. Before I dive into the specifics, it's worth noting that George Springer reached base with one out due to a fielding error from Volpe. Bo Bichette grounded into a fielder's choice next, but had Volpe made the routine play versus Springer, the inning would've ended after the Bichette ground ball.
Nonetheless, Vladimir Guerrero Jr. found himself at the plate with Bichette on first and two outs. After taking a sweeper all the way from Clarke Schmidt for strike one, Schmidt hung another one the very next pitch, which was a huge mistake. Guerrero smoked it – and I mean absolutely smoked it – to left field just over the wall for a two-run home run to give the Blue Jays the lead. Guerrero hit it 112.7 mph off the bat and 368 feet as he rounded the bases amidst a flurry of boos from Yankees fans who are clearly still salty that Guerrero will never don the pinstripes, no matter how much they deny that it doesn't bother them.
Two pitches after the Guerrero bomb, Daulton Varsho skied his second home run of the season into the second deck in right field to give the Blue Jays a 3-0 lead and remove Schmidt from of the game.
Guerrero and Varsho ruined an outstanding outing from Schmidt, who entered the sixth inning having only allowed one hit on the day.
Whit Merrifield stays hot: Merrifield went 1-for-3 with a walk today, keeping the trend going for him of reaching base in every game that he's played this season. His double in the 7th inning was cashed in by Danny Jansen one batter later.
Merrifield is now batting .310, the fourth-highest on the team behind Guerrero, Bichette, and Matt Chapman.
A series of quality starts: It shouldn't be questioned that Toronto's starting pitchers were a big reason behind this series win. With Gausman's outing today, Toronto's starting pitchers in this series combined for 20 innings, 9 hits, 1 earned run, 3 walks, and 19 strikeouts. That will work, boys.
The Blue Jays now head back north of the border and will open up a series against the White Sox tomorrow evening. Chris Bassitt will look to keep his streak of quality starts going against Lance Lynn.
---
Discover Betano.ca
 – a premium Sports Betting and Online Casino experience. Offering numerous unique and dynamic betting options along with diverse digital and live casino games, Betano is where The Game Starts Now. 19+. Please play responsibly.