Whit Merrifield sparks win behind Alek Manoah's huge start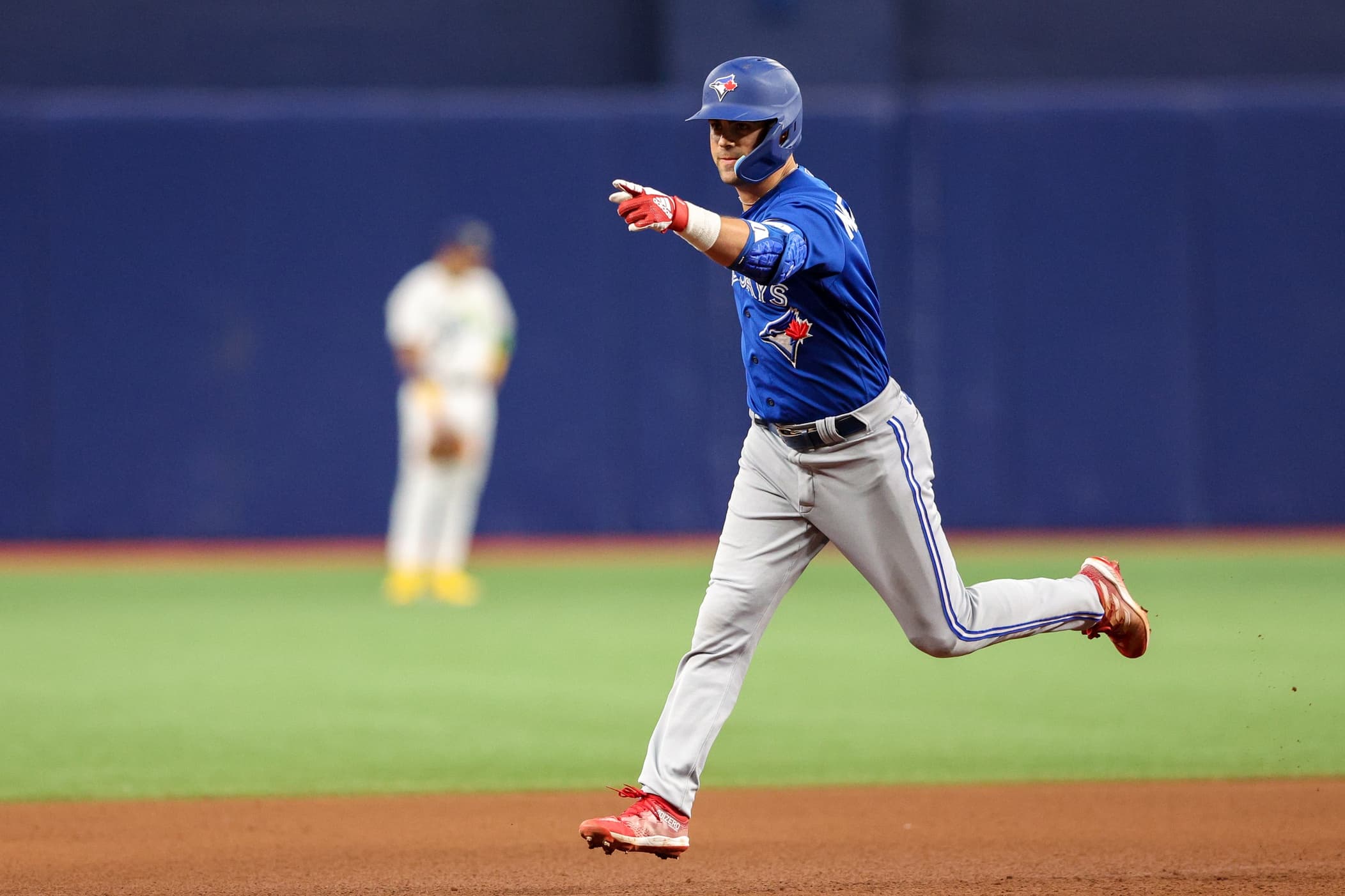 Photo credit:© Nathan Ray Seebeck-USA TODAY Sports
We finally have the answer to if giving up Max Castillo and Samad Taylor to the Royals for Whit Merrifield was worth it. Hell yes, it was. Whit Merrifield is a Blue Jay.
Of all the pain that Tropicana Field has caused the Blue Jays, Merrifield has seemed to find his former batting title self while playing down in Tampa. His 7th inning 3-run home run off of Rays reliever Brooks Raley sealed the deal on a 3-1 win over Tampa Bay, as well as changed the tone for how this series has been going.
The Blue Jays had just stranded the bases loaded in the 6th, as they were in the midst of a pitching duel between Alek Manoah and Drew Rasmussen. Chances to pounce on the relentless Rays pitching were dwindling down, but the bottom of Toronto's order came through.
Teoscar Hernandez doubled with one out in the 7th, forcing Rasmussen to leave the game in favor of Raley. Danny Jansen walked, setting the stage for Merrifield.
Merrifield skied a first-pitch slider to the left-field seats for his fourth home run as a Blue Jay. As a fan, it was quite the moment watching Merrifield trot around the bases with a lot of emotion. The recent injury to Santiago Espinal has opened the door for more playing time for Merrifield, and he is taking full advantage.
Thus far in this series, Merrifield is 5-for-11 with three home runs and six RBIs. It's almost comical how much he has been the "secret weapon" for the Jays against the Rays. It's important to note that he had the clutch hit to put Toronto ahead during a September 13th win over these Rays during the late innings.
Merrifield's big hit also gave Alek Manoah a win; a reward for the Big Man's excellent outing. Manoah didn't allow his first hit until the 4th inning, en route to a 7 inning, four hit and no run performance.
Jordan Romano finished the game off with a 4-out save, a reassuring sight to see after two straight blown saves.
Manoah has continued to be the MVP of this Blue Jays team, and everyone is running out of adjectives to describe how much he has meant to this team. He also continues to be the go-to guy after a loss, as this win tonight by the Jays came when they absolutely needed it. The win put the Jays back ahead of the Rays in the Wild Card standings by a game, and a win tomorrow would put them in the same spot as they were coming into the series.
Toronto will go for the series split tomorrow, as Ross Stripling will look to rebound from his last start in which he gave up five runs agains the Phillies. ESPN currently has Shane McClanahan as the scheduled starter, despite leaving his last outing early with an injury.
---