Who could fill in at first base if Brandon Belt needs the Injured List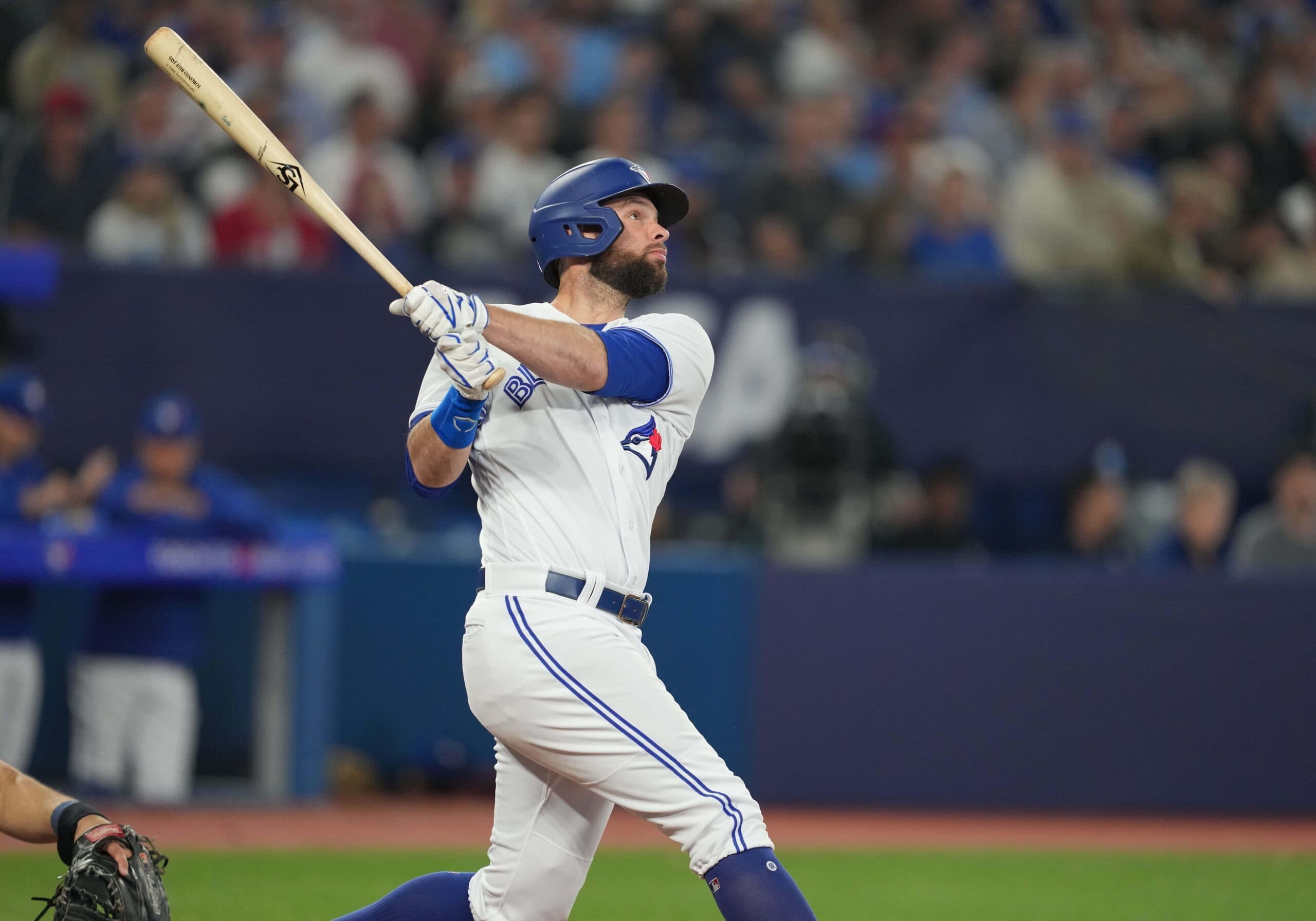 Photo credit:© Nick Turchiaro-USA TODAY Sports
Brandon Belt was taken out of the game with left hamstring tightness… Not good!
After a really rough start, the 35-year-old first baseman has been on a tear for nearly two months now. He's now slashing .263/.378/.434 with four homers and a 15.2 BB% and 37.6 K%. Sadly, he could end up on the injured list. Let's take a look a few players that could fill in for him.
Ernie Clement:
Ernie Clement is having some type of season with the Buffalo Bisons.
The 27-year-old has slashed .331/.408/.525 with six homers in 160 plate appearances for a 136 wRC+. He also only struck out 3.8% of the time, while owning a walk rate of 11.3%
What's even more insane is the fact that he had 1,340 minor league plate appearances prior to joining the Bisons, and only hit eight homers. In just those 160 plate appearances with Buffalo, he has seemingly found a massive power stroke.
Clement doesn't have a lot of experience playing first base, as his first 15 innings at the position came with the Cleveland Guardians in 2022. The Jays have been trying to get him to play the position more, as he's played 51.1 innings with the Bisons.
This season, Clement has played everywhere with Buffalo. On top of first base with Buffalo, he's played 16 innings at second base, 38 innings at third base, 162 innings at shortstop, and 18 innings at left field.
Not only can Clement fill in at first base, but he can give quite a few other players a day off with his versatility.
Spencer Horwitz:
While Horwitz has some pop in his game, he's a hit for average guy before leaning into the homers.
With the Buffalo Bisons, he's slashing .306/.427/.409 with two homers in 239 plate appearances. While he isn't a prototypical first baseman, he has an excellent eye at the plate (16.3 BB%), while avoiding strikeouts (18.8 BB%).
It's not just a fluke either, as he's had a 14.9 BB% or higher since the 2021 season at any level, while not having a K% above 20.3%.
What's more is that he has actually hit for power in the past. In 2021 with the Vancouver Canadians, his home stadium was actually Ron Tonkin Field in Hillsboro, Oregon. This field is known for reducing homers.
So when he got to New Hampshire and the Delta Dental Stadium, he hit 12 homers in only 297 plate appearances in 2021 and 2022.
I think it comes down to his approach. His swing path is more oriented towards singles and doubles, while allowing him to maintain a high average and on base percentage. He could easily lean into more power, he's absolutely jacked, but it'd get him out of his .427 on base percentage approach, while may not be ideal.
Unlike Clement, Horwitz is a natural first baseman, already playing 289.1 innings at the spot. He's also been given some reps in left field, playing 92 innings at the position 
Cavan Biggio:
The Jays could also stay on the team for the Belt replacement, instead looking towards Cavan Biggio.
The 28-year-old super utility player hasn't been great this season, as he's slashing .172/.252/.323 with four homers in 103 plate appearances. Moreover, his BB% has dropped significantly from 12.5% in 2022 to 7.8% in 2023. He also has a career-high 35 K%.
It's well known that his bat is probably never going to be like it was in 2019, but he provides value defensively around the diamond. One of these positions is first base, where he has a 1 DRS and a 1 OAA in 24 innings at the position.
Making Cavan the backup first baseman would allow the Jays to call up a player in a different position, such as Otto López or potentially Davis Schneider (who is not on the 40-man roster).
Let's hope it doesn't come to this, and that Belt is just day-to-day. It would be hard to replace the value he's brought, but the Jays definitely have some players that could fill in for him.
As always, you can follow me on Twitter and Instagram @Brennan_L_D.
---