With AL wild-card race intensifying, Vladimir Guerrero Jr. is supplying spark for Blue Jays' power-hungry offence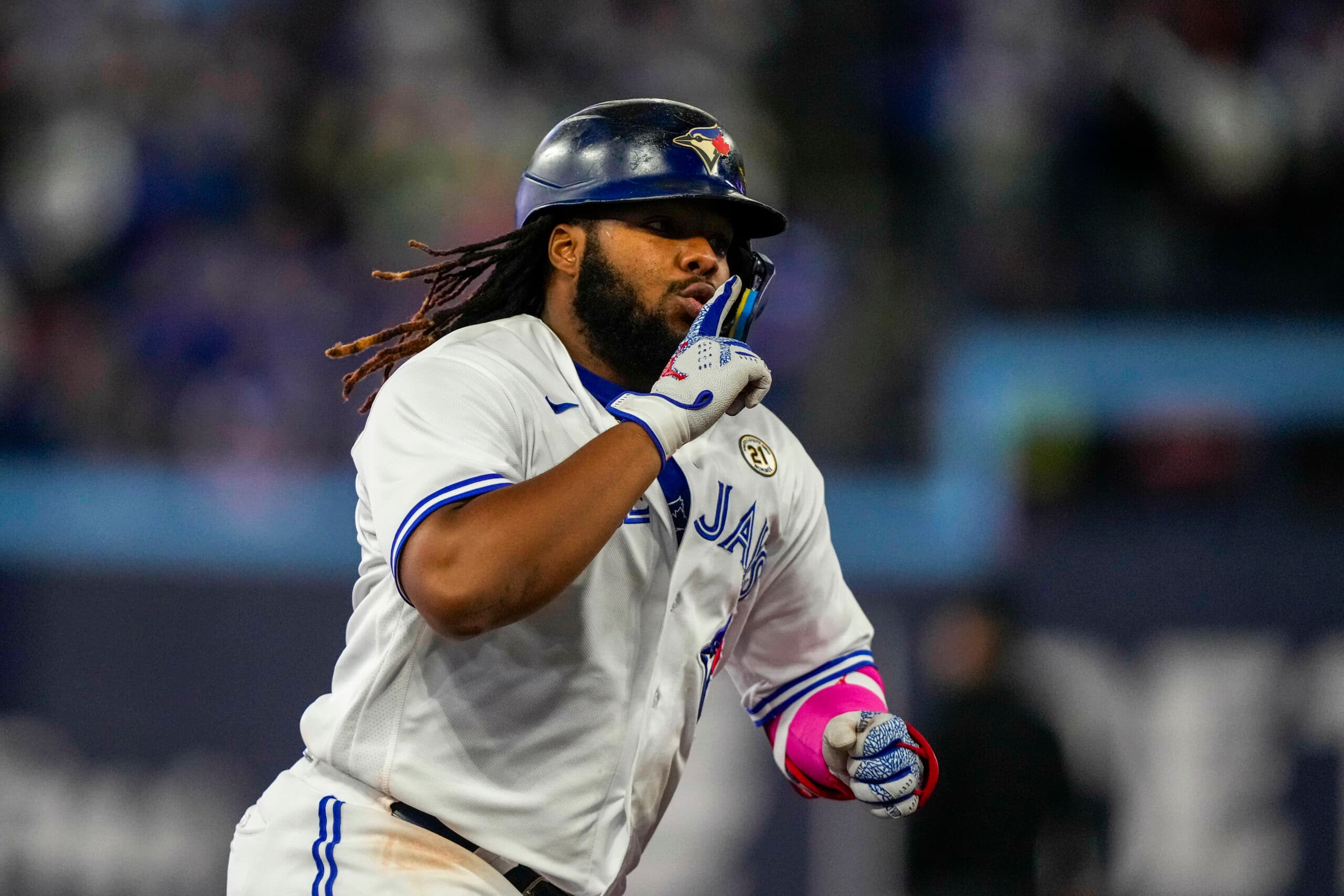 Photo credit:Kevin Sousa-USA TODAY Sports
While much of this season has been underwhelming for Vladimir Guerrero Jr., a strong showing over these final 12 games could help make up for a lot of that disappointment – which doesn't appear too unrealistic based on the All-Star first baseman's recent offensive surge.
Runs have been tough to come by lately for the Toronto Blue Jays, although not for Guerrero, who's driven home half of his club's 12 runs over the last four games, crossing home plate four times himself. What's even more impressive is the majority of that damage has occurred via the long ball.
Heading into last week, the chances of this offence finishing the year without a 25-home-run hitter appeared fairly high, as Vladdy's 21 led the team. But that has since changed, with the 24-year-old slugger enjoying a three-game home run streak – the first of his career at Rogers Centre and his first of any kind since 2021.
Despite having his run of round-trippers snapped in Sunday's finale versus the Boston Red Sox, Guerrero still extended his mini-hit streak to five games, during which he's slashing .389/.476/.889 with a 261 wRC+ – worth nearly half a win in fWAR. And for a lineup starved for power all season, they've needed every bit of his recent explosion in the batter's box.
It is probably too late into the calendar to drastically improve any of those metrics, as less than two weeks remain in the regular season. But, at the same time, there are plenty of encouraging signs from Guerrero's recent sample size to suggest his sudden power resurgence could continue the rest of the way.
The three-time All-Star's turnaround includes just 21 plate appearances, which doesn't give us much to work with. However, there has been enough runway to show the right-hander doing damage against high velocity – an offering that has proved troublesome throughout his fifth big-league campaign.
As such, Guerrero had posted a measly .389 SLG and .126 ISO over 109 plate appearances in matchups versus 95 m.p.h.-plus fastballs prior to Sep. 13. But since then, two of his previous seven hits have come off explosive heaters – a 96.6 m.p.h. four-seamer and a 97.3 sinker – including his three-run blast off Red Sox starter Brayan Bello last Friday.
Another promising factor has been Guerrero's refined plate approach, particularly regarding his decision-making on pitches outside the strike zone. It isn't always consistent, but his overall patience has become far more effective than a month ago.
Those improved swing decisions have led to a season-best 21.1 per cent chase rate in September thus far – a difference of 13.3 per cent from August, where he posted the second-highest clip (34.4%) for an entire month in his career, behind only September 2022 (36.4%).
By controlling the strike zone, Guerrero has been more effective at forcing the opposition to come to him rather than the other way around, resulting in more competitive at-bats. Not only has that led to improved power results, but it also translated into earning three walks last Saturday – his third multi-walk game of the month and second three-walk performance of 2023.
The formula of hitting high velocity and chasing less has also allowed him to capitalize on pitchers' mistakes far more often, especially when they miss over the heart of the plate, which he has struggled to do consistently throughout this season.
One of the main reasons for that has been Guerrero's timing – or a lack thereof – at the plate. For much of this season, his lower half has appeared a tic or two quicker than his upper half, causing his swing to be out of sync.
The more aggressive he's been, the less time he's had to recognize pitches, leading to increased chases. And he's mostly been a touch too late – even on low-90s heaters – when he's applied more passiveness to his approach.
Well, until recently, that is.
Everything has looked much smoother for Guerrero over these last handful of games. His lower and upper halves have appeared far more in sync than they have almost all year. He's timing up fastballs north of 95 m.p.h. more effectively and continues to force pitchers over the plate.
A byproduct of these adjustments has resulted in fewer hard-hit ground balls, with his 20.3-degree average launch angle producing just a 25 per cent ground-ball rate over his last 16 batted-ball events. That's also translated into a 62.5 per cent fly-bat rate.
Both outputs, of course, will not be sustainable over a larger sample size. If you've ever glanced at Vladdy's historical batted-ball distribution or have watched any of his 650 career games, you already know he's prone to inducing grounders. When you generate as much hard contact as he does, though, you're liable to get away with a GB rate slightly below 50 per cent.
Guerrero hasn't needed to stress nearly as much about that lately, with almost two-thirds of his results coming via fly balls. On top of that, this recent trend has only enhanced his ability to deliver in critical situations – an aspect he takes great pride in. And there'll surely be more to come, starting with Tuesday's contest in the Bronx, beginning a 12-game sprint to the finish with six each against the New York Yankees and Tampa Bay Rays.
The first leg of that stretch should bode well for Vladdy, who owns an eye-popping .295/.354/.614 slash line with 12 home runs and a 162 wRC+ across 34 career contests at Yankee Stadium. Plus, New York's mediocre pitching staff has
surrendered the fifth-most dingers (104) at home
in the majors this season.
Beyond all the statistics, the 2021 AL MVP runner-up always has extra motivation to put a pounding on the Yankees in front of a hostile crowd, and this time will undoubtedly be no different, given the Blue Jays' current position in the unpredictable AL wild-card race.
With a successful series, Toronto can act as the final nail in the coffin for New York's nearly-defeated playoff hopes, and you can be sure Guerrero will be trying hard to deliver that decisive blow himself.
---