With the 184th overall pick, the Blue Jays have selected Jace Bohrofen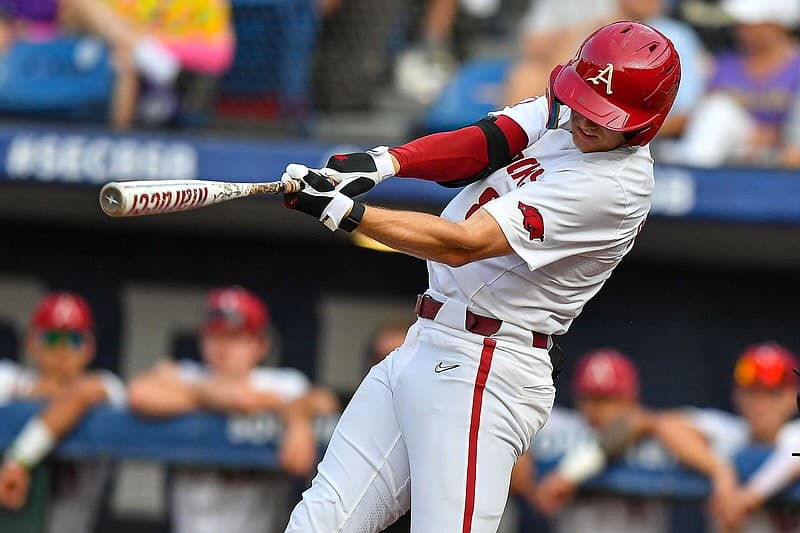 Photo credit:WA Democrat-Gazette/Hank Layton
Would you look at that, the Jays have selected
another
top-75 prospect in multiple publications!
With the 184th overall pick, the Blue Jays selected Jace Bohrofen.
The 21-year-old didn't have the greatest success in his first two collegiate seasons, but really broke out in 2023 with the University of Arkansas. He slashed .318/.436/.512 with 16 homers in just 267 plate appearances. There was some swing and miss in his game, as he had a 23.6 K% and a 12 BB%.
He was excellent on the Cape, as he slashed .280/.376/.516 with seven home runs in 218 plate appearances over two seasons in summer ball. It's also worth noting that he is a great hitter against fastballs, posting a 1.164 OPS against the heat compared to a .849 OPS against off-speed stuff.
The left-handed batting outfielder has a great swing, and has drastically improved at making contact this season. He has great strength and good raw power, which generates high exit velocities. As mentioned, there is some swing and miss in his game, but he could hit for both power and average in the future.
Defensively, he's solid in the corner outfields with an average arm. He is an average runner at best.
The 21-year-old Bohrofen ranks as MLB Pipeline's 66th best draft prospect, and Baseball America's 106th best draft prospect. Below are his grades according to Baseball America and MLB Pipeline.
| | | |
| --- | --- | --- |
| Tool | Baseball America grades: | MLB Pipeline grades: |
| Hit | 40 | 50 |
| Power | 55 | 55 |
| Run | 50 | 45 |
| Field | 45 | 50 |
| Arm | 50 | 50 |
| Overall | 40 | 50 |
As you can see, MLB Pipeline is much higher on Bohrofen than Baseball America. His consensus ranking is 68th.
The Blue Jays' next pick is the 214th overall. Will they pick
another
Top 100 prospect? We'll see. I feel at this point it'll be college seniors or relievers.
The Blue Jays previous picks:
---
As always, you can follow me on Twitter and Instagram @Brennan_L_D.
---