With the 20th overall pick, the Blue Jays could select… Brayden Taylor?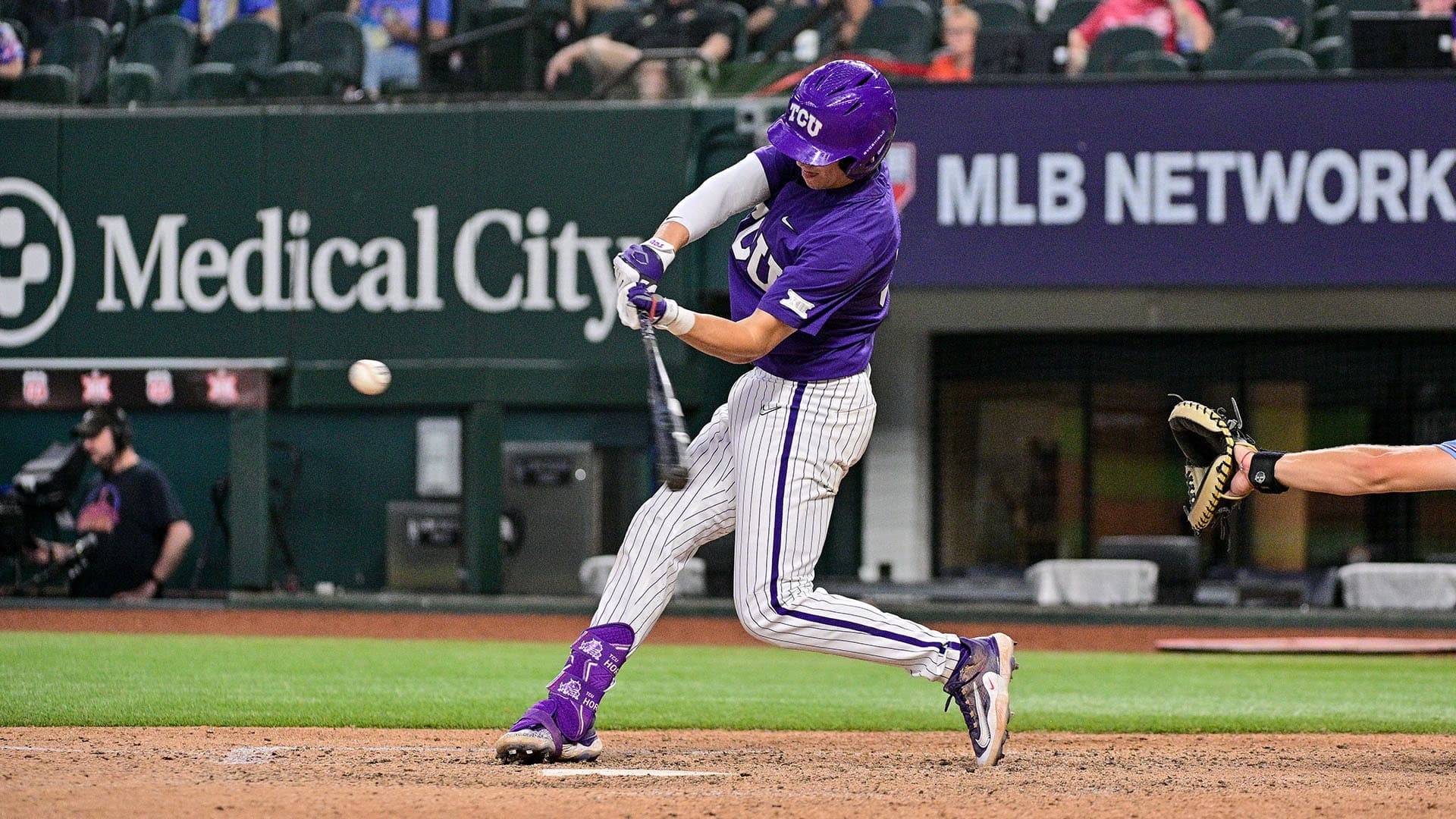 Photo credit:gofrogs.com
How does a college third baseman sound?
Today, we'll look at a college position player who was involved in the College World Series, Brayden Taylor.
Brayden Taylor's bio:
Taylor is a 21-year-old third baseman standing at 6'1", 180 lbs who plays for Texas Christian University (TCU).
Taylor went undrafted in his senior year of high school in Utah, but has blossomed into a future first-rounder with his three seasons at TCU. Taylor ranks as MLB Pipeline's 30th best draft prospect, while Baseball America has him as their 16th best draft prospect.
The last time the Blue Jays drafted a player out of Texas Christian University was back in 2018, when they selected right-handed pitcher Sean Wymer in the fourth round. Back in 2008, they selected shortstop Bryan Kervin in the 27th round, he's the only position player they've picked from TCU.
Brayden Taylor's statistics:
Taylor hit the ground running in his freshman season, slashing .324/.445/.572 with 12 homers in 274 plate appearances, along with a higher BB% (17.9%) than K% (16.8%). In terms of defense, he had 12 errors in his freshman series, which gave him his worst fielding percentage of .927%.
He had a good sophomore season, slashing .314/.454/.576 with 13 homers in 271 plate appearances. His BB% increased to 20.3%, while his K% dropped to 14.8%. The 2022 season was his best defensive season, as he only had eight hours and a fielding percentage of .950%.
The 2023 season was Taylor's breakout year, as he slashed .308/.430/.631 in 321 plate appearances. While his batting average and on-base percentage went down, he went from 13 homers to 23 homers. The one worrisome aspect of his season was the fact he struck out more (18.7 K%) than he walked (16.8 BB%), but that may have been in an effort to showcase his power.
His junior season was in the middle of the pack in terms of defense, as he committed 10 errors for a .944 fielding percentage.
Brayden Taylor's tools:
According to some scouts, Taylor's tools are sort of like jack of all trades, master of none. MLB Pipeline notes that he has good bat-to-ball skills and is able to work a count. They also mention how he sacrificed hitting for average in an attempt to hit more dingers in 2023. Still, they believe he's a hit-over-power guy.
Baseball America is a little more positive about his game, noting that he has one of the best eyes in the class. They also like his ability to get on-base, as well as his contact ability. He has great swing decisions and can really draw a walk, although it's not just passivity at the plate, which tends to be bad.
Defensive, he has average arm strength and steady hands at third. Second base may be an option in his future, but he's projecting well at third base as it stands.
Taylor is an average runner, but shows great instincts on the bases, as he was only thrown out once in 39 attempts in his collegiate career.
Brayden Taylor's grades:
As always, let's look at Baseball America and MLB Pipeline's grades.
| | | |
| --- | --- | --- |
| Tool | Baseball America grades: | MLB Pipeline grades: |
| Hit | 60 | 55 |
| Power | 50 | 50 |
| Run | 50 | 50 |
| Arm | 50 | 55 |
| Field | 50 | 55 |
| Overall | 50 | 50 |
Will the Blue Jays select Brayden Taylor:
Will the 21-year-old first baseman be the best player available when the Blue Jays select? It's hard to say. There are a few players that we've covered that I'd say are better than Taylor.
That's no knock on him, of course. He has tremendous bat-to-ball skills and even increased his power production in 2023.
I wouldn't be surprised if the Jays took him, but it'll all come down to who is the best available.
Previously…
---
As always, you can follow me on Twitter and Instagram @Brennan_L_D.
---