With the 20th overall pick, the Blue Jays could select… Charlee Soto?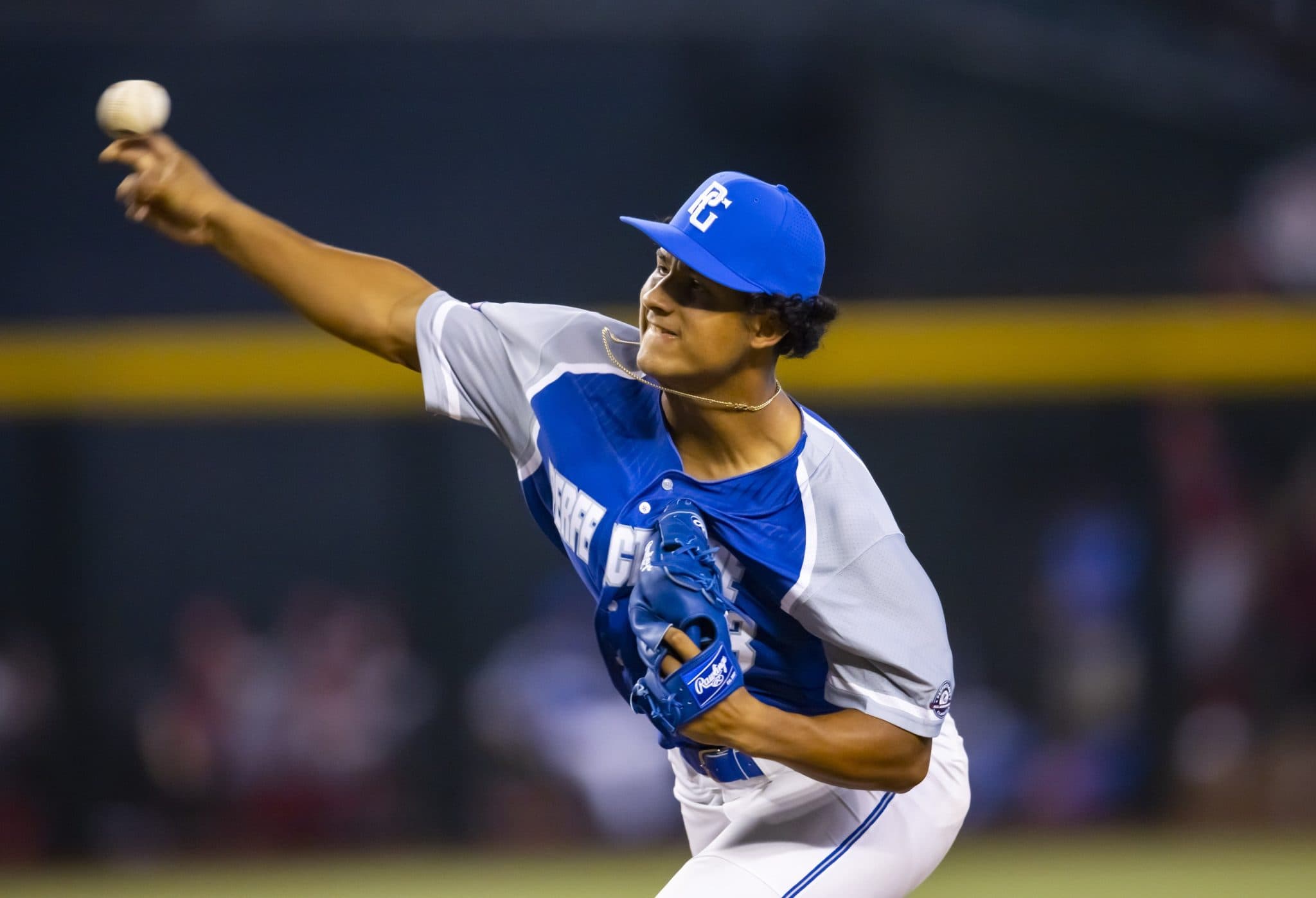 Photo credit:Mark J. Rebilas-USA TODAY Sports
Out of the 12 players remaining in this series, only four are pitchers.
There are only two more prep pitchers on this list, including today's prospect, Charlee Soto. We'll look at why he's so intriguing, as well as the risks associated with selecting high school pitchers.
Charlee Soto's bio:
The 17-year-old righty stands at 6'5", 210 lbs and grew out of the shortstop position. In the summer of 2022, he wasn't an incredibly highly touted prospect, but that changed after the summer circuits.
The right-handed pitcher from Reborn Christian Academy in Florida is one of the youngest players in the draft, turning 18 years old on August 31st.
MLB Pipeline has him ranked as the 25th best draft prospect available, while Baseball America has him ranked as the 30th best draft prospect in the class.
Like always, we'll look at players the Blue Jays have drafted from the state/school. For starters, they drafted Brandon Barriera in the first round of the 2022 draft. Moreover Irv Carter was selected in the fifth round of the 2021 draft, and they drafted both Kendall Williams and Michael Dominguez in the 2019 draft out of Florida.
Charlee Soto's stuff:
Soto's fastball sits 93-95 mph, but has touched 98 mph with regularity. It has excellent life, meaning that it moves around, making it hard for batters to square it up.
On top of a high-90s fastball, his split changeup is regarded as one of the best in the class, as it has fantastic downward movement and arm-side fade so he can use it against left-handed batters.
His third pitch is a slider that has spin rate around 2,400 RPM. It has late bite and sits in the mid-80s. Both the slider and split-changeup could be above-average to plus pitches in the future.
Soto also has great athleticism and a pitcher's frame. His quick arm allows for all his pitches to be thrown hard, and he doesn't struggle with command and control like a lot of high school pitchers do.
The only big concerns for Soto is the risk of becoming a reliever later in his career and consistency. However, there's a good chance he's selected in the first round and will start for the foreseeable future.
Charlee Soto's grades:
Like always, we'll look at his grades according to Baseball America and MLB Pipeline.
| | | |
| --- | --- | --- |
| Tool | Baseball America Grades: | MLB Pipeline Grades: |
| Fastball | 60 | 60 |
| Changeup | 60 | 55 |
| Slider | 55 | 50 |
| Control | 45 | 50 |
| Overall | 55 | 50 |
Will the Blue Jays draft Charlee Soto?:
The Blue Jays haven't selected a position player with their first-round pick since 2020 when they selected Austin Martin. Since Mark Shapiro and Ross Atkins took over, they have only picked three position players with their first-rounder in the seven drafts they've spearheaded.
Moreover, the Jays had a pitcher heavy draft in the 2021 season, where they only picked five position players that signed. 
This is purely an assumption, but they may aim to pick the best position player available, whomever that may be. Now, if a player like Chase Dollander falls to them, that may be too intriguing to pass up, but I really do believe that they'll
probably
pick a position player.
With that being said, I've been wrong in the past, and if Charlee Soto is the best player available when they step up to the podium with the 20th overall pick, maybe his name is called.
Previously…
---
---