With the 20th overall pick, the Blue Jays could select… Travis Sykora?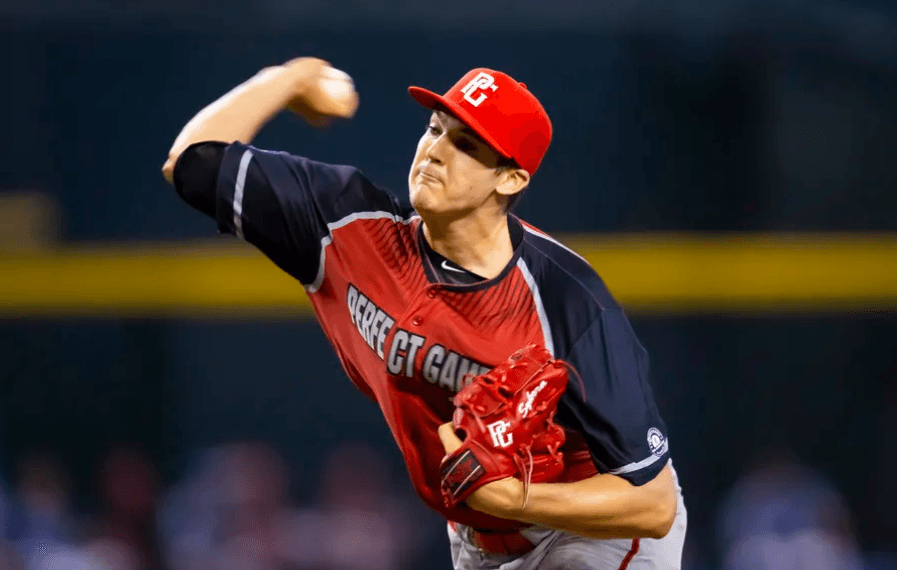 Photo credit:Mark J. Rebilas-USA TODAY Sports
This will be the last prep pitcher on the list!
Today, we'll look at 19-year-old right-handed pitcher Travis Sykora.
Travis Sykora's bio:
Travis Sykora is 19-year-old right-handed pitcher who stands at 6'6", 232 lbs. If he goes undrafted, Sykora will stay in his backyard of Texas as he has a commitment to the University of Texas.
Per MLB Pipeline, he ranks as the 31st- best draft prospect, while Baseball America has him ranked as the 35th best draft prospect.
The Blue Jays haven't drafted and signed a prep Texas pitcher for a while, as Adam Kloffenstein was the last to sign in 2018. Furthermore, they drafted Noah Syndergaard all the way back in 2010.
Travis Sykora's stuff:
The thing that immediately stands out about Sykora is his 6'6", 232 lbs frame that still has some projection remaining. With a big frame comes a big fastball, and he sits 95-98 mph with it, but has already touched 101 mph.
He has a short slider that sits in the upper-80s, it isn't elite by any means, but it has flashed to potentially become a plus pitch in the future. He also throws a splitter that has good downward movement, and it's best used at the bottom of the zone. He does well at locating both these pitches which have generated swing and miss in the past..
Sykora has a repeatable delivery due to his athleticism, but it also highly touted because of his baseball intelligence and great work ethic. Baseball America believes that his control is inconsistent, but there's no mention of that in his MLB Pipeline bio.
Travis Sykora's grades:
As always, let's look at his grades according to Baseball America and MLB Pipeline.
| | | |
| --- | --- | --- |
| Tool | Baseball America grades: | MLB Pipeline grades: |
| Fastball | 70 | 70 |
| Slider | 50 | 55 |
| Split-changeup | 55 | 60 |
| Control | 50 | 50 |
| Overall | 55 | 50 |
Will the Blue Jays draft Travis Sykora?:
It seems unlikely that the Blue Jays would pick the 19-year-old right-handed pitcher. Sykora ranks on both MLB Pipeline and Baseball America, well past the Blue Jays' pick at 20th overall.
Now, scouts in organizations evaluate players differently of course, but Sykora may not even be the best high school pitcher available when the Blue Jays pick.
Still, he has an interesting profile, and it would be fun if the Jays pick him.
Previously…
---
As always, you can follow me on Twitter and Instagram @Brennan_L_D. Thanks to Prospects Live's Tyler Jennings for the video. Definitely give him a follow on Twitter @TylerJennings24
---