Alek Manoah and Gerrit Cole beef as Yankees avoid sweep with 4-2 Sunday win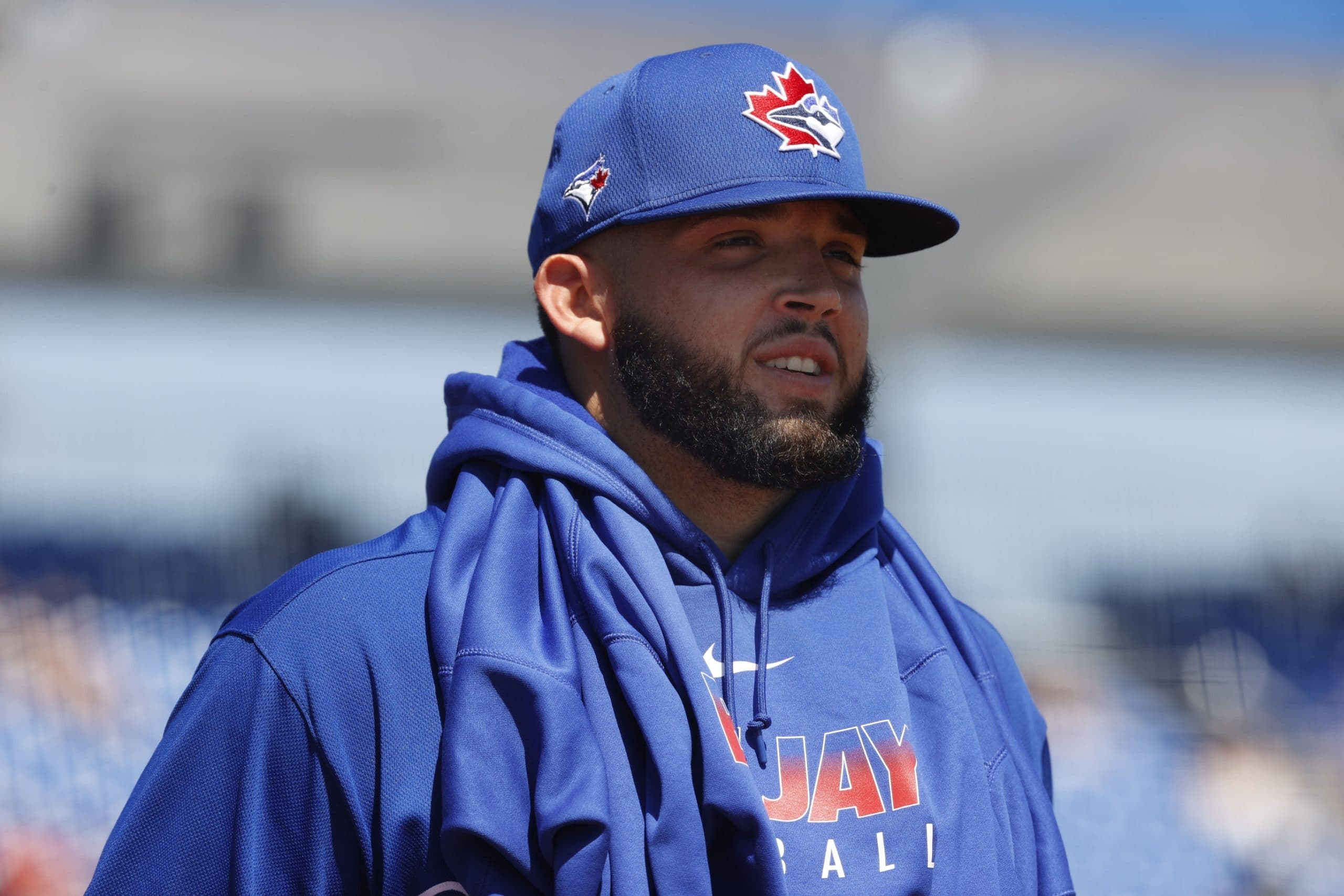 Photo credit:© Kim Klement-USA TODAY Sports
In an attempt to sweep a four game series in the Bronx just like the 2021 Jays did last September, the 2022 Jays fell a little short. The Yankees got the best of Toronto today 4-2 behind a late two-run home run from Andrew Benintendi. It was Benintendi's first home run as Yankee (because of course), and only his fourth on the season.
Alek Manoah was the starting pitcher for the Blue Jays today in a ballpark where he has been very successful during his young career. While he was very good today, his defense surely did not help him through the early stages of the game.
In the first inning, with Anthony Rizzo on first, DJ LeMahieu shot a ball into left field for a single. Rizzo advanced to third on the play, but left fielder Lourdes Gurriel Jr. tried to rush a throw to Matt Chapman at third base. Gurriel short hopped the throw, and Chapman was unable to get to it. The ball got away, and Rizzo scored. Gurriel was charged with the error, but Manoah wasn't charged with the run.
Whit Merrifield would even things up at 1 in the top of the 3rd with his first home run as a Blue Jay, and it came in the oddest of ways. With Yankees fan favorite Aaron Hicks jogging back to catch Merrifield's blast, the ball bounced off the top of the fencing, came back down, and bounced a second time off the fence and finally over. Bottom line, it counted as a homer, and Merrifield got to don the Home Run Jacket for the first time.
That momentum was short lived, as LeMahieu hit another RBI single in the bottom half of the frame, this one just getting past shortstop Bo Bichette who couldn't snare a tough hop. It put the Yankees ahead 2-1.
Sparks were flying in the bottom of the 5th, as Manoah hit Aaron Judge on the first pitch of his at-bat. Judge gave Manoah a look after he was hit, but he made no attempt to charge the mound or anything extreme. As a matter of fact, Manoah and Judge had a short meeting down the first base line, and made amends. Manoah admitted after the game that his sinker (the type of pitch that hit Judge) has been giving him trouble in his past few starts. With a runner on base and his team already down 2-1, obviously Manoah meant no harm.
Don't tell that to Gerrit Cole, though! Cole was the only person in either dugout causing a problem, as it appeared he had an apparent beef with Manoah. Cole was shouting at him from just outside the Yankees dugout, having to be held back by his teammates.
Maybe Cole was still pissed from the four runs he gave up yesterday, or maybe it's the seven total runs given up by Cole against the Jays this season in two starts, including Vladdy hitting two bombs off of him back in April. In response to Cole's shouting at Manoah, Manoah said, "If Gerrit wants to do something, he can walk past the Audi sign [painted on the grass] next time." That's our f*****g Big Man!
Manoah ended his outing with 6 IP, 4 H, 1 ER, 2 BB, and 8 K's.
Toronto tied the game in the top of the 7th, as Jackie Bradley Jr. drew a bases loaded walk with one out. That was it for the Jays, as Lourdes Gurriel Jr. grounded into a fielder's choice, forcing the runner at home, then Guerrero Jr. grounded out. Guerrero's ground out was fielded by Oswaldo Cabrera at shortstop, but he bobbled it, recovered, and threw Vlad Jr. out at first. Guerrero may have had a slow start out of the box, as Cabrera's throw beat him in plenty of time.
It was then Benintendi's home run that did Toronto in for good, as he blasted a home run into the second deck in left off of Adam Cimber in the bottom half of the frame.
The Blue Jays still win the series, however, and will look to keep up a solid road trip in Fenway as they start a three-game series with Boston on Tuesday. Ross Stripling gets the ball, searching for another excellent start since being added to the rotation.
---