Another day at The Trop, another meltdown — Rays now tied with Blue Jays in the standings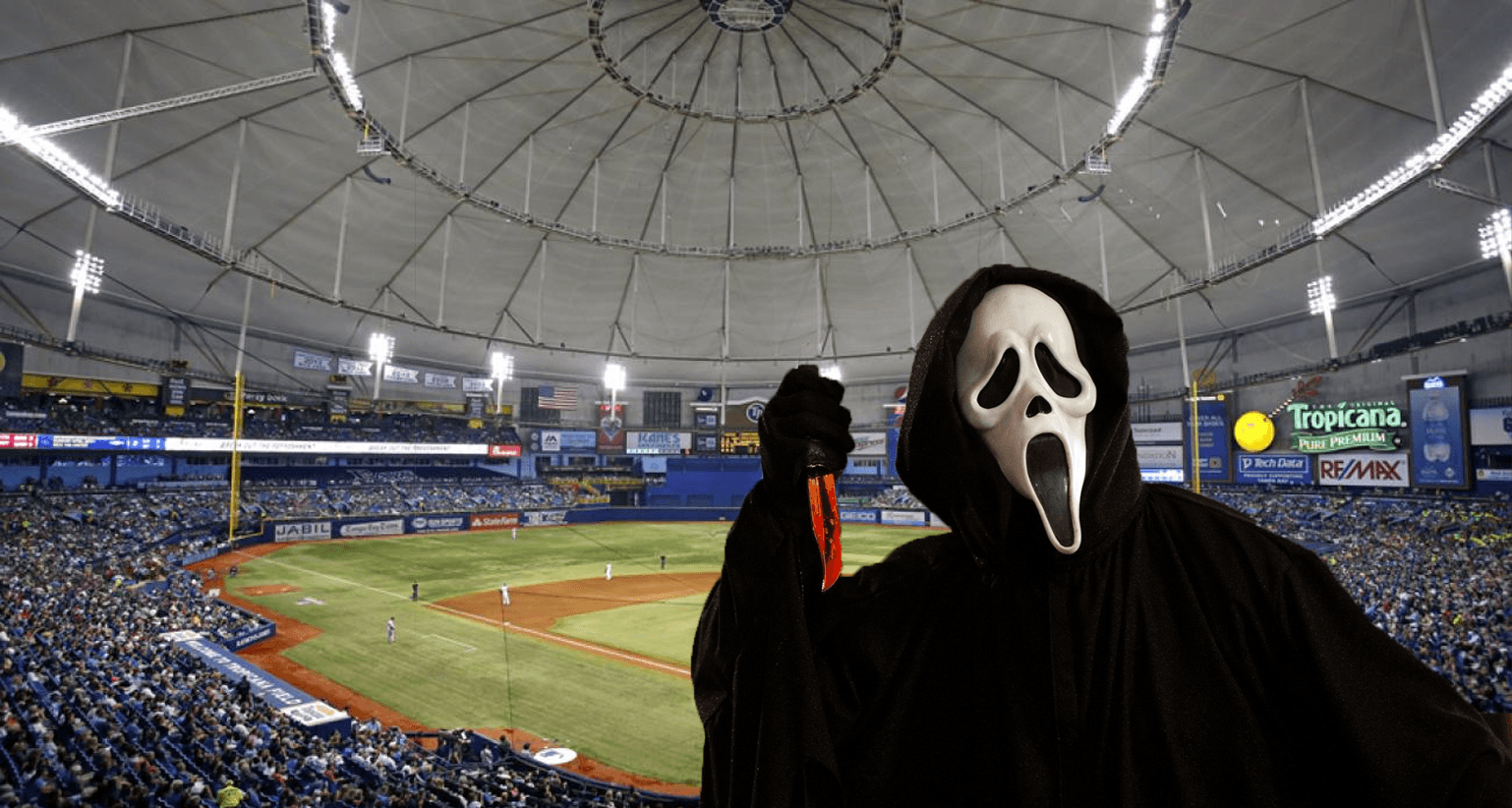 Well, the good news is that this series against the Rays is halfway over. The bad news? Tampa Bay has taken the first two games of the series including tonight's 10-6 win over the Blue Jays. The Rays not only take the lead in the AL Wild Card race for now, but they also clinch the season series over Toronto, meaning Tampa Bay owns any tie-breaking scenario.
While this game featured a lot of the normal mishaps that come with playing at Tropicana Field (trust me, I'll get to those), there were multiple instances of the Blue Jays rebounding tonight after tough breaks.
The game was tied at 6 going into the bottom of the 8th, and John Schneider went with Yimi Garcia to keep things put. Although being charged for only one run, he allowed four in the inning. He wound up being tagged with the loss, as his 8th inning implosion, albeit at the hands of a Bo Bichette error and a very questionable strike zone, continued his rough month of September.
The Rays scored two runs in the first inning against Mitch White, whose last outing was nine days ago against this same team. Wander Franco poked a ball in on his hands down the left field line for a double, putting runners on second and third with one out. After a run scored on a Randy Arozarena ground out, Manuel Margot placed a perfect bunt with two outs to score Franco from third. A two-out bunt was such a Kevin Cash move, but to Margot's credit, he laid it down perfectly. A charging Matt Chapman couldn't make the play in time. White's outing was over after four innings, as he allowed three runs on five hits.
Trailing 3-0 entering the 5th, the Blue Jays showed some life at the Trop. Not only did they string some hits together, but they were also able to score on Rays errors. Teoscar Hernandez doubled on a ball bobbled in the outfield by Margot, Vladimir Guerrero Jr. singled on a ball off the glove of Miles Mastrobuoni, and a run scored on a throwing error by Isaac Paredes. All told, the inning featured four hits, a walk, and four runs, giving the Blue Jays a 4-3 lead.
Schneider handed the game off to the bullpen, and this is where things got dicey. Tim Mayza left after allowing two runners to reach base with one out for Anthony Bass, who had a few days off. The Tropicana curse fell over Bass, as he gave up his first home run to a right-handed hitter all season, as Arozarena hit an opposite-field 3-run homer literally inches over the wall in short right.
Once again, however, the Blue Jays rebounded. A RBI single from Danny Jansen and a sac fly from George Springer (with a fielding error from Arozarena sprinkled in) tied the game at 6-6 and breathing new life into a Jays team that had been at the mercy of some tough ball games the last two nights.
Unfortunately, as I mentioned earlier, hopes of winning the game dissolved in the 8th inning. It started with a leadoff walk from Ji-Man Choi, although the ball four call was very much in the zone, and was 100% deserving of strike three. Kevin Cash would push the button of pinch-running Taylor Walls for Choi, and a single from Mastrobuoni advanced Walls to third.
What could've been one out with no one on turned into no outs with runners on the corners. David Peralta brought in Walls on a sac fly that was hit to shallow right center field, but the throw home from Hernandez was well off line, as the gamble from Walls to challenge Teoscar paid off.
With two outs and runners on first and second, Bichette misplayed a ball grounded to him at short, as the ball went under his glove and allowed another run to score, keeping the inning alive. Tampa Bay ended up with four runs in the inning, completing the 10-6 score.
It was a whirlwind, but this is realistic September baseball for the Jays. Alek Manoah gets the start tomorrow evening for Toronto, which is exactly who Toronto wants on the bump after a loss, or three. Drew Rasmussen will be his opposition, as the Jays look to duplicate the four-run output they had against him last week.
---