Blue Jays Nation's 2023 Preseason Top 50: #24 Tanner Morris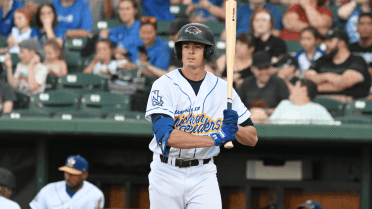 Photo credit:MiLB.com
Today, we have the left-handed batting utility player, Tanner Morris!
If you missed all of the other prospect articles, they will be linked at the bottom of the article. Here is the scouting criteria.
Brennan's criteria:
Instead of writing this out every time I did for the mid-season Top 60, I'll copy and paste my criteria for how I rank and scout these players.
There are many factors that determine a top prospect. The eye test is the biggest driver in determining a top prospect, but proximity to the majors, ceiling, and floor is also important. Moreover, statistics are another key ingredient, as everything works together to give you numbers.
As for the grades, it's important to remember that these grades are relative to the league in which they play at. A kid from Dunedin will not have a 50-grade hit tool if he were placed in the big leagues. But relative to the league in which he plays, a .300 hitter is eligible to have that grade.
For these prospects, I'll be reviewing their background, numbers in the minors, pitch mix (if they're a pitcher), and giving a scouting report (if feasible, rookie league guys are difficult).
Tanner Morris' career so far:
The 25-year-old utility player was drafted in the fifth round of the 2019 draft, and spent his fourth season in the Blue Jays organization in 2022.
He spent his first season in Short-A Vancouver, slashing .246/.384/.346 with two homers in 294 plate appearances, along with a 16.7 BB% and 19 K% for a 119 wRC+. Like all minor leaguers, he did not play in 2020.
He spent the entire 2021 season with the Vancouver Canadians (now a High-A team), where he slashed .285/.381/.401 in 470 plate appearances with a career-high seven home runs and a 12.3 BB% and 19.1 K% for a 115 wRC+.
In 2022, he started the season with Double-A New Hampshire Fisher Cats, where he slashed .312/.430/.468 with five homers in 186 plate appearances. There he had an equal K% and BB% of 16.1%. He struggled once he was promoted to Triple-A Buffalo, as he slashed .173/.352/.173 with no homers (or extra base hits) and a 19.8 K% and BB% in 126 plate appearances.
He had two stints on the injured list, which could explain the numbers. To continue his development, he was sent to the Arizona Fall League, where he slashed .279./.466/.372 with a homer and an absurd 25.9 BB%.
Scouting report:
Wiry build, with long legs and a slim upper half. Morris has a great eye at the plate and will lay off many tough pitches. With quick bat speed, Morris can be defined as a plus hitter, as he consistently makes contact and has a lower-than-average strikeout rate. There's some pop in his game, but he likely won't hit more than 15 homers in a season. His defensive home is that of a utility player or a second baseman, as he has an average arm. Morris is an average runner.
Grades:
Hit: 60
Power: 40
Run: 45
Arm: 50
Field: 50
Overall: 40
Where he'll start in 2023:
Like with all prospects that have reached Triple-A, Morris will start the 2023 season with the Triple-A Buffalo Bisons. The goal for Morris is to get back to where he was prior to the injury. If he can do that, he has a shot at making the Blue Jays roster as their utility man.
What's next/In case you missed it:
Next up,. We'll have one of the quickest rising prospects who had an incredible BB% and who spent time at High-A and Double-A. Stay tuned!
As always, you can follow me on Twitter and Instagram @Brennan_L_D.
---