Blue Jays News Dump: Post game, Teoscar Rumours, Arbitration and Prospects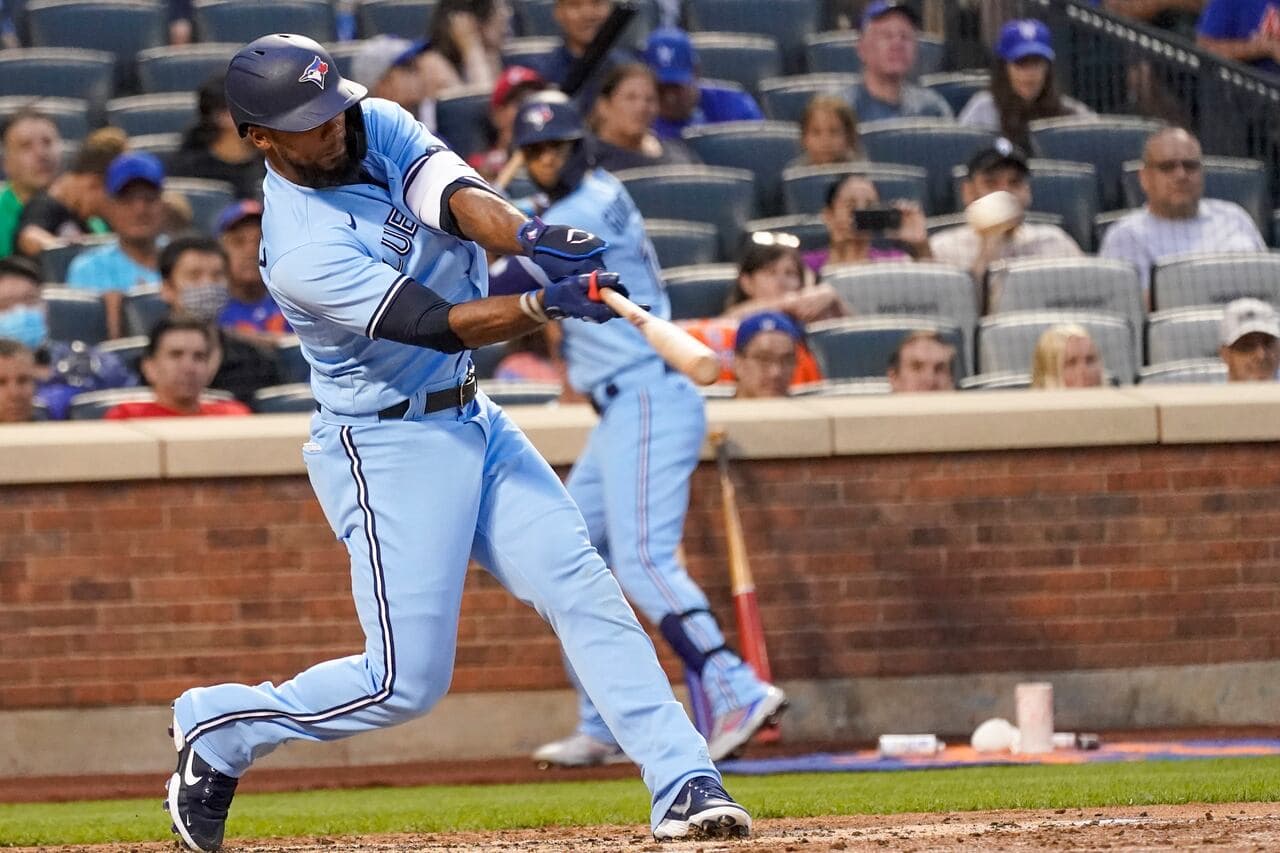 A lot happened in the Blue Jays world, including rumours, arbitration dealings and a smacking of the Yankees.
Jays smack the Yankees 9-2
Is this the team you believe will finish at the top of the division? Yes, it's Spring Training and the Yankees only had a few starters, but Jordan Montgomery didn't look good at all. You know who did look good though? The Jays pitchers.
After a rough first inning, Yusei Kikuchi absolutely bullied the Yankees batters in the second inning of the game, striking out the side. He finished his afternoon with 2 IP, 4 K and 1 BB. Ross Stripling took over for the new signee, pitching 3 IP, allowing a run and striking out two.
The Jays bats also did quite well.
George Springer went 2-3 in his Spring Training debut and Bo Bichette also went 2-3. Vlad Jr went 3-3 while Cavan Biggio went 2-2. Randal Grichuk also hit a grand slam which begs the question, has he
finally figured it out.
No, it's a façade. Here's an A+ meme by everybody's favourite Blue Jays memester.
Danny Jansen also threw out his second runner of Spring Training, which is interesting to see because he's not really known for a strong arm. Alejandro Kirk, who also had a questionable arn, threw out a runner in Monday's game. Sadly, Chapman was spiked by the runner trying to steal third.
He was replaced by my #13 Jays prospect, Sebastian Espino,
who went 1-2 after replacing Chapman.
Fortunately, Chapman was pulled for precautionary reasons, and he won't need stitches. Here is the play in question.
He and Teoscar (sprained wrist) are considered day to day. Which, speaking of Hernandez…
Speaking of Teoscar:
According to the Miami Herald https://www.miamiherald.com/sports/mlb/miami-marlins/article259612989.html, the Blue Jays engaged in talks with the Miami Marlins about trading Teoscar Hernandez. When my editor sent this to me, it came as a shock. While I don't believe the 29-year-old slugger is untouchable, I found it hard to believe that they'd be interested in moving him.
The authors, Barry Jackson and Craig Mish, noted that the Jays were interested in third baseman Brian Anderson as well as a starting pitcher. This is pure speculation based on previous rumours, but I presume that they were looking at 26-year-old right-handed pitcher, Pablo Lopez. 
The Blue Jays signed pitcher Yusei Kikuchi and traded for third baseman Matt Chapman, meaning that trade talks have not been reignited since. With this rumour, it does appear that the Jays
could
trade Teoscar for the right deal. Read more here. 
The Blue Jays avoided arbitration for all players avaliable:
The Blue Jays signed Matt Chapman to a two year, $25 million contract to remove his arbitration years. This means that the two parties will avoid a hearing to determine his salary for the next two years. As my colleague Thomas Hall notes, this is a good start to the relationship.
They also signed Vlad, in his first year of arbitration, to a one year, $7.9 million deal. Hopefully they can lock him up long term as he only has two more arbitration seasons remaining. Fellow Dominican player, Teoscar Hernandez signed a one-year, $10.65 million contract, he'll become a free agent in the 2023-24 off-season.
The Jays also locked up Cavan Biggio (1 year, $2.1225 million), Trevor Richards (1 year, $1 million) who are both in their first season of arbitration eligibility. Ross Stripling signed a 1 year, $3,790 million contract in his final year of arbitration. He'll become a free agent after the 2022 season.
As I was writing this, the Jays locked up the remaining eligible players:
Adam Cimber, one-year, $1.575 million
Ryan Borucki, one-year, $825,000
Danny Jansen, one-year $1.925 million
Tim Mayza, one-year, $1.250 million
Trent "Butters" Thornton, one-year, $850,000
Furthermore, here is a rough estimate of the Jays payroll this season, which is around $172.8 million, which is well below the tax threshold of $230 million
Top 30 prospects released:
Brett Gardner to the Jays?
According to the Yankee beat writer, Erik Boland, the Blue Jays are apparently interested in the long-time Yankee. Despite being 38-years-old, Garner put up a solid season and fits the Blue Jays need of a left handed outfield bat. I'll be writing a more in-depth article about Gardner that you can find on Blue Jays Nation tomorrow.
As always, you can follow me on Twitter @Brennan_L_D. I'll be starting a full-time job tomorrow (Wednesday, March 23rd), meaning that I won't be writing as many articles, but still expect quite a few per week.