Blue Jays win rematch with Mariners in Teoscar Hernández's return to Toronto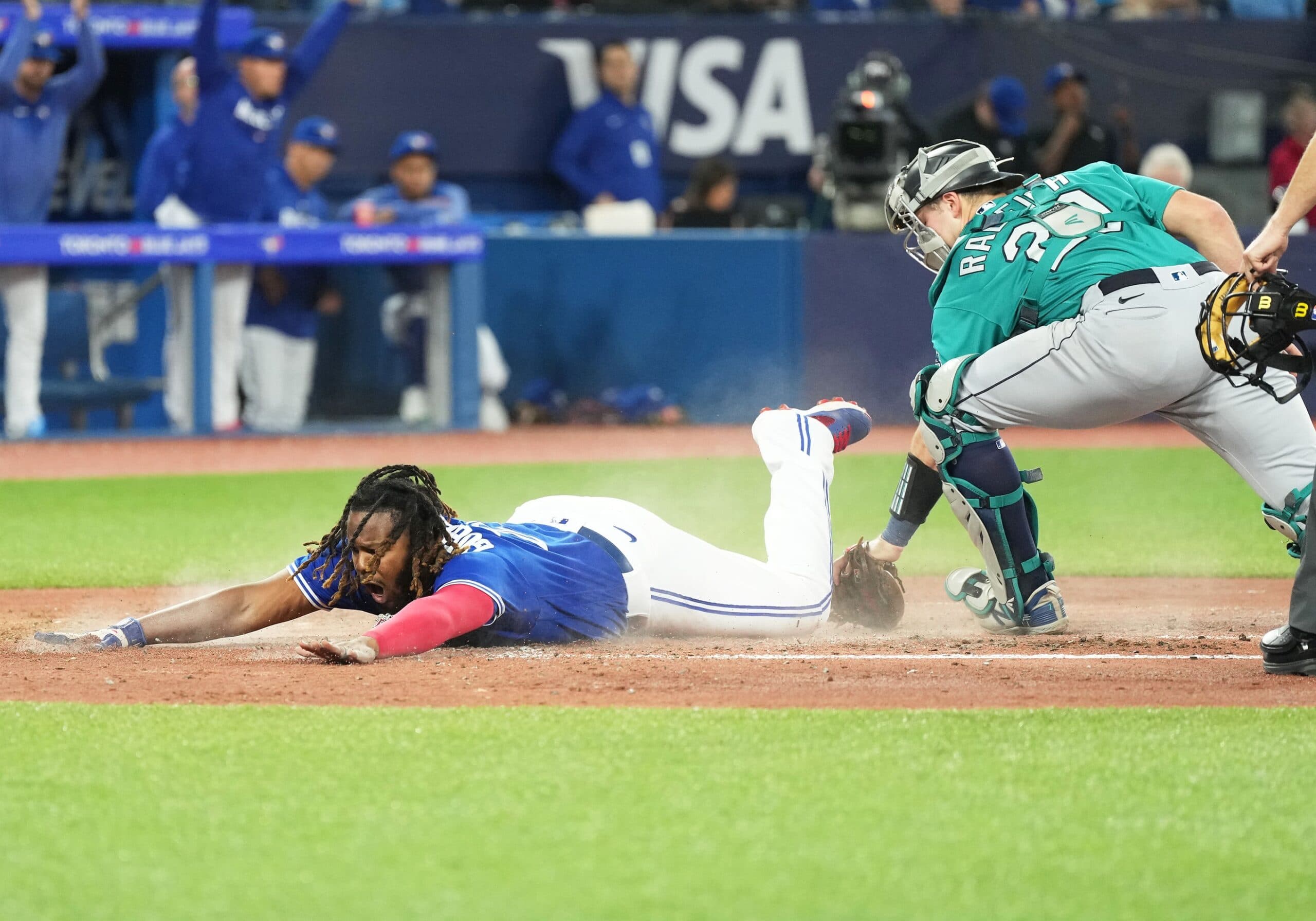 Photo credit:Nick Turchiaro-USA TODAY Sports
Two likely contenders in the AL, a pitching rematch from last year's playoffs, and the return of Teoscar Hernandez were among the handful of storylines in tonight's Blue Jays-Mariners game. The two teams kicked off a weekend series north of the border tonight with better than 41,000 people in attendance.
George Springer had a clutch two-out RBI single in the 6th inning to give Toronto the lead for good as the Blue Jays downed Seattle 3-2 on Friday night. It's no secret that Springer has been struggling at the plate, but he came through when it mattered tonight, something we're accustomed to seeing from Toronto's leadoff man.
The Blue Jays also got a stellar outing from their bullpen, who locked up the back half of the game to secure the win.
Blue Jays Nation's Player of the Game: Alejandro Kirk
The broadcast tonight mentioned how Kirk felt like he was still in Spring Training mode once the regular season started due to him arriving to Dunedin late because of the birth of his first child. He told reporters that it wasn't until the series in Houston last week that he felt like he was caught up to speed, per se.
Tonight was certainly Kirk's best night of the season, going 3-for-4 with two singles and a solo home run. He also threw Julio Rodriguez out at second base on a steal attempt. One of Kirk's best attributes is his ability to make contact, and he was able to do so against fastballs and breaking balls whether it was hitting for power or for base hits.
Things worth mentioning
Alek Manoah: One word/phrase that comes to mind when describing Manoah's outing tonight would be that it was a grind. On paper, going five innings and only allowing two runs sounds very sublime, but Manoah had to battle to get through those five frames.
Let's start with the bad. Manoah walked four guys tonight, something he was prone to doing through his first few starts of the season except his last start in New York. He allowed the leadoff man to reach base in four of the five innings, and he gave up a home run and a single from Cal Raleigh, who homered off of Manoah in last year's playoffs. His pitch count was high early in the game, as he threw 21 and 30 pitches between the first and second innings, respectively.
Despite all of that, fans know that Manoah is a workhouse, and he won't go down without a fight. Even with the traffic on the bases, Manoah limited the damage and made pitches when he needed to. He threw seven strikeouts, and ended his outing retiring Raleigh.
Jays offense vs. Castillo: Manoah's counterpart was Luis Castillo, who tossed seven and a third scoreless innings in last year's Wild Card series against Toronto. Castillo is still one of the game's elite starters, but the Jays were able to produce some runs off of him tonight.
Kirk got the scoring started in the second inning, hitting his second home run of the season just over the left field wall. In the bottom of the third, birthday boy Matt Chapman doubled in Vladimir Guerrero for the second run of the game. Guerrero scored from first, and even tossed his batting helmet off his head before he rounded third. It was only two runs, but Castillo had three scoreless outings going into tonight's game, and the Jays were able to chase him after five innings.
Teoscar Hernandez: Teo got standing ovations before the game and during his first plate appearance, as he rightfully should given his outstanding efforts in his six seasons in Toronto. While the vibes were warm around his return, he had a very poor night at the plate. Hernandez went 0-for-4 with three strikeouts, two of those coming from – you guessed it – low and away sliders. I miss Teo, but that's a sight we saw a time or three.
Hernandez also faced Erik Swanson, the player for whom he was traded, but was retired on a fly ball out.
Lights out from the bullpen: Neither team had leads of more than a run, so bullpen performance was inevitably a deciding factor for whoever was going to win the game. The Blue Jays got an ideal pitching rotation for innings six through nine, going with Tim Mayza, Yimi Garcia, Swanson, and Jordan Romano. Between the four, they struck out eight and did not allow a single base runner.
On the other side, the Mariners had a good bullpen showing, but the deciding run was allowed by reliever Trevor Gott.
Game two will be tomorrow afternoon, as Kevin Gausman will be opposed by Chris Flexen. Flexen currently owns a 0-4 record with a 8.86 ERA, so the Blue Jays have a nice opportunity to take the series.
---