Gabriel Moreno was surprised by D-backs trade: 'I thought I was going to receive a call wishing me Happy Holidays'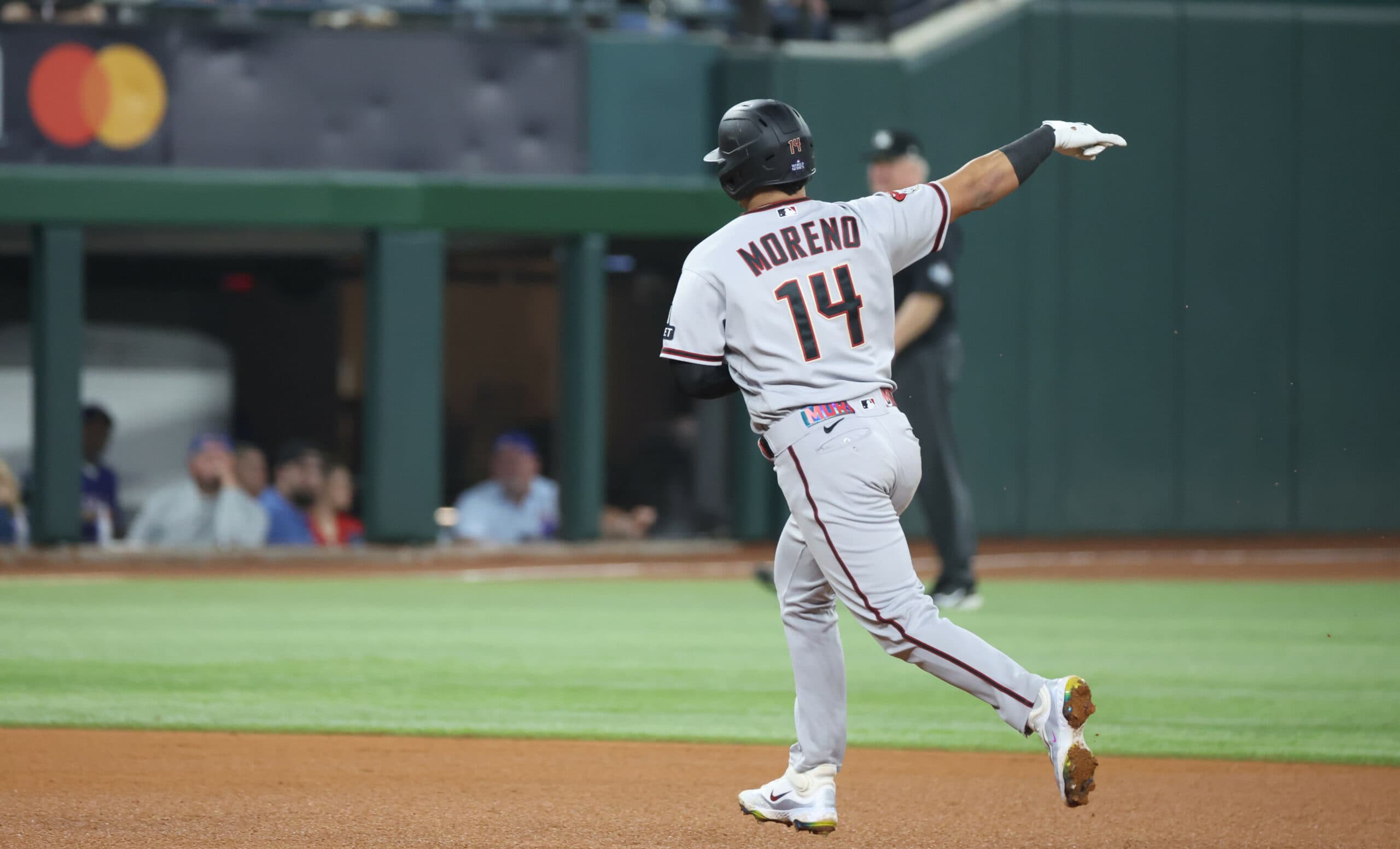 Photo credit:Kevin Jairaj-USA TODAY Sports
Last off-season, the Toronto Blue Jays featured a surplus of catchers at the big-league level, which the front office dealt from to improve its outfield run prevention and lineup balance, trading top prospect Gabriel Moreno and Lourdes Gurriel Jr. to the Arizona Diamondbacks in exchange for Daulton Varsho.
It was a blockbuster deal that caught many off guard – even a future All-Star backstop, who now finds himself on centre stage of the 2023 World Series.
Moreno, an NL Gold Glove finalist in his first season in the desert, finished his 2022 campaign with Toronto, logging 73 plate appearances over his first 25 games in the majors. He earned a taste of life as a big leaguer while forming a talented trio with fellow Blue Jays catchers Danny Jansen and Alejandro Kirk.
The 23-year-old returned home to Venezuela shortly after last year's loss to the Seattle Mariners in the wild-card series, where he spent most of last winter. But then everything changed in late December.
On Dec. 23, the day before Christmas Eve – or Christmas Eve Eve, as it's also referred to – Moreno's phone started buzzing. At first, he thought it was Blue Jays GM Ross Atkins calling to wish him Happy Holidays. Instead, he received notice that he had been traded to the Diamondbacks.
That blockbuster deal has since worked out incredibly well for Arizona. Moreno, after nearly serving as a two-win player across 111 games during the regular season, has taken the baseball world by storm this post-season, slashing .250/.316/.500 with four home runs and 10 RBIs in 14 contests.
Gurriel, too, has also made quite the impression as he's enjoyed a remarkable performance – both offensively and defensively – in his walk year. The 30-year-old outfielder blasted a career-high 24 home runs and drove in 82 while hitting .261/.309/.463 in 145 games, worth 2.1 fWAR – the highest of his six-year MLB career.
Like Moreno, Gurriel has delivered in key moments during the Diamondbacks' playoff run this fall, clubbing five extra-base hits (three doubles, two home runs) while cashing seven runners over 14 games.
To produce under the bright lights of the post-season is one thing. But to do it at such a young age like Moreno has is another entirely, which has several of his teammates in awe of his rapid ascension.
"Gabby is 23, but I feel like he's 33,"
Diamondbacks starter Zac Gallen told ESPN
. "Just the way he's super cool, super calm, collected. The moment doesn't seem to faze him. And the talent is just off the charts."
The emerging star only has 136 big-league games under his belt, 150 if you include this post-season. And yet, he already seems destined to appear in multiple All-Star Games, win numerous annual awards and become a franchise pillar for a D-backs organization that's just scratching the surface of its current competitive window.
"I joke that when I'm 50 years old, I'll be watching Gabi Moreno still playing in the big leagues," Merrill Kelly said. "He's that kind of talent."
Toronto's front office knew what it was giving away when it agreed to send Moreno to Arizona almost one year ago. While Varsho's inaugural season didn't translate into nearly as much success, the 27-year-old still has plenty of time to change that narrative with three additional years of club control remaining before he reaches free agency.
As for behind the plate, Jansen and Kirk were considered one of baseball's most valuable catching duos in 2022, but they struggled mightily to repeat that success – at least offensively – this past season. Still, the Blue Jays have to feel confident about that tandem heading into 2024.
Even so, Moreno could end up being the one that got away regardless of how that group performs moving forward.
---