Jose Berrios and the Blue Jays stomp Yankees in 9-2 rout
Photo credit:© Brad Penner-USA TODAY Sports
Man, it was an extremely tough night for the "The Jays should've signed Frankie Montas!" crowd. Toronto roughed up Montas early, even bringing out some boos amongst the Yankee faithful, as the Blue Jays defeated New York 9-2 in the first of a critical four-game series.
Montas, who the Yankees paid four prospects for at the trade deadline and was expected to be ace-like in critical starts late in the season like this one, made his first home start tonight.  Per the above paragraph, the Blue Jays made sure that it didn't go well. They pounded him for eight hits and six runs in six innings of work.
Toronto would get the scoring started in the 2nd inning, as Santiago Espinal cashed in Teoscar Hernandez with an RBI fielder's choice. Whit Merrifield walked, setting up George Springer to stay on a heater with an RBI single. It was part of a 5-for-5 night for Springer, adding to a 9-for-14 stretch since coming off the IL.
My personal favorite scoring play on the night was directly after Springer, as Vladimir Guerrero Jr. shot a 3-run homer to the short porch in right field. Per Statcast, Guerrero's home run would've only left, you guessed it, Yankee Stadium. Gosh, it was so good to see one of those go Toronto's way. The home run was Guerrero's fourth against the Yankees this season at Yankee Stadium. It gave the Blue Jays a 5-0 edge, and put the Yankees down bad early.
Please, let the offense not take away from Jose Berrios who pitched a very solid game for the Blue Jays. Berrios would give up two runs in the 3rd in the most "2022 Jose Berrios" way, as the ball never left the infield while the Yankees scored those runs. Berrios would walk All-Star back-up catcher Jose Trevino and hit Estevan Florial with a curveball to put runners on first and second. DJ LeMahieu fought off a pitch at the hands and blooped one in between Berrios and Guerrero at first, but Berrios frantically threw the ball past Vladdy and a run would score.
It was at this point that Blue Jays fans surely started to bite their nails, as Aaron Judge was due up. However, Berrios would calmly get him to ground into a fielder's choice, giving up another run. He would strike out Anthony Rizzo and retire Josh Donaldson on a flyout to end the inning. The ability to take a deep breath in that situation and get out of that inning without further damage was huge, and something we needed to see from Berrios at this point in the season.
Berrios would also strand a leadoff double from Rizzo in the 6th inning, which included a hilarious bit from Josh Donaldson. Berrios would strike out Donaldson looking on a fastball that caught, hm, I don't know, all of the plate. Despite this, Donaldson raised an argument to home plate umpire Bill Welke that it was not a strike. It's pitch #4 on the chart below. Concerning.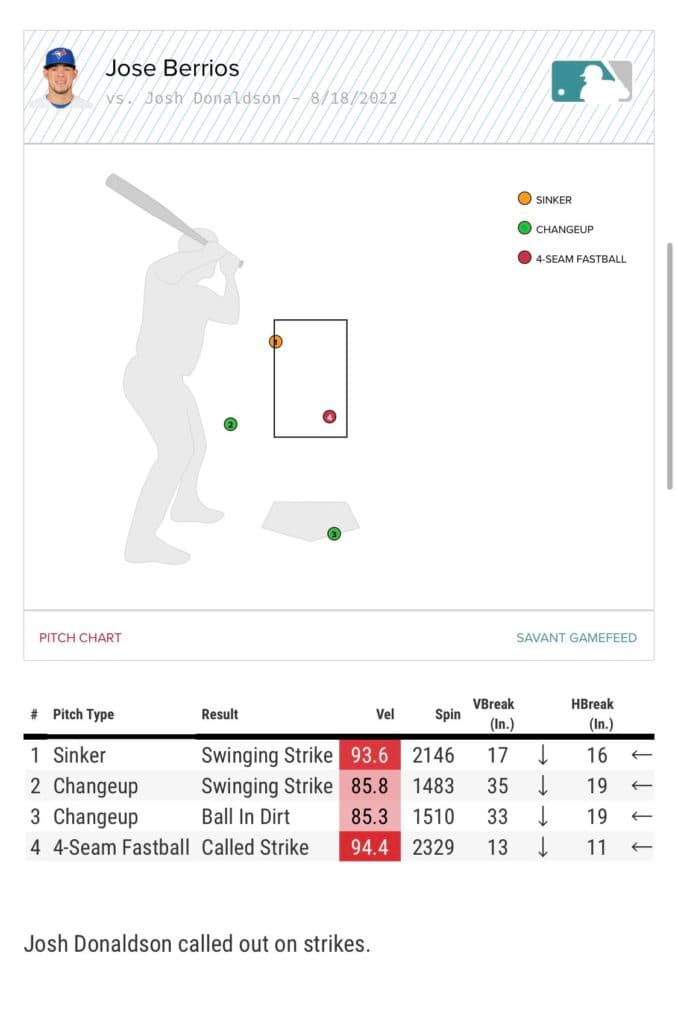 The bottom line was that Berrios was exactly who the Jays needed him to be. He was sharp with his fastball command, and as previously mentioned, he stayed out of the big inning. His final line: 6 2/3 IP, 5 H, 1 ER, 1 BB, and 9 K's. I suppose it was also a tough night for the "Jose Berrios is only good against the AL Central!" crowd.
Alejandro Kirk and Hernandez would tack on RBIs later in the game off of reliever Albert Abreu, as the offense continued to regain its form we have all come to love.
The cherry on top of this game was Yusei Kikuchi, who pitched the 8th inning of the game as a reliever. He allowed a walk and a hit to start, but it was three up and three down down after that. That translates into three outs that other arms don't have to throw, and maybe it gives Kikuchi some confidence that he can still have a positive impact on this team. Jordan Romano got some much needed work in the 9th, and the Jays secured a very fun win.
It's only one win, and the Jays are still several games back of New York, but its encouraging to see the Blue Jays appearing to come out of their slump, while the Yankees might still be in theirs. Game 2 tomorrow night will feature Kevin Gausman facing Jameson Taillon. Gausman made one start against New York earlier this season on April 14th. He gave up two runs and took a loss, but the only runs he allowed were RBIs from Jose Trevino, and the Blue Jays didn't even score.
---